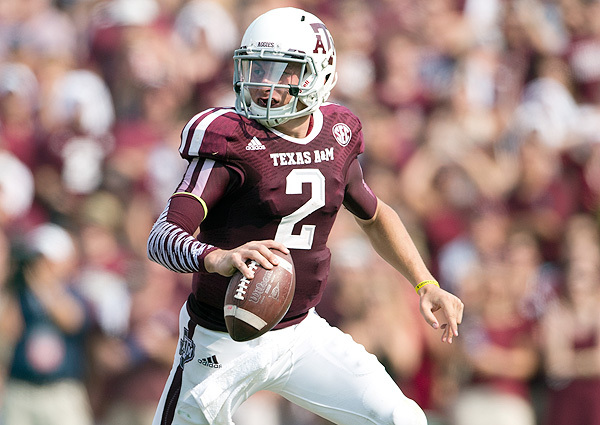 … Johnny Manziel?
By RICK SOLEM
The NFL draft: football's biggest tease.
It's one big waiting game followed by another.
First we wait for each and every pick. Every where we go, someone asks you, 'Where did Johnny Manziel go?"
After each pick, we power through whatever highlights ESPN conjures up from that Division II offensive tackle that was selected.
And, once the draft is complete, we play that three-month waiting game to see whether or not the guys drafted even pan out. Or maybe it's eight months. Or a year. Or four years as was the case with Aaron Rodgers.
As for this draft, what's interesting?
'Where did Johnny Manziel go?'
Will the Packers take a safety, a linebacker or get Jermichael Finley's replacement seems interesting, until they actually select somebody, because we have no idea if he's the answer.
After the draft it's three more months of speculation.
It was exciting to see Green Bay make a splash and sign Julius Peppers. As exciting as it is to sign someone and wait for them to play for five months. At least we know what we're getting with Peppers.
It could be exciting to think about drafting the next Jimmy Graham if North Carolina's Eric Ebron falls to the 21st spot or Green Bay trades up to get him.
If they take a linebacker, as Sports Illustrated's Peter King predicts, yawn. If they take a safety, yawn. I say yawn because, again, we won't know until August and beyond whether they can make an impact.
The only fun part of the draft is hoping your team takes some player that could possibly transcend the position.
It would be comical to see Green Bay take anything but a player on defense, but, you know, 'Where did Johnny Manziel go?'
What if Manziel fell to 21? Why not, right? 
Then again would Green Bay really sacrifice the dire need on defense for a QB? Should they? How about a pass-catching tight end that helps the running game little?  
My theory with success in football is to get linemen and linemen. Put the opponent's QB on his back, keep yours upright. Open holes for the RB. Aren't linemen boring? Who wants to talk about them? Nobody. I'm sorry.
'Where did Johnny Manziel go?'
Did Ebron get drafted yet? Who did we take, Princeton DT Caraun Reid? What? Was Manziel gone? He was? Where did Manziel go?
So, here goes, the NFL draft, beginning at 7 p.m. Thursday on ESPN and continuing through the weekend there, and on ESPN2. Let the waiting, speculating and odd highlights of linemen begin.
And Manziel. Who took him? Oh Johnny.