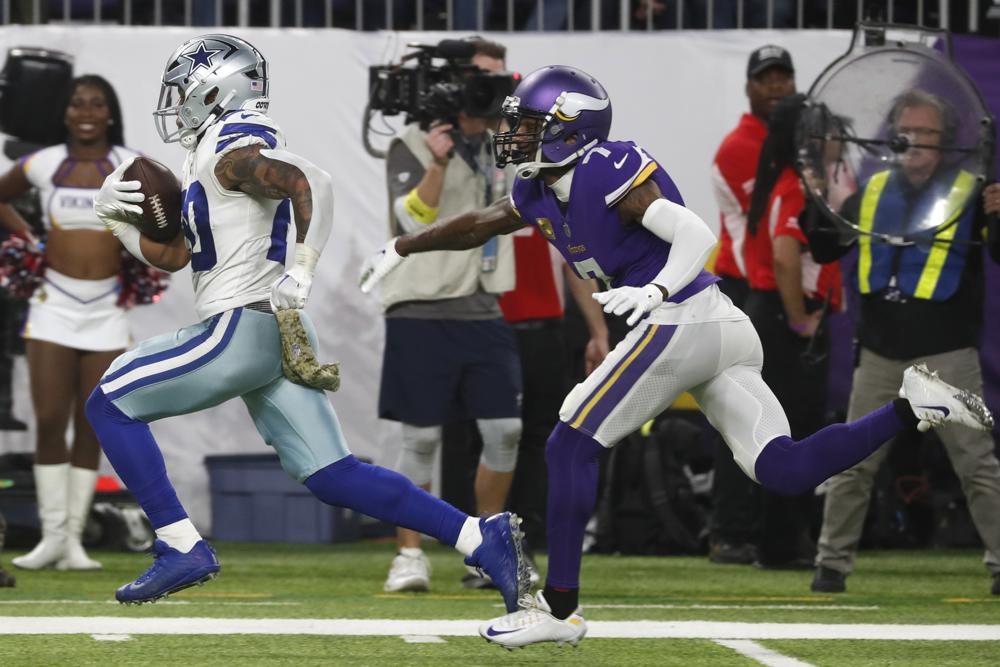 EAGAN, Minn. (AP) — Kevin O'Connell enjoyed a strong debut as head coach of the Minnesota Vikings, with a record-setting wide receiver, a productive offense and a division title.
"The feeling that we were all in this together pulling in the same direction and with a goal that is of the highest proportions, it's special for me," O'Connell said. "My ability to thrive in my role, I feel even better about that today than I did on day one."
His second season will bring a new set of challenges, starting with a resurrection of the defense.
O'Connell said Wednesday he has not yet finalized the coaching staff for 2023, with the fate of defensive coordinator Ed Donatell in question.
"That is an ongoing process that is continuing as we speak and will continue throughout the rest of this week," O'Connell said. "I think it's important to do, and I think after the success we had this year and coming up short of where we ultimately wanted to get to. I think it's the right thing to do and I'll make sure I go through that thorough process in doing so."
The Vikings managed to win 13 games while ranking second-worst in yards allowed in the NFL and fourth-worst in points allowed during the regular season.
Their 31-24 loss at home to the New York Giants was the last straw for a defense that was out of sorts from the start in coverage, rush and communication. The Giants averaged 80 yards on five scoring drives, four that went for touchdowns on a career-altering day for quarterback Daniel Jones in his playoff debut.
"We talk a lot about that word development in this building. So with that, you feel a responsibility to make sure all of our schemes are evolving and changing and improving year in and year out," O'Connell said. "That will be no different every year that I'm the coach here."
The transition from previous head coach Mike Zimmer's 4-3 base scheme with a preference for man-to-man pass coverage and steady blitzing ultimately did not go smoothly. Donatell's system is a 3-4 alignment, but with the proliferation of three-wide receiver formations around the league the Vikings were only in their base package on about 25% of the snaps. But their nickel defense was continually vulnerable and passive in their zone coverages underneath the two high safeties.
"I feel like some of our guys really handled that with ease," O'Connell said. "With some of our guys, it was a work in progress, finding their premier role, and how they can thrive. Ultimately, that's on us as coaches — and me as the head football coach to make sure I look long and hard at that."
General manager Kwesi Adofo-Mensah shared a table with O'Connell for a season-ending news conference, still dealing with the sting of the end of such an exhilarating season three days after they were eliminated by the Giants.
Adofo-Mensah and his front office will face a salary-cap puzzle as tricky as any team in the league this offseason, likely forcing the departure of some important veteran players. That happens everywhere, but the moves the Vikings have to make might eat away at the team's leadership and chemistry more than usual.
"We've got to consider those things, also, in addition to the production on the field," Adofo-Mensah said. "But really, at the end of the day, we're trying to meet a talent threshold, a way of playing, a vision for this team that's a championship standard."
There's no mystery about whether Kirk Cousins will return as the quarterback this time, with the eight fourth-quarter comeback wins he directed. With a salary cap hit of $36.25 million for next season, Cousins will likely be in line for another short-term extension that would help create more space for signing other players in 2023.
"There's not so much learning that needs to take place of the base way of doing things," O'Connell said. "Now we tweak. Now we can adapt, evolve and continue to allow him to feel as comfortable as possible with what we're asking him to do, and I think that's where real growth can come."
An extension for All-Pro wide receiver Justin Jefferson is also on the offseason list, a contract that is sure to break a market record for his position. The Vikings and Jefferson's agent have had "initial dialogue," Adofo-Mensah said.
"I wouldn't use the word challenge," Adofo-Mensah said. "You've got a special player, a special person. Those aren't problems. Or at least those are champagne problems. So we'll start there."
---
TOP PHOTO: Dallas Cowboys running back Tony Pollard (20) runs from Minnesota Vikings cornerback Patrick Peterson (7) during a 30-yard touchdown reception in the first half of an NFL football game, Sunday, Nov. 20, 2022, in Minneapolis. (AP Photo/Bruce Kluckhohn)