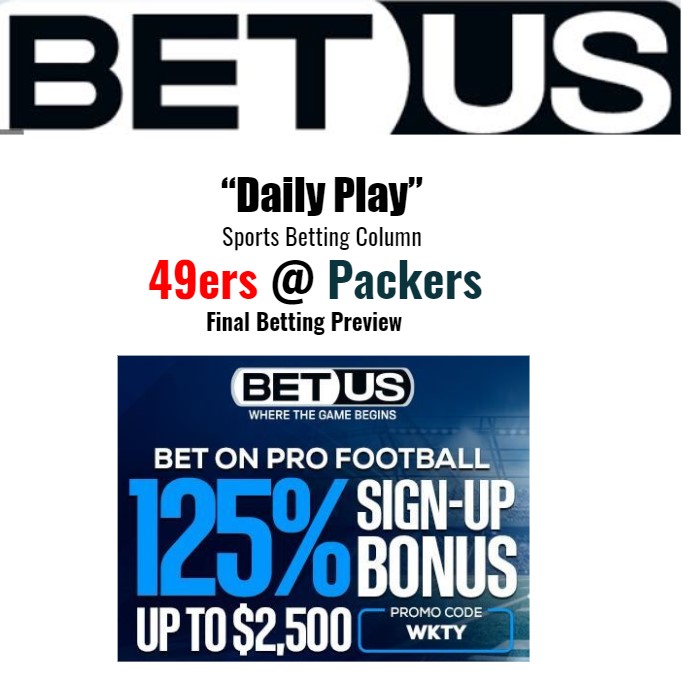 Packers vs 49ers (Final Betting Preview)
Dave Carney 1/21/2022      
What's on the table today?: Packers vs 49ers (Final Betting Preview)
The Green Bay Packers go into this game as the betting favorites to win the Super Bowl at +350. Aaron Rodgers is the odds-on favorite to win MVP (-500).  And while he's won both of those things in the past, one thing he hasn't achieved in his Hall of Fame career is a playoff victory vs the 49ers.
He's 0-3 against the team he grew up cheering for, with his most recent loss coming in the 2019 conference championship game. Rodgers and the Packers did beat San Francisco back in Week 3 on a last-second field goal. Wide receiver Davante Adams had 132 receiving yards and a touchdown in that game while Green Bay's defense held the Niners to just 67 yards on the ground.  
The team will be well rested coming off a first-round bye, meaning nagging injuries shouldn't be much of a concern.
Pick your poison from a "betting trends" standpoint as these two teams are RED HOT (ATS). However, as we talked about above those have NO BEARING on this game in my estimation.
Trends courtesy of Covers.com
49ers are 8-0 ATS in their last 8 games in January.

49ers are 4-0 ATS in their last 4 Divisional Playoffs games.

49ers are 6-1 ATS in their last 7 games as an underdog.

49ers are 5-1 ATS in their last 6 games overall
Packers are 7-1 ATS in their last 8 home games.

Packers are 7-1 ATS in their last 8 home games vs. a team with a winning road record.

Packers are 6-1 ATS in their last 7 games as a home favorite.

Packers are 5-1 ATS vs. a team with a winning record.

Packers are 9-2 ATS in their last 11 vs. NFC
49ers: Keys To Cover
The strength of the 49ers is their ability to pressure quarterbacks and if they can make life miserable for Rodgers, they will have a chance in this one. They gave up the sixth-fewest passing yards per game (206.5). But they will need both Bosa and Warner to be fit to play – Bosa finished fourth in the league with 15.5 sacks and Warner led the team with 137 tackles. If they are both active for this game, it will make your 49ers vs Packers pick that much tougher.   
Packers: Keys To Cover
Get off to a quick start and force the 49ers to play from behind. If the Packers can do that, it will put pressure on Garoppolo to beat them with his arm in a very frigid and intimidating environment. Meanwhile, if the Packers offensive line can contain San Francisco's front four to allow Rodgers time in the pocket, you will likely be rewarded if you lay money on Green Bay.   
Line seems to be holding steady at GREEN BAY (-5.5) and the total resting at 47. If there is major injury news that number could swell, but at this point the market is probably gauging this thing about right at GB (-5.5). 
While Green & Gold Insider Joe Daguanno thinks this one might be a bit of a blowout for the Packers (say a 2 score win), I'm not so sure. I have a feeling this is fairly close, and can easily see a 24-20 game.
My Prediction: Packers 24 / 49ers 20. Packers DO NOT cover and total goes UNDER
**For more info on TOTAL plays, OVER/UNDER, and PLUS/MINUS plays, TEASER cards and more, check back through some previous columns for detailed information**
REMEMBER – don't bet based upon our recommendations. Do your research. Stay in your lane