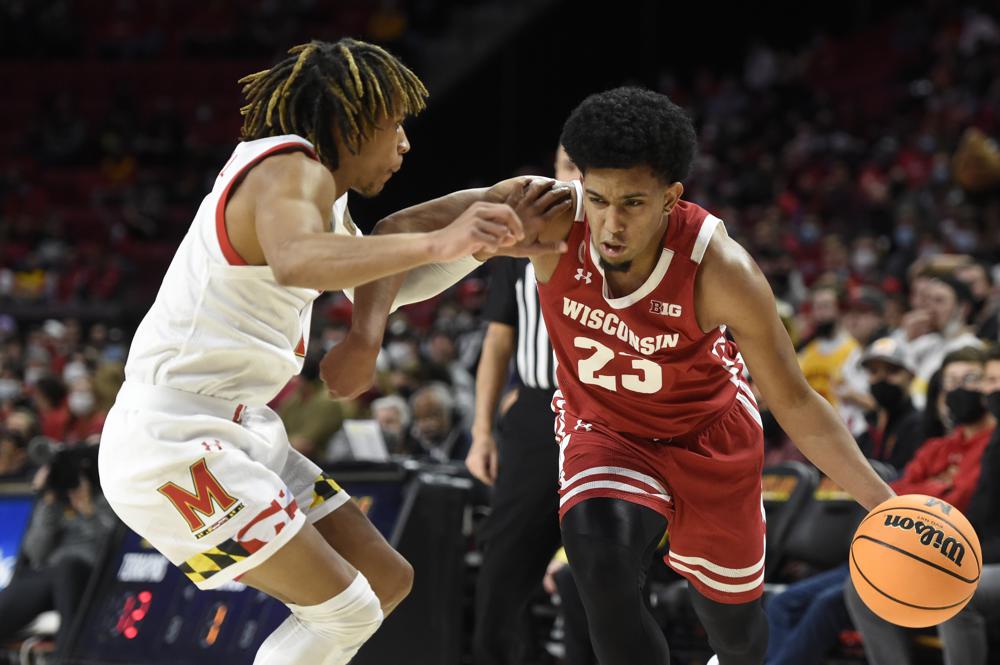 Johnny Davis scored 19 points, as the University of Wisconsin men's basketball team held onto a 70-69 win over Maryland on the road Sunday.
The 23rd-ranked Badgers (13-2, 4-1 Big 10) blew a 21-point first-half lead, but were able to make — and, apparently miss — enough free throws down the stretch to hold on.
With Wisconsin up one with 3.9 seconds left, Brad Davison — a near 90% free-throw shooter — missed the first of two free throws. After a Badgers timeout, Davison missed the second free throw, as well — that one, intentionally. Maryland got the rebounds but was only able to heave a three-quarter-court shot for the win.
"As someone who wants to be a coach, absolutely I think it's the best play," Davison said. "Even if you make both, you give them three seconds to go the full length of the floor. You can catch the ball at halfcourt and get two or three dribbles to get a good look. If you miss it, you're getting the rebound underneath the hoop and you're still shooting over a halfcourt shot."
For Davis, it was the first time he was under 20 points in the past seven games. The La Crosse native was 7-for-19 from the field and just 1 of 7 from beyond the arc. He added seven rebounds, a steal, block and assist to go with three turnovers in 37 minutes.
Davis has scored 15 or more in every game. He did that just once last season, when he averaged 7.0 points a game.
The Badgers were up 29-8 with 8:21 left in the first half. Maryland, however, answered with a 15-0 run and went into halftime down just 33-26.
It was back and forth after that, though the Terrapins (8-7, 0-4) never got ahead by more than three.
---
TOP PHOTO: Maryland's Fatts Russell, left, pressures Wisconsin's Chucky Hepburn in the first half of an NCAA college basketball game on Sunday, Jan. 9, 2022, in College Park, Md. (AP Photo/Gail Burton)