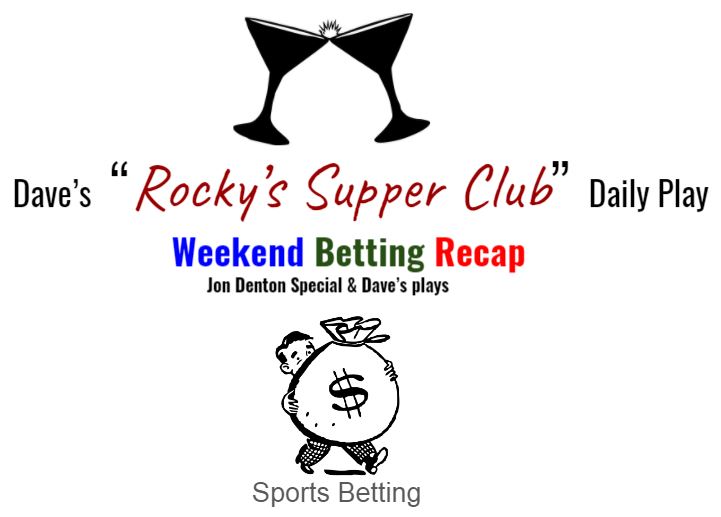 Weekend betting recap
Dave Carney 9/20/2021      
What's on the table today?: Weekend recap: Jon Denton Special & my NFL plays
Once again, the Jon Denton Special did NOT turn out nearly as well as we'd hoped it would, especially with Jon's great research and analysis on the games. To recap here was last week's "JDS" and how the games actually turned out:
College Football Week 3 Trends & Analysis from WagerTalk via Jon Denton:
Teams that are 2-0
     *Favorites of -14 or more = 42.6% ATS (Last 6Y)
     *HOME Favorites of -14 or more = 41% ATS (Last 6Y)
     *FITS: Ark, Liberty, Mich, Georgia, Tx A&M, Oklahoma, Iowa, Pitt, Army
2-0 Team vs. 0-2 Team
    *2-0 Team = 59% ATS
    *FITS: Wake Forest, Charlotte, Marshall (my Play of the Weekend)
    *2-0 Home Favorites of -14 or more vs 0-2 = 64.3%
    *No Games Fit This System This Week
Favorites of -14 or more OFF SU LOSS
    *Since 2009 = 62.2% (56-34)
    *FITS: Ohio St (L to Oregon), Toledo (L to NDame), Washington (L to Mich), Texas (L to Ark)
My CFB Plays For Week 3: Marshall -10 vs ECU (ECU 42, MRSH 38)  & Ohio St. -24.5 vs Tulsa (OSU 41 – Tulsa 20)
Jon Denton Special (0-2 THIS WEEK NOW 0-5 ON THE SEASON)
In my NFL plays for Week 2, one of which is still hanging out there (Lions +11.5 v Packers on MNF) I was 1 win, 1 loss and 1 push on Sunday games. The win came from the Houston Texans, who despite losing QB Tyrod Taylor who was having a great game, covered in the 31-21 loss. The Texans were +12.5.
My loss came from the Arizona Cardinals as they narrowly defeated the Minnesota Vikings 34-33 but were -4 entering the contest. My push was the Bengals +3 who lost 20-17 to the Bears and Justin Fields/Andy Dalton who was knocked out of the game.
Player props weren't hitting for me either this weekend as both Dak Prescott and Johnathan Taylor under-performed my expectations. I took Prescott to throw for OVER 309.5 yards and OVER 39.5 attempts. Neither happened as Dak threw just 27 times and for just 237 yards with 1 INT. Taylor also disappointed me in the Colts 27-24 loss to the Rams. I took Taylor to go OVER 2.5 receptions and OVER 12.5 receiving yards. The former Badger running back only made 1 catch for a total of 2 yards. 
Overall it was NOT a successful weekend for us – but hey – that's why it's called GAMBLING!!! 
 **For more info on TOTAL plays, OVER/UNDER, and PLUS/MINUS plays, TEASER cards and more, check back through some previous columns for detailed information**
REMEMBER – don't bet based upon our recommendations. Do your research. Stay in your lane