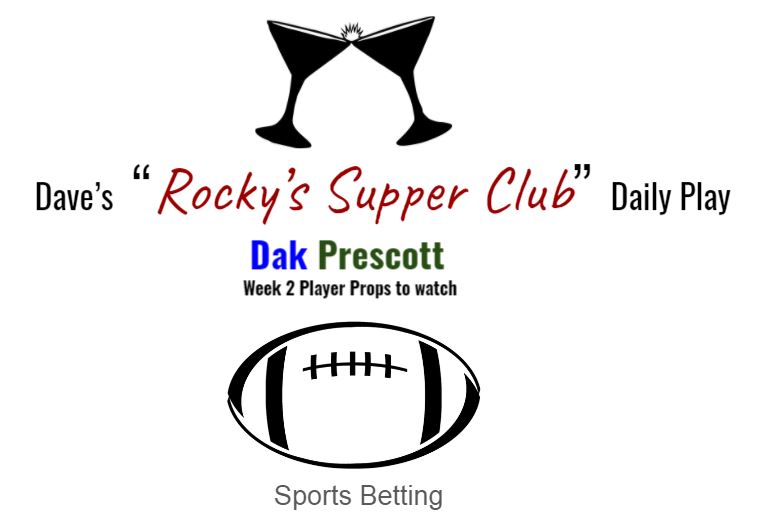 Dak Prescott: Week 2 player props to key in on
Dave Carney 9/16/2021      
What's on the table today?: Dak Prescott Week 2 player props to watch
Boy-oh-boy did Dak Prescott look good in his return from injury against the Bucs or what? The guy who just became the highest paid player in league history this offseason showed he's no worse for wear after nearly breaking his foot off of his leg last season going 42-58 with 403 yards, 3TDs and 1 pick.
The fact that Dak threw the ball 58 times considering he was dealing with a shoulder injury all of training camp is especially impressive. While I've never thought Dak was a real, true, legit, STAR at the quarterback position, you've gotta give it up to the guy for being tough, determined, and talented enough to throw the ball 58 times!~
Coming up in Week 2 for the Cowboys, who have now lost defensive stud DeMarcus Lawrence for at least 6-8 weeks along with other key cogs on the defense side of the ball, and in conjunction with Ezekiel Elliott's continued decline (Elliot rushed for just 33 yards on 11 carries in Week 1) the table is set perfectly for Prescott to throw the ball a ton on Sunday when the Cowboys go to Los Angeles to play the Chargers.
If Prescott threw 58 times in Week 1, and the defense which was already NOT GOOD getting even weaker you've got to look at these Week 2 player props for Prescott and say…..THANK YOU!!!! 
Passing Yards

Sun, 3:25p: DAL @ LAC

 
Take the OVER on yards here…Prescott threw for 403 in Week 1 and will be asked to do even more in Week 2.
Passing Attempts

Sun, 3:25p: DAL @ LAC
Take the OVER 39.5 passing attempts. For Prescott to come out and throw 58 times against the defending Super Bowl Champs, and considering McCarthy's love "airing it out" you have to anticipate at least 40 throws on Sunday.
 **For more info on TOTAL plays, OVER/UNDER, and PLUS/MINUS plays, TEASER cards and more, check back through some previous columns for detailed information**
REMEMBER – don't bet based upon our recommendations. Do your research. Stay in your lane