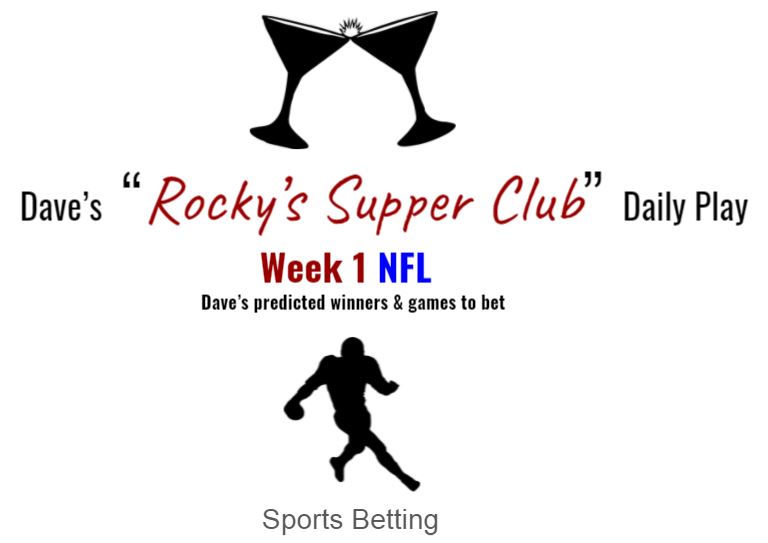 Week 1 NFL: Predicted winners & games to bet
Dave Carney 8/31/2021      
What's on the table today?: My Week 1 NFL winners and key games to bet
This morning I dangled out there (for listener OLD SCHOOL) my Week 1 winners in preparation for my full reveal for all 32 NFL teams' win total predictions this Thursday (NFC) and Friday (AFC). 
While I won't necessarily make a play on all of the games I'm highlighting, the games that I have in BOLD are ones that appear to provide the best value still, which can change drastically before kick-off so always keep a keen eye on the moving numbers.
Below you'll find the full slate of Week 1 games, with my predicted winners being denoted with the classic (W).
Week 1 NFL 2021
Tampa Bay (W) v Dallas –

Tampa Bay -7.5

Atlanta (W) v Philly 

Buffalo (W) v Pits –

Buffalo -6.5

MN (W) @ Cincinnati

San Francisco (W) @ Detroit

Tennessee (W) v Arizona

Carolina (W) vs NYJ –

Carolina -4.5

Washington (W) v LAC

Jacksonville (W) @ Houston

Miami (W) @ New England

Kansas City (W) v Cleveland

Denver (W) @ NYG

Green Bay (W) @ New Orleans –

Green Bay -2.5

LAR (W) v Chicago –

LAR -7.5

Las Vegas (W) v Baltimore –

Las Vegas +4.5
**For more info on TOTAL plays, OVER/UNDER, and PLUS/MINUS plays, TEASER cards and more, check back through some previous columns for detailed information**
REMEMBER – don't bet based upon my recommendations. Do your research. Stay in your lane