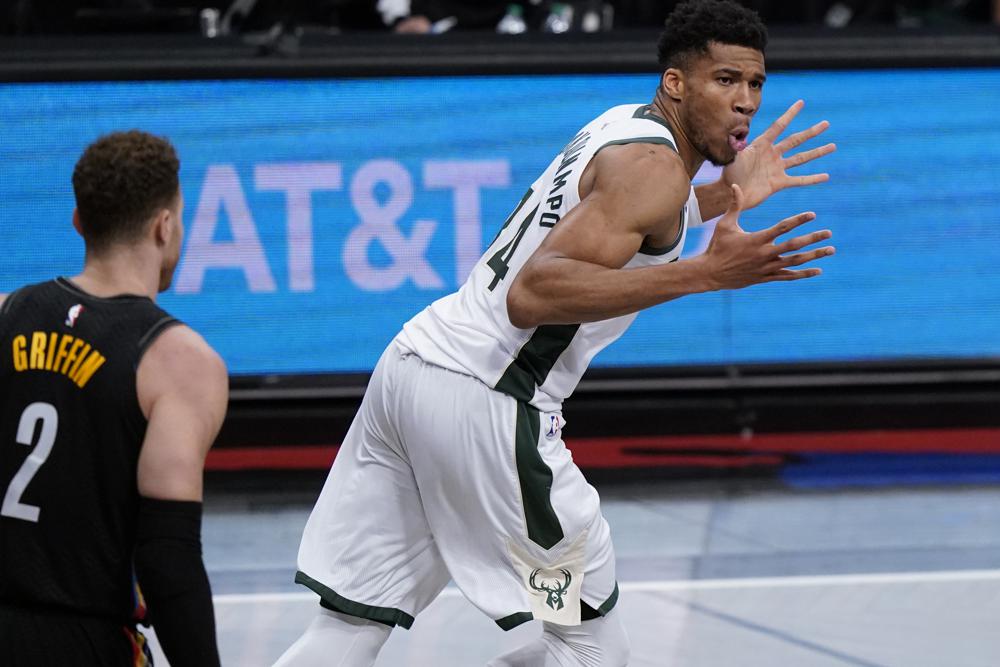 The headlines will be how nobody has ever done in the playoffs what Kevin Durant did Tuesday night.
The 32-year-old played all 48 minutes, with 49 points, 17 rebounds, 10 assists, three steals, two blocks and just three turnovers. He shot 16 of 23 from the field, 4-for-9 from deep and 13 of 16 from the free-throw line.
The headlines won't read how Brook Lopez doesn't post up a gimpy James Harden, who, coming in, was already deemed one of the worst defenders in NBA history. It won't talk about how — along the same lines — Giannis Antetokounmpo won't go down low on 6-foot-1 journeyman guard Mike James.
It was a thing Kenny Smith and Charles Barkley — who just called the Bucks "dumb" — pointed out during the TNT halftime show. Perhaps it would be a good idea to move those 7-footers close to the basket.
It wasn't just that, though.
The Bucks, again, stopped moving the basketball.
I guess, we have to live with the fact that nobody offensively is going to move without the ball. But, you'd think having the guy standing in the corner with Harden on them would just run baseline to baseline to make him chase. No, that would make too much sense.
Moving bodies is one thing, on offense — screening used to be a thing — but Milwaukee stopped passing the ball, too. They did it for a half in Game 4 and it showed. They haven't done it the rest of the series.
The Bucks had 18 assists on 41-of-83 shooting. They had 27 on 39 field goals in Game 4.
Defensively, down the stretch, as Durant was heating up — though he never really was cool — PJ Tucker elected to guard arguably the most prolific scorer in NBA history full court. Every time, Durant would simply get a ball screen at half court, run by Lopez on the switch and easily score.
Did Milwaukee not think that perhaps putting last year's defensive player of the year on Durant would be a good idea?
The Nets survived an abysmal return by Harden, who was 1-for-10 from the field and 0 of 8 from deep — though that's kind of par for the course in huge playoff games for him.
They also survived a 2-for-11, 1 of 7 from deep outing by Joe Harris. Bruce Brown also went 1-for-5.
Brooklyn was saved by Lopez's incredibly horrific perimeter defense — again — letting Jeff Green nail his first seven 3-pointers, and allowing Blake Griffin to go 7-for-11 from the field and 3 of 6 from deep.
The Bucks had a 59-43 halftime lead but slowly watched it dwindle as they, time-and-time again, did absolutely nothing offensively. Not that they didn't score, they just watched one guy do all the things, while everyone else did nothing.
It was either the up-and-chuck offense, where nobody passes it and the guy that dribbled up shoots, or a one-pass offense, where that second guy puts up a terrible shot while the other four watch from the perimeter.
Milwaukee's offensive percentages weren't bad, shooting 49.4% from the field and 40.6% from deep (13 of 32). That's going to happen against one of the worst defenses in the league.
The shots they were making early weren't there late, and there was no offense to get anyone an easy bucket or any type of flow to the basket down the stretch.
Milwaukee will probably win at home and could take the series, if they can get back to at least moving the ball like it's a hot potato, so they don't have to work incredibly hard to get a basket. Without Kyrie Irving, and with a hobbled Harden, Durant has to work so hard for his offense to get baskets. It shouldn't be this hard for the Bucks to win the series anymore.
A lot of unlikely things happened for Brooklyn that shouldn't all happen again. Everything kind of balanced out and points to a Bucks win at home in Game 6. All these things won't happen again to Brooklyn: Durant's once-in-a-lifetime performance, Harden's near 0-fer, Green going 7-for-8 from deep..
The Bucks played pretty much like the Bucks play. They don't have to do a whole lot different or even better. They just need to do the thing called "basketball."
Antetokounmpo, for as amazing a player as he is, still doesn't understand that concept, but the lack of any semblance of movement on offense isn't helping him, either.
---
And, while we're recapping the Nets unusual game, this is also what it took from the Bucks to blow it:
Don't post up Lopez on Harden, the NBA's worst defender, who also has a pulled hamstring
Don't post up the two-time reigning NBA MVP on 6-foot-1 Mike James
Don't set screens
Don't pass the ball more than two times
Don't put a hand in the face of Jeff Green, who hit his first seven 3-pointers
Never have last year's DPOY guard Durant
---
TOP PHOTO: Milwaukee Bucks forward Giannis Antetokounmpo (34) reacts after dunking, next to Brooklyn Nets forward Blake Griffin (2) during the first half of Game 5 of a second-round NBA basketball playoff series Tuesday, June 15, 2021, in New York. (AP Photo/Kathy Willens)