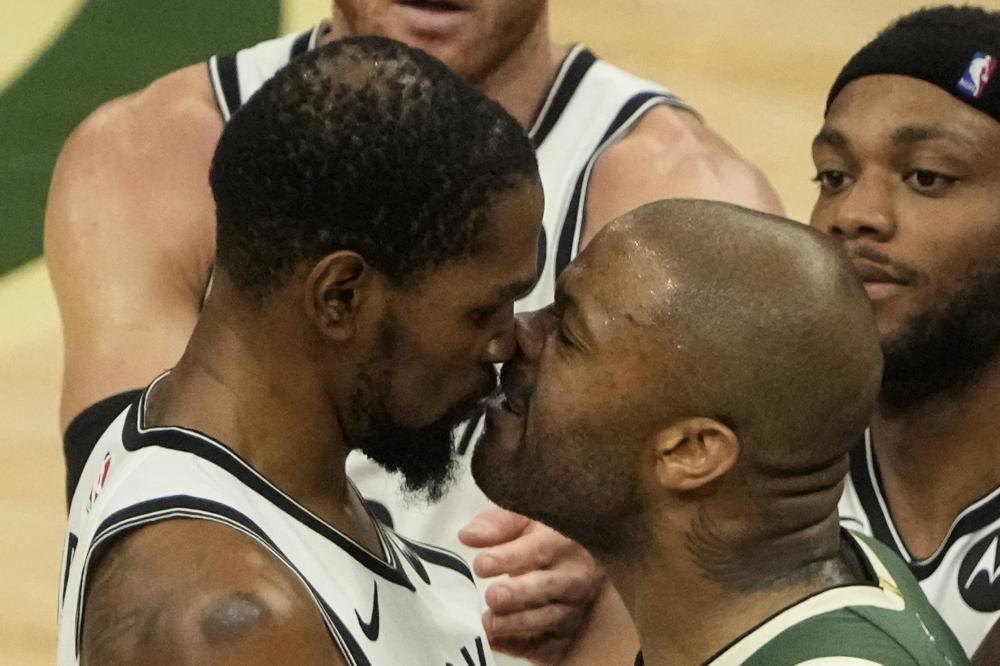 MILWAUKEE — We all know that guy in pickup basketball that has no business making a 3-poitner, but does right off the bat. He then proceeds to brick 3-pointers the rest of the day. That guy was Bruce Brown on Thursday.
It took a 21-point first-quarter lead and not Kyrie Irving and not Kevin Durant, but Brown taking the most important shot for the Milwaukee Bucks to get a win over the Brooklyn Nets.
Milwaukee squeaked out with an 86-83 victory in another ugly game.
Down one with 11.4 seconds, the Nets botched a sideline inbound that ended up in Brown's hands. Instead of finding Irving or Durant — arguably the two best one-on-one scorers of all-time — the 6-foot-4 Brown drove down the middle of the lane and missed a layup over Brook Lopez.
For anyone who's played pickup basketball, this was one of those cases where Brown got some confidence in the first half, hitting floater after floater in the lane, rolling off ball screens for Kevin Durant.
Like that stone that hits a 3-poitner early in pickup, then proceeds to jack up 10 more bricked 3-pointers, Brown's run of luck in the lane ran out.
He was 5-for-6 for 10 points in the second quarter. He was 1-for-6 — missing his last four — for two points in the fourth.
Meanwhile, the Bucks played fairly awful again. The first quarter was a showcase of Giannis Antetokounmpo getting to the basket and Khris Middleton jumpers. They each scored 15. Nobody else scored and the team had just three assists.
The Bucks finished with 12 assists on 34-of-90 (37.8%) shooting.
After the first, it was mostly confusing basketball — Antetokounmpo pull-up 3-pointers and Brook Lopez seemingly never going into the lane. The 7-footer was 1-for-7, including 1 of 5 from deep. He's 7 feet tall and a fairly prolific post player.
Milwaukee only survived because Kevin Durant shot 11 of 28 and missed a 3-pointer at the buzzer to tie, while Kyrie Irving dribbled a lot before shooting 9-for-22, scoring 22. He had one assist. Just one.
Brooklyn shot 8 of 32 from deep. Joe Harris was 1-for-11 from the field and 1 of 7 from deep. He's won't do that again.
It took all that trash from Brooklyn for the Bucks to win by three.
Antetokounmpo was 14 of 31 for 33, Middleton shot 12-for-25 scoring 35 — he was actually pretty solid. The two combined for eight of Milwaukee's 10 turnovers. Jrue Holiday was 4-for-14 for nine points. Nobody else had more than four.
The highlight of the game was Thanasis Antetokounmpo checking in and playing officially zero minutes but getting a block at the buzzer of the shot clock, leading to a Nets turnover. The crowd went wild. He then came out, playing 25 seconds.
That just barely trumped his brother Giannis hitting his lone 3-pointer, after bricking the six before it. He capped off the night from deep, tied 76-76 with 4:42 left, with one more missed 3-pointer.
That shot came during a stretch of 3 minutes, 29 seconds of scoreless basketball where the teams combined to go 0-for-12. Again, that was in the fourth quarter. Tied 76-76. In the playoffs.
Game 4 is at 2 p.m. Sunday.
---
TOP PHOTO: Milwaukee Bucks' P.J. Tucker and Brooklyn Nets' Kevin Durant have words during the second half of Game 3 of the NBA Eastern Conference basketball semifinals game Thursday, June 10, 2021, in Milwaukee. (AP Photo/Morry Gash)