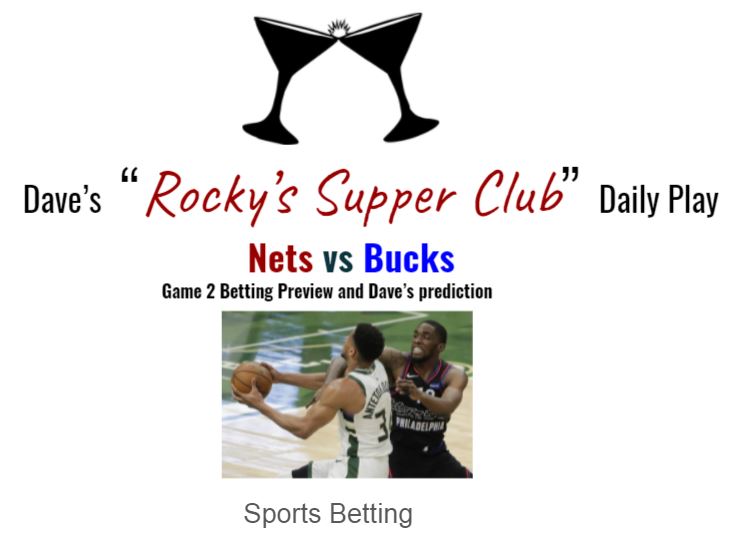 Will the Nets feast on the Bucks again?
Dave Carney 6/7/2021      
What's on the table today?: Betting Preview: Bucks (+1) at Nets (-) / total 237 
How much difference does NOT having James Harden make for the Nets? If you ask book-makers, not much. The Nets opened up as Game 2 favorites at (-2) / (-2 ½) in some spots, and have now seen that number adjust down  just a tick to (-1).
If the Bucks cover or pull the upset, they will need shooters to step up alongside Giannis.
Antetokounmpo is nearly unguardable to begin with, but the Nets' frontcourt has fewer options than most teams do against him. He averaged 39.5 points in three regular-season games against the Nets, and he followed that with 34 points on 24 shots in game one while adding 11 rebounds and four assists. He will get his in this series, but shooters must convert on their open looks at a higher rate going forward if the Bucks hope to steal home-court advantage in game two.
Middleton went just six of 23 from the floor on Saturday as he missed all five of his threes and scored just 13 total points. However, he was expected to score 27 points based on his shot quality, and he will need to convert on these open looks as the Bucks' second scoring option. Jrue Holiday also underperformed as he made just seven of 19 shots while scoring 17 total points and logging a game worst -13 in 37 minutes.
The Bucks' three top shooters – Middleton, Holiday, and Bryn Forbes – combined to make just three of 17 threes on Saturday as the Bucks made just six of 30 threes overall (20%). However, Shot Quality data predicted that the Bucks were expected to score 15 more points than they did from beyond the arc.
The Nets meanwhile will have to figure out primary ball handling duties (most likely Kyrie or Mike James) since the idea going into the Playoffs was simple: Harden is your point guard, Kyrie your two, and KD filling whatever role he's needed in. That will change, and possibly dramatically should Harden's hamstring injury prove to be serious and keep him out for a long stretch of time. 
The worst news for the Bucks was the additional scoring from the Nets beyond their stars.
Joe Harris added 19, Blake Griffin contributed 18 and 14 rebounds while hitting four 3-pointers and reserve Mike James chipped in 12 points in 30 minutes.
If the Bucks have designs to win this game, this series, or anything at all they are in a MUST-WIN situation tonight. Could Milwaukee possibly be as bad on offense in this game as they were in the 2nd half of Game 1? Possible, but doubtful considering how the Bucks have bounced back from similar situations this season. 
Milwaukee can score, and now they're going to have to go out there and prove it. Prove it on D, but really prove it on the offensive side of the ball shooting a better percentage than they did in Game 1, and I'm predicting as much. 
However, that's not the play I'm going to advise in tonight's contest. Yes, I hope the Bucks win. Yes, I want the Bucks to win, but after what we saw on Saturday night I'm just not ready to put my money down on them.
Instead, and thanks again to Covers.com for providing some stellar info on the trends, I like this game to go UNDER 237.
Under is 4-0 in Bucks last 4 games following a straight up loss.
Under is 4-0 in Bucks last 4 games vs. a team with a winning % above .600.
Under is 9-4 in Nets last 13 after allowing 100 points or more in their previous game.
Look for this game to be a tight, back and forth affair with each team giving as good as the get. If the Bucks do get back on track in a big way, this game very well could go over, but even if the Bucks improve by 10% from the floor, there's still no guarantee they can score enough to get me to bite on the Over at this point.
**For more info on TOTAL plays, OVER/UNDER, and PLUS/MINUS plays, TEASER cards and more, check back through some previous columns for detailed information**
REMEMBER – don't bet based upon my recommendations. Do your research. Stay in your lane