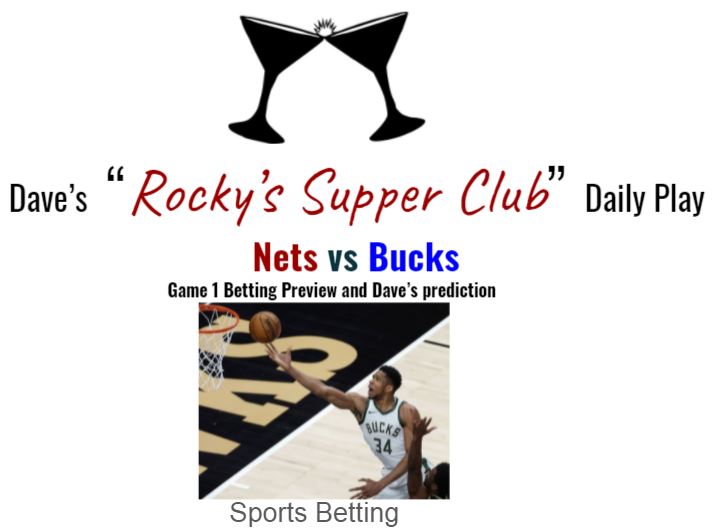 Bucks @ Nets: Game 1 betting preview + Dave's prediction
Dave Carney 6/4/2021      
What's on the table today?: Betting Preview: Bucks (+4) at Nets (+4) / total 239 ½ 
The real test for the Milwaukee Bucks and the Brooklyn Nets begins on Saturday at 6:30p on WKTY. 
Milwaukee made easy work of the reigning Eastern Conference Champion Miami Heat in a four game sweep and the Brooklyn Nets got past the Boston Celtics in five.
The Bucks went 2-1 against Brooklyn during the regular season, and won the last regular season meeting 124-118 on May 4. Giannis scored 36 points to help lead Milwaukee to the win and Kyrie Irving scored 38 points in the loss for Brooklyn.
The Nets are 26-16 against Eastern Conference opponents. Brooklyn has a 47-21 record when scoring 100 or more points.  The Bucks are 30-12 against conference opponents. Milwaukee is 29-12 in games decided by 10 or more points according to ESPN.
I simply love where the Bucks are at right now. The way, not just the series win, but the WAY the Bucks won the series against the Heat drastically changed my perception of how this team could fare in the postseason. I completely understand how good the Nets are, and can be on offense, but the defense they play is atrocious. Milwaukee will have no trouble scoring on this Nets team and that's the rub in my opinion. If the Nets can't stop the Bucks, and the Bucks play enough D to at least limit one of the three big stars, how can the Nets beat this Bucks team?
I don't think they can, at least not in Game 1, which is why I'm taking the BUCKS (+4). I've also taken into consideration these recent trends from Covers.com which indicate the BUCKS (+4) is a good bet:
Bucks are 4-0 ATS in their last 4 games vs. a team with a winning % above .600.
Bucks are 6-1 ATS in their last 7 games vs. a team with a winning straight up record.
**For more info on TOTAL plays, OVER/UNDER, and PLUS/MINUS plays, TEASER cards and more, check back through some previous columns for detailed information**
REMEMBER – don't bet based upon my recommendations. Do your research. Stay in your lane