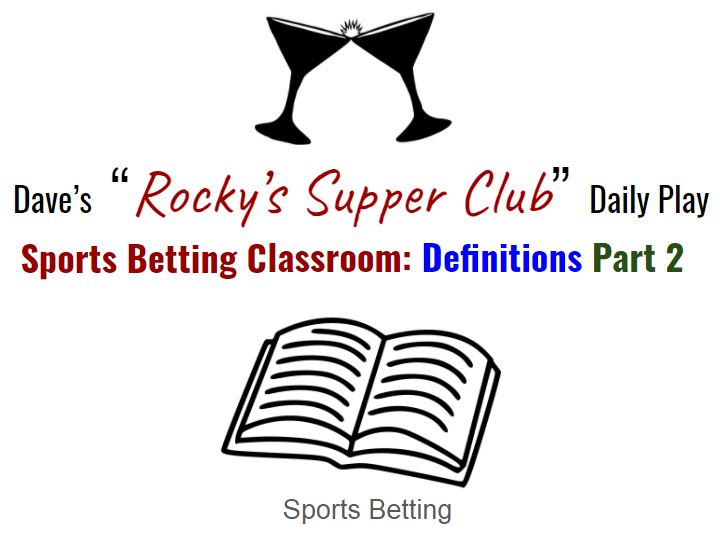 Sports Betting Classroom: Terms & Definitions Part Two
Dave Carney 4/20/2021      
What's on the table today?: Sports Betting Classroom: Definitions Part 2
Yesterday I began to outline some of the most common definitions in sports betting, with the intent to take away some of the mystery, or mystique of sports betting, and let you see in plain English what everybody is talking about.
This morning I'm going to continue on that track with more Sports Betting Definitions you'll probably not know yet, but should. If you happen to be one of the "sharps" in the area, this article might not be for you, but if you're amongst the millions of "Joe's", "John Q Public's", or other common names for novice, this is PERFECT for you.
Yesterday I broke down the Moneyline, ATS (against the spread), what is a Cover, and going Over/Under. If you didn't read that column and you're brand new to sports betting, you'll want to go back over it, then look to work these following terms into your sports vocabulary.
Again, special thanks goes out to The Action Network for providing great information and being a great resource.
Hedging –

Placing bets on the opposite side after you have already placed a wager on one side. This can be used to either cut your losses, or guarantee a profit

.  
EXAMPLE: Original wager: $100 futures bet on the New York Jets to win the Super Bowl at 60-1.
Potential win: $6,000 + original $100 wager.
Hedge: $1,000 wager on Los Angeles Rams to win the Super Bowl at 2-1 when they face the Jets in the Big Game.
Best result: Jets win the Super Bowl and bettor wins $6,000. The $1,000 hedge on the Rams for safety is a loss. The total win is $5,000 instead of $6,000.
Hedge win result: Rams win and the bettor wins $2,000. After everything, the $1,000 hedge minus $100 original wager gives a final win of $900.
Worst result: No hedge and Rams win. $100 wager and the potential $6,000 win is completely lost.
This example shows that a hedge on a futures bet is still a profitable wager. The hedge protects the bettor from losing the entire potential profit from the wager.
Juice (or Vig / Vigorish)

– This is the tax that sportsbooks create for placing a wager. Typically, books offer -110, which means that you need to win 52.38% of your bets to break even. Some books will offer reduced juice with lines between -104 and -107.
Key Numbers

– This represents the most common margins of defeat, and is used frequently in football where many games end with one team winning by a multiple of three or seven. 
EXAMPLE: In football the most common key numbers are 3, 6, 7. 
Parlay

– When a bettor makes multiple bets (at least two) and ties them together, you need multiple events to all win for higher payouts. This is a risky proposition, but potentially very lucrative.
Tomorrow, we'll be going back into the classroom once again as we'll start to look at some of the more exotic sports betting terms and definitions, including the Grand Salami! 
Enjoy your "April 20th" celebration if you're so inclined, and be sure to check back tomorrow as I aim to make each and every one of us better BETTORS.