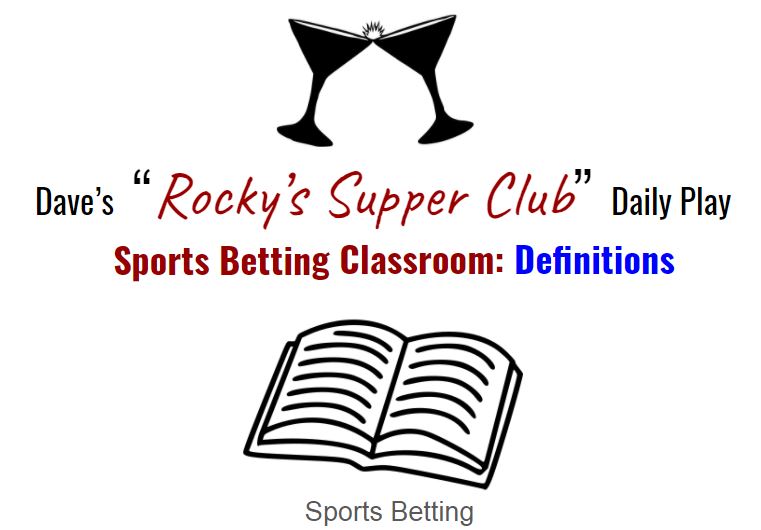 Sports Betting Classroom: Terms & Definitions to get you started
Dave Carney 4/19/2021      
What's on the table today?: Sports Betting Classroom: Definitions
With less than two weeks to go to the NFL Draft, and plenty of time still ahead before the start of big-time college football and the NFL, many folks who spend a decent amount of time making sports bets during football season are taking some time off to reset and recoup from the football season that was.
That can be an especially good thing to do if you're not familiar or interested in betting NBA, MLB, NHL, MLS or other various sports, which frankly, most people aren't. However, this so-called "down-time" is perfect for you to get back into the sports betting classroom, and maybe pick up a few new tricks or learn about something in sports betting you simply didn't know before.
On some of my recent stops to area establishments, talking with some dedicated WKTY listeners, it became clear that while a general interest in sports betting is absolutely a "thing" here in La Crosse County, some of the terms, definitions, and slang used in talking about sports betting can be a bit murky, and confusing to those not thoroughly initiated in the world of sports betting. 
My hope here is to provide you with some more definitions of terms and phrases you'll hear me, and others who love sports betting, use often. Once you know these key definitions, your general understanding of sports betting increases, and with that increase in knowledge, a more well rounded approach to betting on sports. 
Today we're starting off with some VERY basic terms and definitions in sports betting with a special thanks to The Action Network for their wonderful resources.
Sports Betting Terms/Definitions (Part One):
Against the Spread (ATS) – Refers to taking or laying points (aka the spread) as opposed to taking a game straight up. Example; taking Green Bay (-3) vs Minnesota is an ATS play.
Cover – In sports such as football and basketball, a bettor wins their bet if they cover the point spread. For example, if you bet the Packers to win by more than 3 as shown above, and they win by 4, you have covered the spread.
Moneyline – In sports like baseball, soccer and hockey, there are so few runs/goals scored that it doesn't make sense to only offer a spread. Instead, these sports offer a moneyline in which you bet on whether or not a specific team is going to win straight-up. Example: The Padres are (-150) tonight vs the Brewers who are (+150). You would have to bet $150 on San Diego to win the Moneyline bet, and for the Brewers, a $100 bet would net you $150 if they were to win. The Padres, as indicated by the (-150) are the favorites.
Over/Under – Also known as the total, this refers to the total amounts of points/goals/runs that will be scored in the game. If both teams combine to score more than the total, the over wins. If they combine to score fewer, the under wins. Example: The Bucks and Suns tonight are getting a total of 234. That means that both teams need to combine to score 235 points or more to go over, 233 or less to go under.
These terms and definitions should be enough to get even the most novice of sports bettors a little bit more in-the-know on sports betting terms, but for others who are already much deeper in the world of sports betting, check back into this space throughout the week for more in-depth and sports betting terms and information.