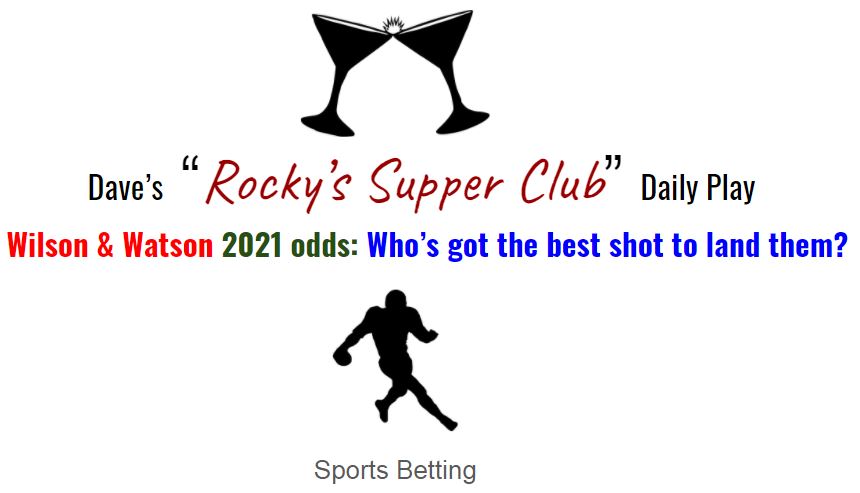 Wilson & Watson: Updated odds for potential landing spots
Dave Carney 3/3/2021    
What's on the table today?: Russell Wilson and DeShaun Watson: who's got the best odds to land these QB's if their current teams' can't hold on to them?
Over the past few weeks we've seen big time QB trades (Stafford for Goff) (Wentz for picks) and big time starts (JJ Watt) signed with new teams. Now, two of the best QB's in the NFL are "rumored" to potentially be moving this offseason, even though Russ will say "he doesn't want out…but if he did he'd go here" and Watson saying "he'll never play again for HOU".
The reality is, both of these QB's will most likely be in the same place next year as they were; Seattle and Houston respectively.  However, if these two were to be moved, what do the oddsmakers think about their landing spots? 
**(important to note that all of the top teams, odds-wise, in the JJ Watt chase lost out on him)**
With that in mind here is what bookmakers are thinking about both Russell Wilson and DeShaun Watson, with us starting on the Russell Wilson odds:
Russell Wilson 
While the Seahawks are still the heavy favorites to retain Wilson for 2021 at -1250, the Bears do have the fifth-shortest odds at +900. That means a $100 bet for Wilson to suit up for the Seahawks next season would only net you an $8 win for a $108 payout. Meanwhile that same $100 bet for Wilson to play for the Bears in 2021 would result in a $900 win, or $1000 payout total.
SEA -1250
LVR +450
DAL +650
NO +750
CHI +900
DeShaun Watson
According to ESPN's Jeremy Fowler, the Denver Broncos and San Francisco 49ers are among the teams that Watson would be interested in a trade to.
HOU +200
DEN +300
CAR +350
MIA  +350
SF    +450
NYJ  +550
CHI   +1500


**For more info on TOTAL plays, OVER/UNDER, and PLUS/MINUS plays, TEASER cards and more, check back through some previous columns for detailed information**
REMEMBER – don't bet based upon my recommendations. Do your research. Stay in your lane