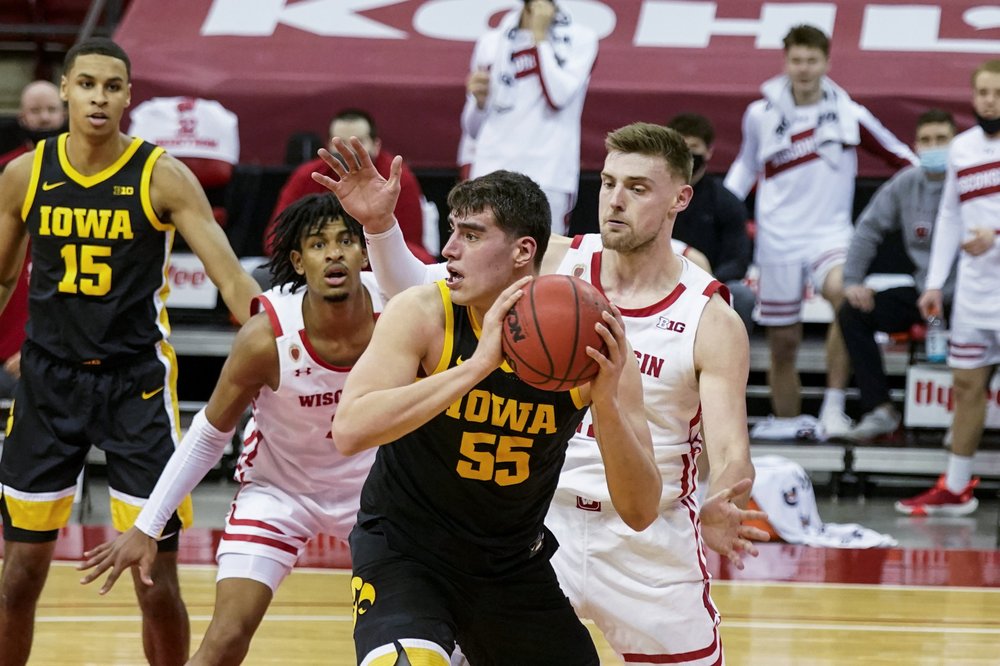 A rough game for La Crosse native Jonathan Davis and the 21st-ranked University of Wisconsin men's basketball team.
Davis shot a career-worst 1-for-9 from the field Thursday, scoring three points and fouled out for the Badgers, who fell to No. 11 Iowa 77-62.
The freshman did have a career-high nine rebounds, along with a steal and an assist in 33 minutes for Wisconsin (15-8, Big Ten 9-7), which was down 36-27 at halftime.
Wisconsin was atrocious from the field, shooting 30% (21 of 70), though they did shoot well from deep at 38.2% (13-for-34). Iowa hit 51% of its shots and was 63.2% from deep.
A Brad Davison 3-pointer pulled the Badgers within 51-49 with 9:17 remaining in the game, but the Hawkeyes (16-6, 10-5) immediately answered with a 6-0 run.
After another Davison 3-pointer pulled Wisconsin within 58-52 with 7:08 to play, but Iowa ended any hope with a 13-2 run after that.
The Hawkeyes outscored the Badgers 26-14 in the paint, led by Luka Garza who pushed his nation-leading average to 24.7 a game with 30 points on 11-of-19 shooting — which included 4 of 6 from deep.
---
TOP PHOTO: Iowa's Luka Garza (55) looks to pass as Wisconsin's Aleem Ford, left, and Micah Potter defend during the first half of an NCAA college basketball game Thursday, Feb. 18, 2021, in Madison, Wis. (AP Photo/Andy Manis)