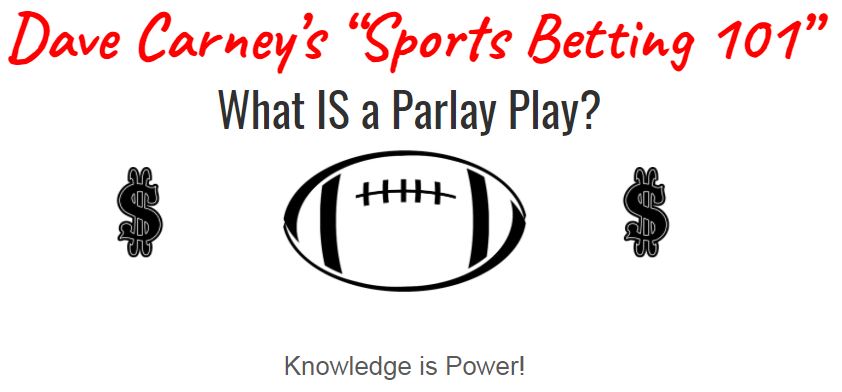 Sports Betting 101 – Vocabulary
Dave Carney 2/9/2021
In today's "Rocky's Daily Play" I'm serving up another dose of Sports Betting Vocabulary so that we can all better understand what-in-the-heck I was talking about..
In the coming weeks I'll go back over, in detail, some of the plays we've already discussed in past "Daily Play" columns, as well as introduce some new plays as we say goodbye to the NFL and start to look around the world of sports betting for other interesting plays and oddities. 
Let's get started!
What IS a Parlay Play?:
A parlay is a single sports wager that involves two or more bets combined into one. This can include point spreads, moneylines, totals, futures, or even prop bets, as long as the bets are on different games.
The allure of these bets has always been a larger payout than choosing a single team to win. But there's more gamble to these types of wagers because every "leg" of the parlay needs to not lose in order to win. If one leg loses, the whole parlay loses.
The flexibility of a parlay bet also makes it attractive to sports gamblers. You can combine multiple sports into your parlay bet; for example, you can include the Packers from the NFL, the Bucks from the NBA and the Wild from the NHL into a single bet. If they all win their bet, no matter what kind of bet you placed (ATS, Moneyline, Total), you win. 
This is what a Parlay ticket for the teams above mentioned might look like:
Parlay Ticket

| Teams | Type of Bet | Odds |
| --- | --- | --- |
| Saints vs Packers | Spread | New Orleans +3.5 / Green Bay -3.5 |
| Wild vs Jets | Moneyline | Minnesota -180 / Winnipeg +160 |
| Bucks vs Bulls | Totals | OVER 240.5 / UNDER 240.5 |
If even one of them loses their side of the bet though, you lose it all.
It's always important to consider that if you had bet those three games individually and gone 2-1, you would have profited as opposed to losing the entire bet. 
Yes the bigger payout on the parlay looks attractive, but the books simply make a killing off them.
Parlays are the sports betting equivalent of the penny slot. Bettors keep going back to the well, over and over again, in hopes of hitting a big payout. However, whether it's a penny slot or a parlay, the big winners are almost always the casino or book.
As always, be careful, have fun, and never bet with money you DON'T have to lose. This is a hobby, a leisure, and not something to be done with borrowed dough. 
Uncle Dave – out!