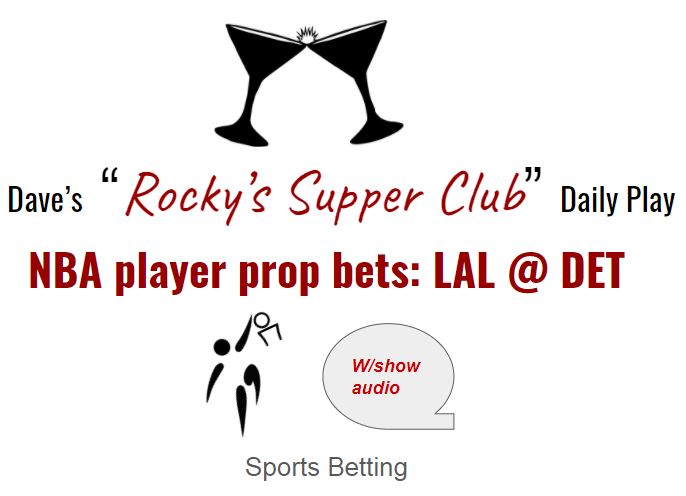 Player please!
Dave Carney 1/28/2021
What's on the table today?: This morning I continued to look into and discuss PROP (or proposition bets) on individual players in the NBA and found what I think might be a couple of good props on a few players in tonight's LAL @ DET game.
In doing some further research this morning I've come across a few other notable PROP bets on individual players that have some value.
If you didn't read my article on PROP bets from earlier this week, I'd suggest you go back and review to get a more complete understanding of the PROP play, but in essence a prop is a bet that IS NOT tied directly to the outcome of the game.
With that out of the way below are some prop play's I've found from two betting sites, with the attached audio from this morning's show breaking down the LAL @ DET individual prop plays. The other play I've found (you'll see the source) is what I would consider a worthy addition and a really good compliment to the plays I went over this morning. 
Happy Friday Jr and GOOD LUCK!
**For more info on TOTAL plays, OVER/UNDER, and PLUS/MINUS plays, TEASER cards and more, check back through some previous columns for detailed information**
From Playpicks.com (https://www.playpicks.com/43963/lakers-vs-pistons-nba-betting-preview-tips-and-picks-january-28-2021/)
Lakers Player Props
James' assists prop total for the matchup is listed at 8.5 assists, 1.1 assists higher than his season average of 7.4.
Anthony Davis' rebounding prop over/under for the matchup is listed at 9.5 rebounds, 0.6 rebounds higher than his season average of 8.9.
Pistons Player Props
Jerami Grant's points prop total for the contest is set at 17.5, 6.8 points less than his season average of 24.3

.  *(My Favorite Prop of this game)*
From Sports Betting Dime (https://www.sportsbettingdime.com/news/nba/january-28th-props-best-player-prop-bets-thursday-four-games/)
Christian Wood Over 20.5 Points (-116) 
Wood has been a double-double machine this season, recording seven in twelve games. Not only is he crossing the double-digit barrier in points, he is getting into the 20s on a nightly basis. In fact, he has failed to reach 20 points in only one game this season.
REMEMBER – don't bet based upon my recommendations. Do your research. Stay in your lane