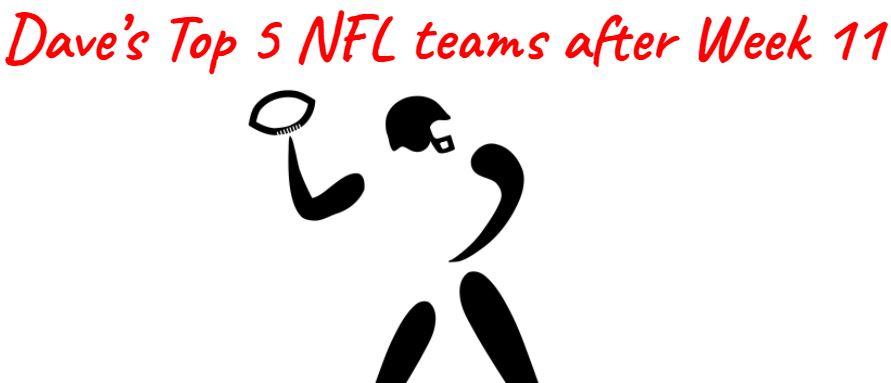 My Top 5 NFL Teams after Week 11
Dave Carney 11/24/2020
1. Kansas City Chiefs 9-1 (Same) 
Why: They continue to pull out wins when wins don't seem to be there. They have the best QB in the league hands down. Their defense is actually much improved and when it needs to, gets stops or creates turnovers.
Weakness: If anything, it would be the defense. However, as noted above they are much improved and the off-season signing of Frank Clark, Chris Jones and Tyrann Mathieu seem to give this squad an unshakable confidence. This is a Super Bowl team by all accounts.
2. Pittsburgh Steelers 10-0 (Same)
Why: They're 10-0 for the first time in team history…and it's the Steelers history for Pete's sake!! Big Ben looks to be back to form and has even accepted a bit of a lesser role. The wide receivers I've talked about for weeks continue to show-out, and the running game is solid as ever. I also think Mike Tomlin is the best coach in the NFL.

Weakness: Schedule. Right now the Steelers have an improbable win over the Ravens, and a near collapse against the Titans as their signature wins. Those games won't work out that way (most likely) in the playoffs so it'll be interesting to see what happens on Thanksgiving in the re-match vs the Ravens.
3. New Orleans Saints 8-2 (Up from 5)
Why: They've won 7 in a row. They lost their starting QB and future Hall of Famer (Drew Brees) to 11 broken ribs. They still beat the Falcons 24-9 and sit at 8-2, first place in the NFC. The Saints defense, long considered a bit of a liability, is rolling and has been the league's best defense over the past 4 weeks. 
Weakness: Quarterback. If Drew Brees is out for an extended period of time, which seems likely, will Taysom Hill be able to continue to win games? Will New Orleans have to go to turn-over-in-waiting Jamis Winston? This is the big question mark, but after the week they had, they can't do anything but climb here to number 3, taking Tampa Bay's spot from last week.
4. Los Angeles Rams 7-3 (New in Top 5)
Why: Coaching, defense, serviceable offense. The Rams got the best of the Bucs 27-24 on Monday Night Football, making Tom Brady look OLD, and giving the Rams a bit of a path to the 2nd spot in the NFC if they continue to win. Donald is a beast, Ramsey may win Defensive Player of the Year, and Sean McVay is figuring out a running and play-action game without Todd Gurley. Los Angeles seems legit (for the moment).
Weakness: Their division, which actually might be their strength. What looked like a tough looming matchup in Week 12 versus the 49ers shouldn't be at this point, much of a threat. The Patriots are OK, the Jets stink; outside of the Seahawks and Cardinals weeks 16 and 17 the Rams have a pretty easy schedule. That said, losses against any of their division teams, and this ship could sink.
5. Indianapolis Colts 8-3 (Back in top 5)
Why: After beating the Packer the Colts are now 8-3 and feature one of the NFL's best pass-rushing, and defensive units in general. While Green Bay did a good job of protecting Aaron Rodgers, the Colts are a "pin-your-ears-back" kind of club that will be consistent with a running attack on offense to aid the D. They also have a great head coach. In a crowded AFC, the Colts could present a problem for a First Round opponent. 
Weakness: Quarterback and turnovers. Rivers needs to be solid, or above average at least, like he was against Green Bay, and Johnathan Taylor can't fumble, like he didn't against the Packers, to give this squad a shot. If Rivers can't find a groove, or Taylor puts the ball on the ground, I don't like Indy's chances. If they can stay away from both of those like they've done against Tennessee, Green Bay, Chicago and Minnesota *(all of their best wins)* then they could be real tough out in any round.