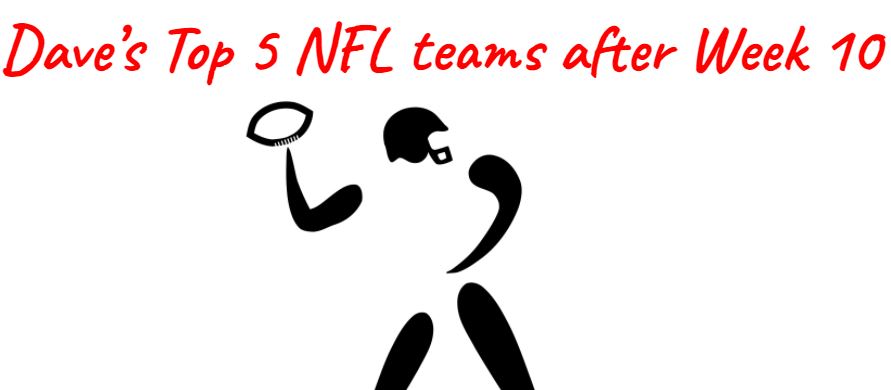 My Top 5 NFL Teams after Week 10
Dave Carney 11/17/2020
1. Kansas City Chiefs (Same)
Why: Because the Chiefs were on a bye-week, and even though Pittsburgh continued to roll winning their ninth straight of the season – Kansas City is just the best team. Period. Until I see otherwise the Chiefs remain in my Number 1 position.
2. Pittsburgh Steelers (Same)
Why: After winning their ninth game in a row, going 9-0 for the first time in the storied history of the Steelers franchise, it's warranted. The Steelers undressed the Bengals and rookie sensation Justin Burrow 36-10 on Sunday and didn't look like they broke a sweat until the 3rd quarter. I've been semi dismissive of Big Ben's play this year, but as Jon Denton (former NFL/CFL/UNLV QB) brought up to me Tuesday (11/17/2020) on the program, Ben is playing "nearly" MVP type ball. Throwing at a nearly 70% completion clip, with 22TD's to just 4INT's, Ben is leading a potent Steelers offense with three legit weapons on the outside which I detailed last week. Combine that with the leagues 2nd or 3rd best defense, and the outright best head coach in the NFL this year, the Steelers are for real. I won't be surprised at all to watch Pittsburgh take on Kansas City for the right to head to Tampa Bay and face the……? (see below)
3. Green Bay Packers (up from 4)
Why: The Packers are the number 1 seed in the NFC through 10 weeks. The Saints do have an identical 7-2 record, but Green Bay beat the Saints in Week 3 and holds the tie-breaker. Plus the Saints have lost Drew Brees which we'll get to in my number 5 slot. The Packers, if they can continue to win, will have the clearest pathway to the NFC's only bye in the playoffs, a boon for Green Bay that can not be overstated. The Packers NEED the bye. If they don't get it, I don't see them being able to make it to a Super Bowl in Tampa Bay. If the Packers can hold on, get the number 1 overall seed, I actually think Green Bay and wrestle it's way in with some solid play and a few breaks. That said, the Packers have some real issues. The defense is playing bad. Plain and simple. Can it get better? Who knows at this point. But you have to keep digging. Special Teams has been a miss lately, but that can be cleaned up. The most concerning thing for me right now with the Packers is their coaching. What is Pettine doing most weeks? Why does LaFluer seem to waffle on the style of play he wants to install? These questions need to get answered in a hurry, and with the Colts looming, lets hope that translates into THIS Sunday…
4. Tampa Bay Buccaneers (back in Top 5)
Why: Tom Brady, and the Bucs defense. After two weeks out of my top 5, Tampa Bay is back after a really nice performance against a stronger than they look Panthers team. Brady has really settled into his "Michael Jordan with the Wizards look". One game he's a questionable pro, the next, he looks like he did 10 years ago. That was MJ in Washington and that's Tom in Tampa Bay. What saves Tom is that tremendous Bucs defense led by coordinator Tod Boyles. The Bucs get after the ball, have the best linebacker (arguably) in the league with Lavonte David, and continue to see incremental improvements on offense. Tampa Bay has talented running backs that have been criminally underused this season, but against Carolina that changed. The Bucs ran the ball a total of 37 times on Sunday for 201 yards and 2 TD's, giving Tom Brady the ability to execute play action and be much more efficient. Brady was a smooth 28/39 with 341 yards and 3TD's. That my friends will get it done. Tampa Bay is going to be a tough out, and even though they've lost to the Saints twice, New Orleans was dealt a major blow on Sunday in their win over the 49ers..
5. New Orleans Saints**(same)**
Why: Because I put an asterisk there. The Saints are 7-2, just getting Michael Thomas back, and WHAM…your 40 year old QB goes down with several fractured ribs and a punctured lung, Ouch. Especially damaging (with the lung) due to the COVID pandemic. By all accounts the Saints were the hottest team in the NFL having won their 6th straight game since losing to the Packers in Week 3. However, when your Hall of Fame in waiting QB Drew Brees goes out with an injury that could very well cost him the remainder of the regular season you have issues. Jamis Winston will likely step in as the QB, and while that may excite fantasy football players, real issues exist with him under center. Winston is no Teddy Bridgewater, and the Saints really don't know what they'll get from the former Tampa Bay starter. New Orleans retains their same spot from last week out of default, but I expect this to be the final time we see the Saints in my Top 5.