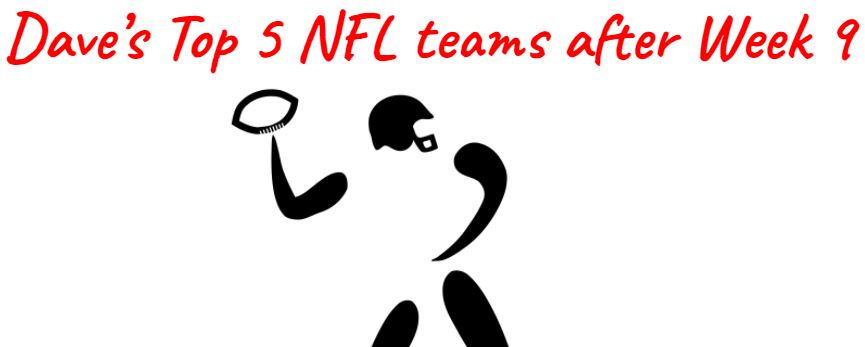 My Top 5 NFL teams after Week 9
Dave Carney 11/10/2020
1. Kansas City Chiefs (Same)
Why: Patrick Mahomes and the Chiefs are now 7-1 and look like they are playing on cruise control most of the game. The offense with Andy Reid and Patrick Mahomes, along with the offensive line and weapons on the outside are an A for sure. The Chiefs defense is also in the top 10 in several categories which I grade as an A-. Overall this team is looking real hard to stop and perhaps en-route to the first back-to-back Super Bowl championship since the Patriots.
2. Pittsburgh Steelers (Same)
Why: The Steelers are 8-0 and may be the most complete team on all three levels (offense, defense, special teams) of any in the league. Big Ben continues to play well enough, James Connor is the bell-cow the Steelers love to feature, and Pittsburgh features three solid wide receivers in Chase Claypool, Diontae Johnson, and JuJu Smith-Schuster. What remains to be seen is whether or not the Steelers can keep up with a true powerhouse as they've not really been tested that strenuously this season with the team's biggest win coming against a Ravens team that actually dominated in every facet of the game. If it hadn't been for Ravens QB Lamar Jackson's uncharacteristic turnovers in that one, Pittsburgh would have at least one loss on their record.
3. Baltimore Ravens (Back in Top 5)
Why: Because no matter what you can't ignore a solid defense, a solid running game, and a quarterback who was last year's MVP. Yes, Lamar Jackson has struggled at times this season, but in the 2nd half of the 24-10 win over the Colts Jackson had a stretch going 10-10. He's not the perfect pocket passer, and sometimes gets a little too happy-footed, but overall this Ravens team is well coached with good players. They will be a tough matchup for any team on any given Sunday, and most likely the favorite in all but two cases.
4. Green Bay Packers (Back in Top 5)
Why: The Packers showed once again in the 34-17 win in San Francisco that they're offense, when running well, is pretty hard to stop. Aaron Rodgers is once again a legit MVP candidate, and Davante Adams very well may be what he says, which is the best wide receiver in the NFL. The elephant in the room for the Packers of course is defense. Specifically RUN defense of which the Packers don't seem to want/know how to play. It wouldn't be so alarming if it wasn't the same exact problem they had last season, and losing to teams in similar ways they did last season for the same reason. Run defense. It's scary to think that not stopping a running back like Dalvin Cook and a 1-5 Vikings team at home could be the determining factor in a playoff seed and potential bye in the Playoffs.
5. New Orleans Saints (NEW to Top 5)
Why: The Saints have won five games in a row since losing to the Packers in week 3. The Saints are just now getting healthy with one of the game's most dynamic players, and possibly the best or second best wide receiver in the NFL in Michael Thomas back in Week 9 tells the tale. Drew Brees is playing efficient, if unspectacular quarterback, Alvin Kamara is the weapon most teams fear, and spend time game-planning for, a defense that continues to improve. If the Saints continue on the path they've been on, and continue to get (and stay) healthy, they could be a real problem for any team in the NFC Playoffs.