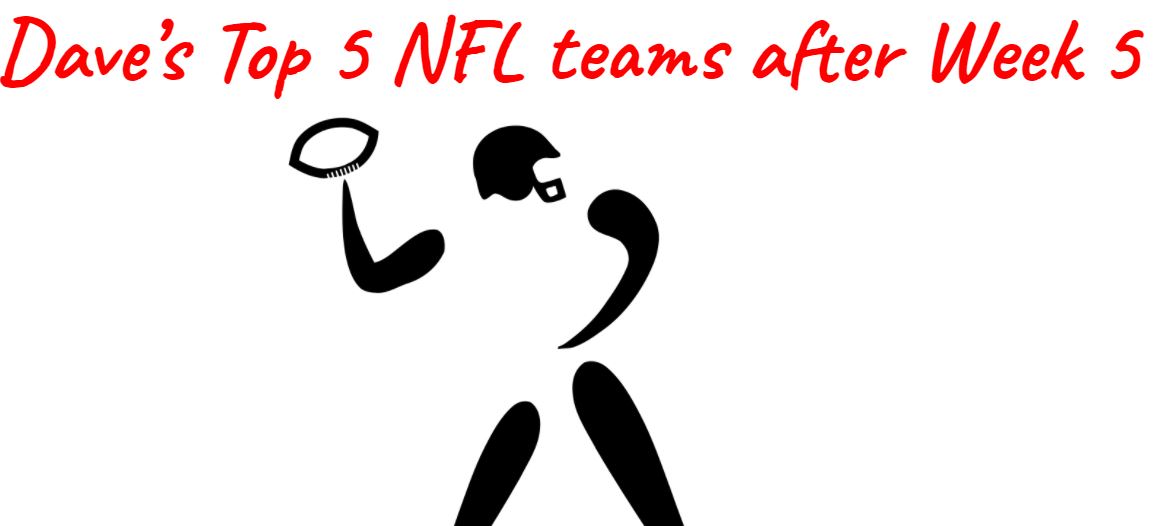 My Top 5 NFL Teams after Week 5
Dave Carney 10/14/2020
1.  Green Bay Packers (up from 2)
Wednesday and this is when I get to say, the Green Bay Packers are officially my number 1 team after Week 5 in the NFL. All they had to do this week was watch the Raiders beat the Chiefs at home, avoid COVID-19, and get ready for 43 year old Tom Brady and the Tampa Bay Bucs (who I actually thought would be a juggernaut) in Tampa this Sunday. Aaron Rodgers is playing lights out, turnover free football, the Packers defense is better in every way than Seattle, and everybody else in the NFC is scrambling trying to figure out what to do with Matt Lafluer's incredibly nimble offense. For those reasons, the Packers get this weeks' top spot.
2. Seattle Seahawks (up from 3)
The Seahawks come in at a close second. They are 5-0 for the first time in their franchise history, Russell Wilson is playing MVP ball (sorry Packers fans, even better than Rodgers) and he's having to carry his team to wins on a weekly basis. If Jamal Adams can get back on the field that will greatly improve the overall look of the Seahawks, but without him out there it's been simply the Russell Wilson show. That can't sustain, but if that Seattle D picks up, nobody will want to play these guys in the playoffs.
3. Kansas City Chiefs (down from 1)
This placement was the cause of a great bar debate today. That of course is where Power Rankings were born and the Chiefs do deserve credit entering this season as the reigning Super Bowl Champ, and a team that thoroughly dispatched the Baltimore Ravens. However, a loss at home to an up and coming (if not down right surprising) Raiders team came into your house and beat…you..down. That's not the Super Bowl Champ you want to see. The fact is, outside of beating Baltimore in grand fashion, the Chiefs have had struggles in spots this year. They needed overtime to beat rookie Justin Herbert who didn't even know he was playing that game, and against a Cam Newton-less Patriots it looked like they were going to lose until the 2nd half. I know the Chiefs are the real deal. They've got the horses and the coaching, but this week, after a home loss to a still unproven Raiders team, they drop to number 3.
4. Baltimore Ravens (up from 5)
Well, Baltimore's defense has woken up after that dreadful showing against the Chiefs allowing just 20 points over their next two games. If they can get consistent play from their line backing core, a turn-over free Lamar Jackson, and a solid ground game leading to big time-of-possession discrepancies, they will continue to dominate in the regular season. The trick for Baltimore now is making good on those pre-season expectations with some postseason wins.
5. Tennessee Titans (new to the Top 5)
The Titans had their 2020 coming out party on a very odd, once in a 70 year Tuesday Night Football match-up against the undefeated (and previous number 4 in my rankings) Buffalo Bills. The Titans who hadn't even been allowed to practice in two weeks showed no rust at all, picking off Josh Allen on the Bills first drive and quickly turning that into a touchdown on the first offensive play. That set up a blow-out nobody saw coming to the tune of 42-16. Allen who had thrown just 1 pick over the Bills first 4 games got intercepted twice by Malcom Butler while the Titans quarterback Ryan Tannehill threw three TD's with no INT's and ran in for a score as well. Derek Henry (Titans RB) ran in for 2 scores on limited carries and the titans are now 17-3 and their last 20 regular season games. Watch out for this team again this season, now just one of two AFC teams undefeated. The other are the Pittsburgh Steelers who are hovering just outside my Top 5.