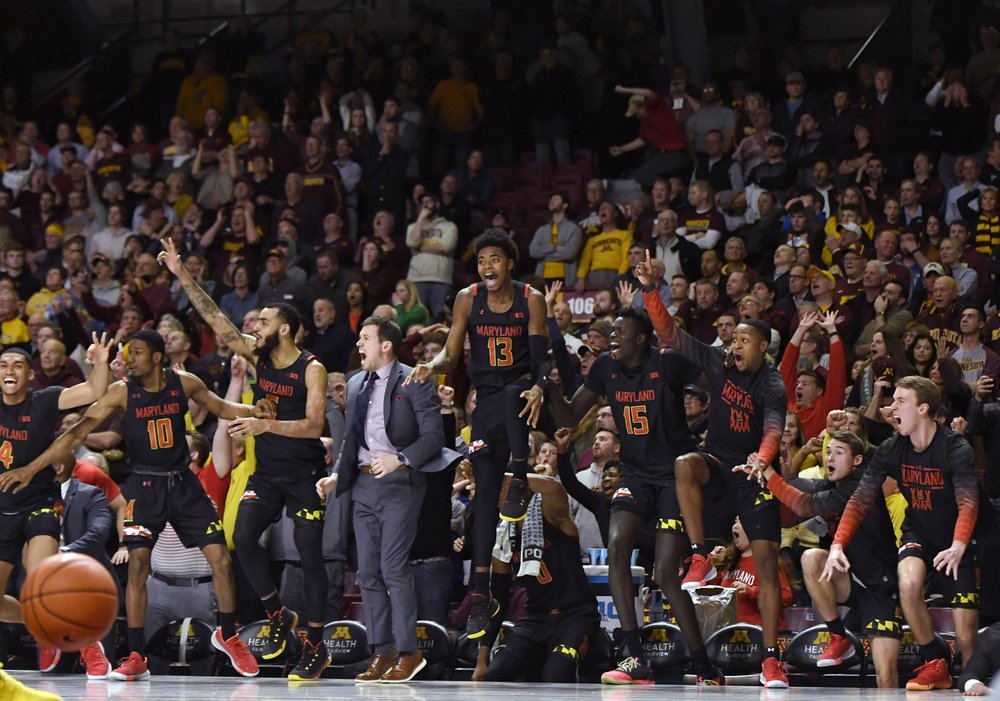 "Thanks a lot Minnesota." #Sarcasm
That's what Badgers fans — and most of the Big Ten — are saying after watching Maryland-Minnesota on Wednesday night.
A chance for the University of Wisconsin men's basketball team, and the rest of the Big Ten, to catch first-place Maryland flopped thanks to the Gophers.
Ninth-ranked Maryland was down 16 at halftime. The Terps were down 14 with 9:02 left. And they were down eight with 2:06 remaining.
But, the Gophers squandered that, and with 1.9 seconds left, Darryl Morsell nailed the winning 3 to give the Terps a 74-73 win on the road.
For the Badgers, it may all be for nothing, if they lose at No. 19 Michigan at 6 p.m. tonight on ESPN2. Maryland (23-5, 13-4) maintains a 2.5 game lead on the Badgers — and Illinois (18-9, 10-6).
Wisconsin (17-10, 10-6) has won five of six, since La Crosse native Kobe King announced he was leaving the team.
Elsewhere in the standings, No. 16 Penn St. (21-7, 11-6) and No. 24 Michigan State (19-9, 11-6) are two games back of Maryland. The Spartans play the Terps on the road Saturday..
Wisconsin has three more games after Thursday — at home against Minnesota and Northwestern, before a tough road game at Indiana.
---
TOP PHOTO: Maryland players on the bench celebrate the go-ahead 3-pointer by Darryl Morsell, not seen, against Minnesota during the second half of an NCAA college basketball game Wednesday, Feb. 26, 2020, in Minneapolis. Maryland won 74-73. (AP Photo/Hannah Foslien)