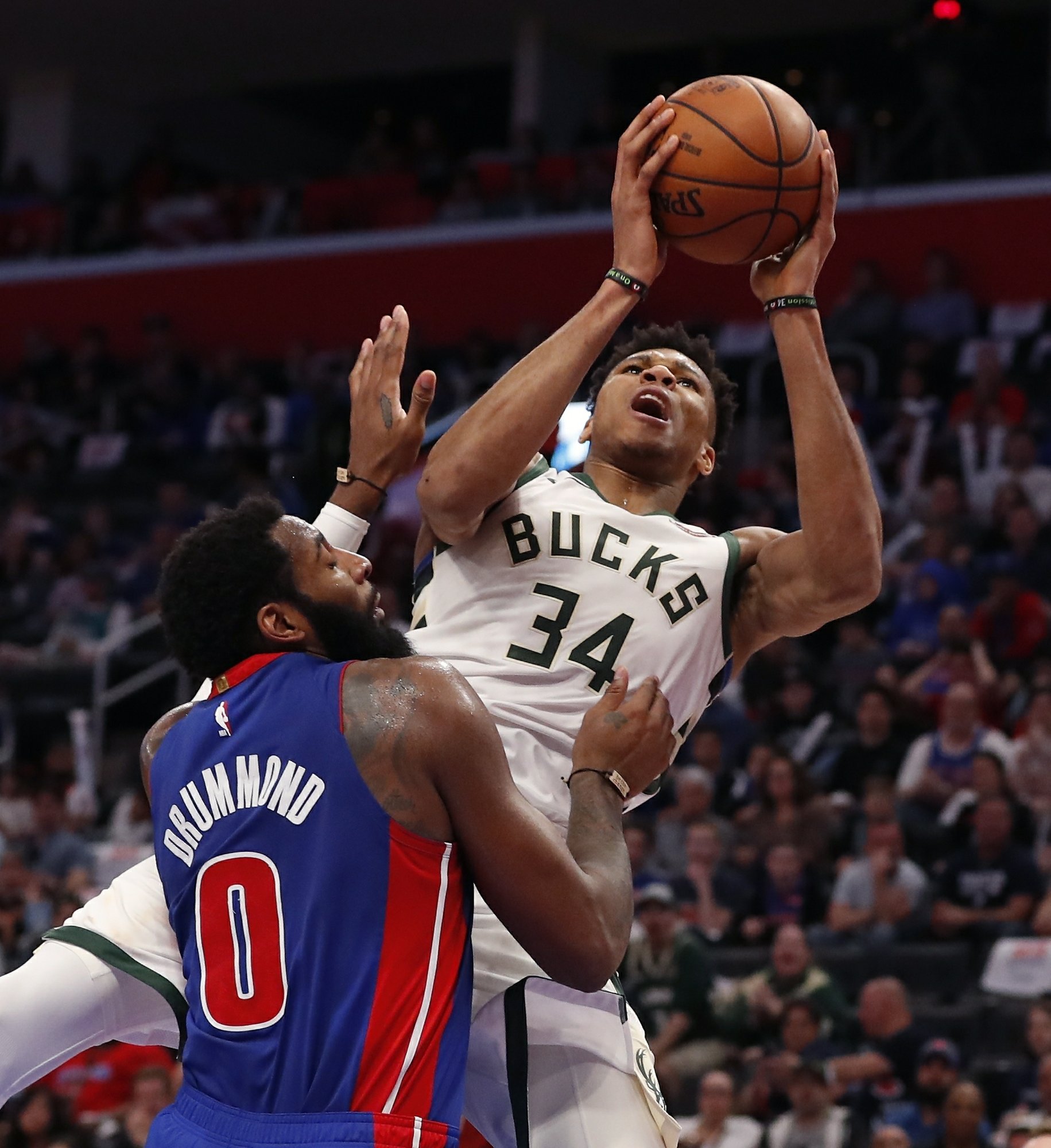 Giannis scores playoff career-high 41, does this (watch video) and the Bucks are out of the first round since 2001
Giannis Antetokounmpo scored 41, had nine rebounds, four blocks, three assists and Andre Drummond couldn't do anything about this.
In the "who should be the MVP?" race, James Harden couldn't get it done Monday in the first round, losing to the Utah Jazz, as the series is now 3-1 Houston.
Meanwhile, Antetokounmpo and the Bucks swept the Detroit Pistons 127-104 and head to the second round to face the Boston Celtics.
The 24-year-old Bucks forward finished 12 of 23 from the field, 2 of 6 from 3 and 15 of 20 from the free-throw line. He had one turnover.
Harden, on the other hand, was 8 of 19 from the floor, 6-for-12 from 3 and 8 of 8 from the line in scoring 30. He had eight turnovers and this +/- was -30 in the 107-91 loss.
For the first time since Ray Allen, Sam Cassell and Glenn "Big Dog" Robinson graced the court back in 2001, the Bucks have gotten out of the first round of the NBA playoffs.
If you remember, that 'Big 3' for the Bucks made it to the Eastern Conference finals before losing to the 76ers in seven games.
It was a series that marred in conspiracy theories about a small market team playing in the NBA Finals against the LA Lakers.
Here's Bill Simmon's recount of the series:
"If crooked NBA playoff series were heavyweight boxers, then the 2002 Western finals (Lakers-Kings) was George Foreman and the 2001 Eastern finals (Bucks-Sixers) was Earnie Shavers. Translation: People remember only George, but Earnie was almost as memorable. To briefly recap, Philly's wins in Games 1 and 4 swung on a controversial lane violation and two egregious no-calls. The Sixers finished with advantages of 186-120 in free throws, 12-3 in technicals and 5-0 in flagrant fouls. Glenn Robinson, one of Milwaukee's top-two scorers, didn't even attempt a free throw until Game 5. Bucks coach George Karl and star Ray Allen were fined a combined $85,000 after the series for claiming the NBA rigged it. In that game, Milwaukee's best big man, Scott Williams, was charged with a flagrant foul but not thrown out, only to be suspended, improbably, for Game 7.
The defining game: When Philly stole a must-win Game 4 in Milwaukee despite an atrocious performance from Iverson (10-for-32 shooting), helped by a 2-to-1 free-throw advantage and a host of late calls. How one-sided was it? When an official called a harmless touch foul to send Sam Cassell to the line with two seconds left and the Bucks trailing by seven (maybe the all-time we-need-to-pad-the-free-throw-stats-so-they-don't-seem-so-lopsided-afterward call), the subsequent sarcastic standing ovation nearly morphed into the first-ever sarcastic riot. And this was Milwaukee, the most easygoing city in the country! Nobody remembers this. The real loser was Allen, who exploded for 190 points in the series, including a record nine three pointers in do-or-die Game 6. Nobody remembers this, either. Even I didn't remember it. Crap."