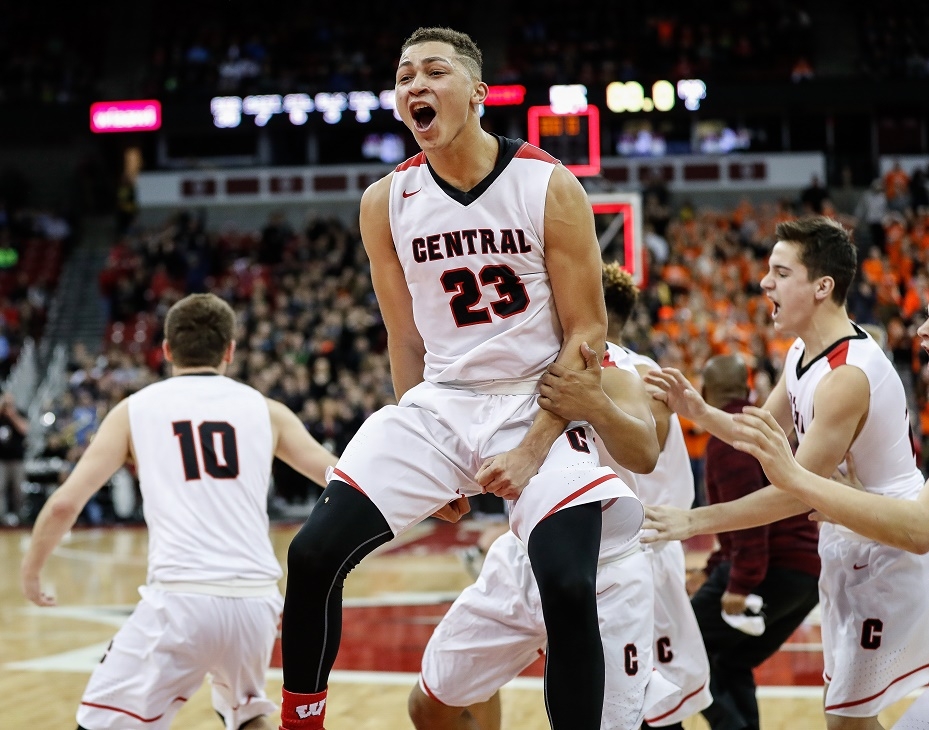 Bangor, Central back at state again
We're just a day away now from the WIAA high school boys basketball state tournament on Friday.
Central is there for the fourth consecutive year, while Bangor is looking to repeat as state champs, after making history last season.
That's when the Cardinals capped off a 27-1 season with a 91-67 win over McDonell Catholic to win one of multiple state championships.
Bangor became just the sixth school in WIAA history to win both the boys and girls state championships, since the girls began playing in 1976.
The Cardinals were also just the second team in the state to ever win both a football and boys basketball state title.
This year, it's just on the boys basketball team, however, as neither the girls or the football team made the state tournament.
As for the Red Raiders, they've been to the state tournament four consecutive seasons, winning it all two years ago (pictured above is Wisconsin Badgers forward Kobe King after winning state for the Red Raiders that season).
This time around, matched up against Milwaukee Washington will be interesting, since it's a rematch from last year. Central was eliminated by Purr-Golders 70-58 in the semis.
Central junior Terrance Thompson says they are better equipped to handle the pressures of the game now
"Last year we were more of a raw team," Thompson said. "I feel like we're veterans now. Last year when they made runs, we got down on ourselves. This year, we know they're going to get on runs, they're going to hit some tough shots."
Central enters the tournament seeded third, but ranked second in the final AP poll. The Red Raiders are 24-2, while Milwaukee is seeded second but ranked seventh with a 21-5 record.
Coverage begins on WKTY 96.7 FM / 580 AM or on the WKTY app at 3:15 p.m. from the Kohl Center in Madison.
Meanwhile, Bangor is 25-1 and also ranked second in Division 5.
The Cardinals only loss is to 25-2 to Minnehaha Academy, which is a game away from the Minnesota state tournament.
Bangor plays 25-2 Columbus Catholic, which is ranked sixth in the final AP poll.
Coverage on WKTY for that game begins at 10:45 a.m.
PHOTO: ApertureBySteveDavis.com