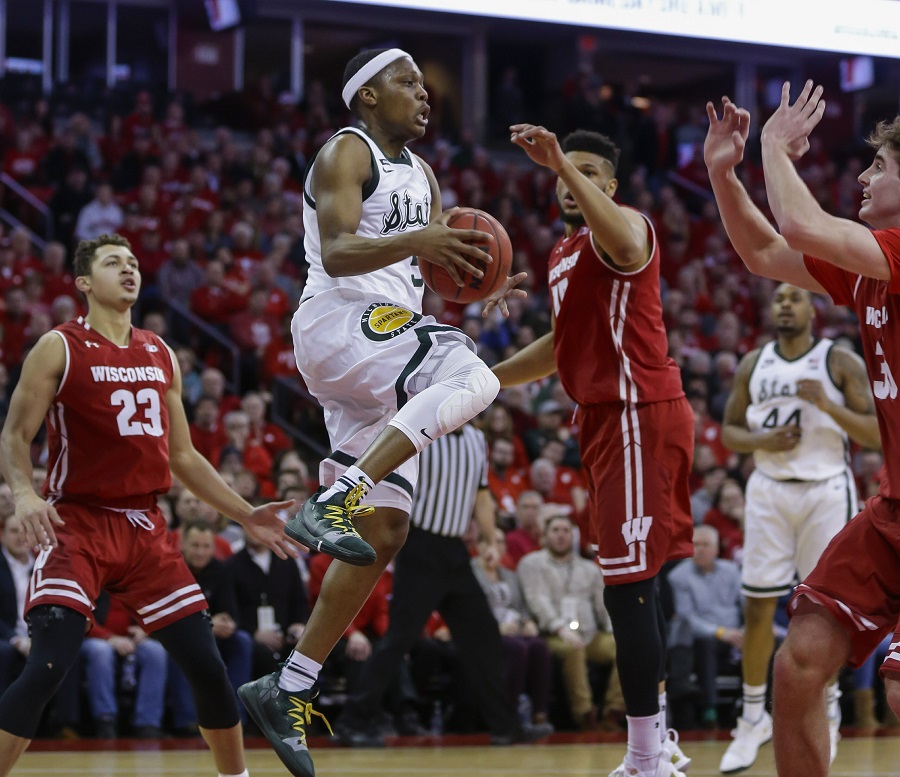 La Crosse's King plays 28 minutes as No. 20 Badgers go scoreless down stretch in loss to No. 11 MSU
MADISON, Wis. — La Crosse native Kobe King went 3-for-5 from the field in scoring six points, as No. 20 Wisconsin fell to 11th-ranked Michigan State 67-59 on Tuesday night.
It's the most minutes King has played since the Badgers beat Michigan on Jan. 19 — seven games ago.
For the season, the redshirt freshman is averaging 4.2 points on 48.1-percent shooting in 19.2 minutes.
King played the same amount of minutes last season, but shot just 45.7 percent from the field. His 3-point percentage is also up this season to 39.4 from 33.3.
In the loss to MSU (20-5, 11-3 Big Ten) at the Kohl Center, the final score is no indication as to how close it was.
The teams were back and forth late in the second half, tied 53-53 with 7:50 remaining.
But, after the Badgers pulled within 57-56 at the 5:21 mark, they didn't score again until there were 15 seconds remaining.
Neither team shot particularly well from the field. Wisconsin shot 42.9, while the Spartans were at 43.9. The difference was 3-pointers. Wisconsin was an abysmal 6 of 20 from deep, while MSU was 9 of 22. They also outrebounded the Badgers 40-28.
Ethan Happ was 10 of 20 from the field, and 0 of 6 from the line. He had 20 points, 12 rebounds for the Badgers (17-7, 9-4).
Wisconsin guards D'Mitrik Trice and Brad Davison scored 11, going a combined 4 of 18 from the field.
MSU's Cassius Winston led all scorers with 23. He was 8 of 17 from the field and 4 of 7 from deep.
Wisconsin hosts Illinois on Monday.