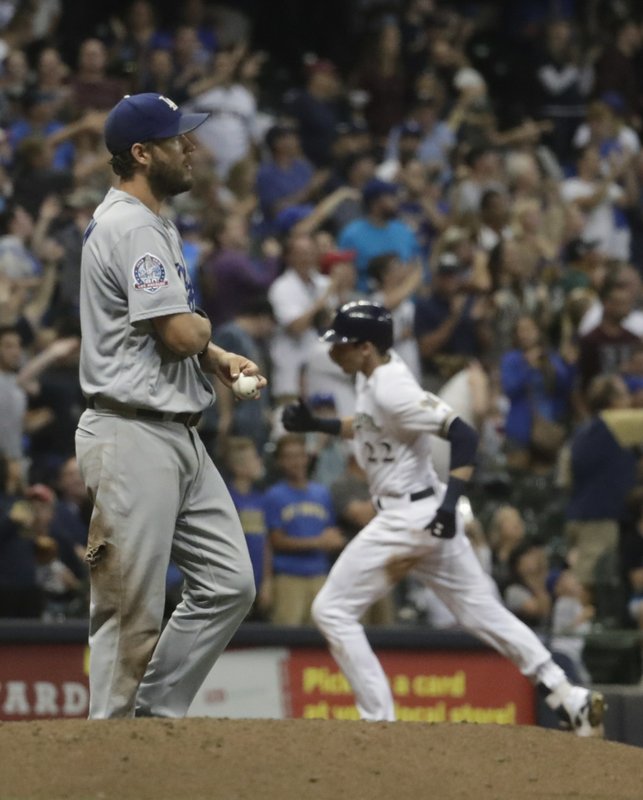 There will be no "Braves vs. Braves" matchup in the NLCS, as the Los Angeles Dodgers defeated the Atlanta Braves 3-1 in the best-of-five series Monday 6-2.
Game 1 is 7 p.m. Friday night at Miller Park, as the Milwaukee Brewers attempt to get back to the World Series for just the second time in franchise history.
The Dodgers, in their fourth championship series in six seasons, will start Clayton Kershaw. L.A. is 4-3 against Milwaukee this season. The Dodgers won 2 of 3 at Miller Park immediately after the all-star break, which was the low point of Milwaukee's season, having lost 7 of 8 at the time.
Kershaw is 1-1 against Milwaukee this season.  The Dodgers won 21-5 on Aug. 2, as the 30-year-old lefty went six innings, giving up five hits and two earned runs. He struck out seven and walked two.
Kershaw lost July 21 at Milwaukee 4-2. In that one, he gave up seven hits and four runs — one earned — in six innings with five strikeouts and no walks.
In the last three seasons prior to 2018 against the Brewers, Kershaw has only pitched twice, going 0-0 with a 2.51 ERA. He pitched 14.1 innings with 22 strikeouts and just one walk.
| Game | Date | Location | Time | TV |
| --- | --- | --- | --- | --- |
| 1 | Fri, Oct 12 | Miller Park | 7:09 p.m. | Fox or FS1 |
| 2 | Sat, Oct 13 | Miller Park | TBD | Fox or FS1 |
| 3 | Mon, Oct 15 | Dodger Stadium | TBD | Fox or FS1 |
| 4 | Tue, Oct 16 | Dodger Stadium | TBD | Fox or FS1 |
| 5* | Wed, Oct 17 | Dodger Stadium | TBD | Fox or FS1 |
| 6* | Fri, Oct 19 | Miller Park | TBD | Fox or FS1 |
| 7* | Sat, Oct 20 | Miller Park | TBD | Fox or FS1 |