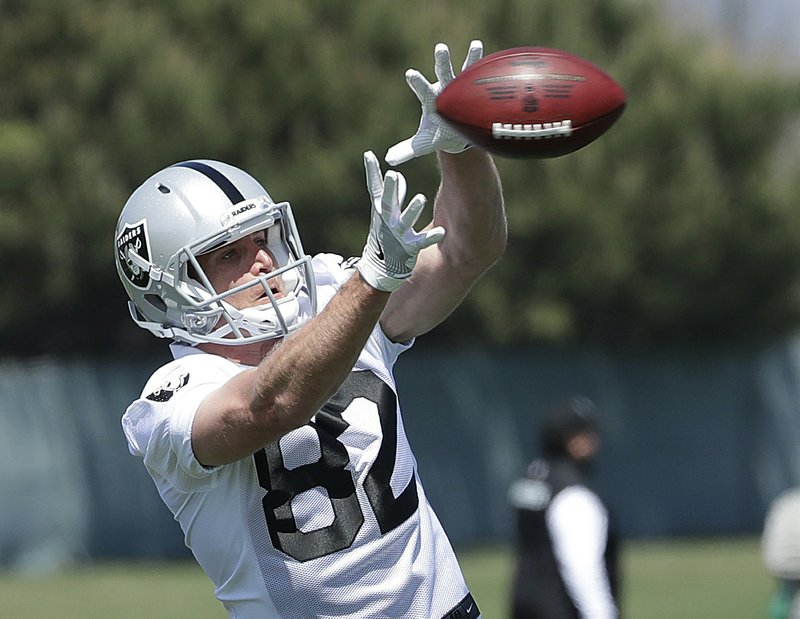 ALAMEDA, Calif. (AP) — After spending his first 10 NFL seasons in Green Bay with the same quarterback and head coach, Jordy Nelson acknowledged it took a little time to adjust to his new environment with the Oakland Raiders.
Nelson got over that fairly quickly and has done his best to fit in and adjust right away, becoming a leader in the receiver room and a trusted target for quarterback Derek Carr.
"He's been a playmaker on the field," coach Jon Gruden said Monday. "He's been a consistent, reliable target at a couple positions. He's been a real good influence behind the scenes. We've been really, really happy with his addition to this team."
Nelson gets the chance to reunite with Aaron Rodgers, coach Mike McCarthy and the rest of his former Packers teammates when Green Bay visits the Raiders on Friday night in an exhibition game.
"Those are the guys you miss that you see day-to-day, that you don't get to talk to as much as you're used to," Nelson said. "It'll be fun to see them. It's kind of enjoyable as a preseason game so we can have some fun and get in and get out."
The 33-year-old Nelson struggled last season with 53 catches for 482 yards and six TDs, recording a career-low 9.1 yards per reception as Rodgers missed more than half the year with injuries. Nelson had 25 catches for 290 yards and all six of his TDs in five games before Rodgers broke his collarbone last season.
Those numbers plummeted once Brett Hundley took over and the Packers released Nelson in March. He signed a two-year deal with the Raiders, who believe he still has burst left in his game.
Carr heard plenty about Nelson from his former college teammate at Fresno State, Davante Adams, who played the past four seasons with Nelson in Green Bay. Carr said the only thing that has surprised him about Nelson is that he still has the speed of a much younger player.
"Everything that you hear about him is what you get," Carr said. "He helps the receiver room raise their level, whether you're the second guy, third guy or you're just trying to make the team, he raises the level for others. It's not only with the way that he practices and works out and the way he takes care of his body and those things, but the way he goes after it mentally. He wants to think like the quarterback. If we throw a ball, we're always communicating. We'll say, 'Hey, if they play it this way, I like it like this.' Just the way he communicates, it rubs off on those young guys, too."
Nelson has plenty of experience. He had four 1,000-yard seasons in Green Bay, including 1,519 yards on 98 catches in 2014. In 136 career games, he has 550 catches for 7,848 yards and 69 TDs.
Nelson made the Pro Bowl in 2014 and won AP Comeback Player of the Year in 2016 when he led the league with 14 touchdown catches a year after missing the entire season with a right knee injury.
Once he got comfortable enough with the new offense in Oakland, Nelson has been able to share some of what he learned with younger receivers in Oakland.
"Once I started feeling that out, I've been able to have more conversations with guys and really get into the fine details of maybe some suggestions or ways to help them create more separation, which is what we're all trying to get at the end of the day," he said.
While Nelson and Amari Cooper are entrenched as starters in Oakland, Gruden is still searching for someone to emerge as the third receiver. Martavis Bryant has been in and out of practice and Seth Roberts missed close to two weeks with an injury.
Roberts returned to practice Monday but his time away has allowed Ryan Switzer and Griff Whalen to get more time in the slot in practice with Carr.
"We're all sitting there excited to see what happens," Carr said. "They're all, I think, healthy. We'll see. I think they're all mentally ready, physically ready. Hopefully come game time, we can sit there and we can evaluate that spot."