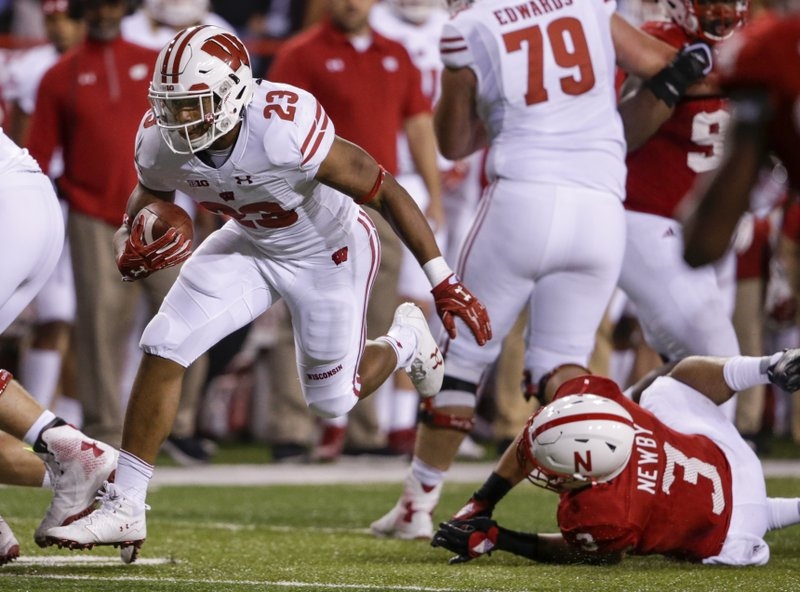 MADISON, Wis. (AP) — The big guys are front and center at Wisconsin.
Running back Jonathan Taylor probably wouldn't be drawing attention as a Heisman Trophy candidate if not for the holes opened by the Badgers' offensive line during his record-setting freshman season.
The line is tough, physical and agile in typical Wisconsin fashion, and all five starters are back.
The Wisconsin Badgers on the cover of Sports Illustrated?

Big if true…

It's true. It's big (literally). #OnWisconsin pic.twitter.com/y5ed24IOUx

— Wisconsin Football (@BadgerFootball) August 7, 2018
It's the kind of stability and experience that most other schools would envy.
"It's huge," Taylor said. "The potential is there. I can't wait to see where it takes us."
Taylor set a major college record for a freshman with 1,977 yards last year, finishing sixth in the Heisman voting. Throw in a deep receiving corps and improving quarterback Alex Hornibrook, and the Badgers might very well barrel their way over the rest of the Big Ten West division.
The Badgers finished a school-best 13-1 last year. But one victory has eluded this group during what has otherwise been a wildly successful run since Paul Chryst took over as coach in 2015.
The school is 0-2 under Chryst in the Big Ten title game. A win would better position the Badgers to get into the playoff.
"You can't just think you just pick up where we were last year. This is a different team, a different group of guys," right guard Beau Benzschawel said. "Every year is going to bring its new challenges, and hopefully we'll be the best for it."
Other things to watch with the Badgers:
FIVE GUYS: While the offensive line may have the same five starters, a couple players will be in different positions. Senior Michael Deiter is sliding one spot over from left tackle to guard, an interior position to which he might be better suited in the NFL. Guard Jon Dietzen, who has fought through injuries in his career, appears to be the favorite at tackle.
Benzschawel, Deiter and right tackle David Edwards each looked into entering the NFL draft before deciding to return to school and rejoin Dietzen and pancake-blocking center Tyler Biadasz up front.
The 6-foot-7 Edwards is the immovable object protecting the blind side of the left-handed Hornibrook. Edwards decided first in the offseason to return before turning his attention to Benzschawel and Deiter.
"I was kind of recruiting to come back," Edwards said. "I was in their ears saying 'Hey we're not done yet, we've got a lot of things to get accomplished.'"
TAYLOR-MADE: Let the Heisman hype begin for Taylor, who by all accounts remains the grounded and hard-working player who burst into the spotlight as a freshman. Taylor was a depth-chart afterthought when camp began last season. Now his goal is to become more reliable with the football after having some ball-security issues last season. Chryst also wants to get Taylor more involved in the passing game.
AIR IT OUT: Defenses can focus on slowing Taylor at their own peril, because the Badgers are capable of beating opponents through the air . After an up-and-down regular season, Hornibrook led the Badgers to a win in the Orange Bowl. He finished 23 of 34 for 258 yards with four touchdowns and no interceptions. Then-freshman receiver Danny Davis caught three scores. Davis is back along the other three top wideouts from last season, allowing the offensive-minded Chryst to stretch the field and throw different looks at opponents.
GETTING DEFENSIVE: The Badgers return a strong core up the middle in nose tackle Olive Sagapolu and safety D'Cota Dixon, along with inside linebackers T.J. Edwards, Ryan Connelly and Chris Orr. But second-year defensive coordinator Jim Leonhard needs new starters at every other position. Defensive end might be the biggest question mark to start the year with injuries knocking out Garrett Rand (torn Achilles tendon) for the year and Isaiahh Loudermilk (left knee) through at least nonconference play.
A positive is that Chryst has a recent track record of developing young players quickly to take on important roles, while Leonhard has kept the defense humming along at an elite level.
LOOKING AHEAD: All three winnable nonconference games are at home, starting with the opener on Aug. 31 against Western Kentucky. The toughest tests on the schedule are on the road in the Big Ten against Iowa (Sept. 22), Michigan (Oct. 13) and Penn State (Nov. 10). Don't chalk up the Oct. 27 trip to Northwestern as an automatic win either. Still, another unbeaten regular season is a possibility. But can the Badgers win the Big Ten title game and get into the playoffs?