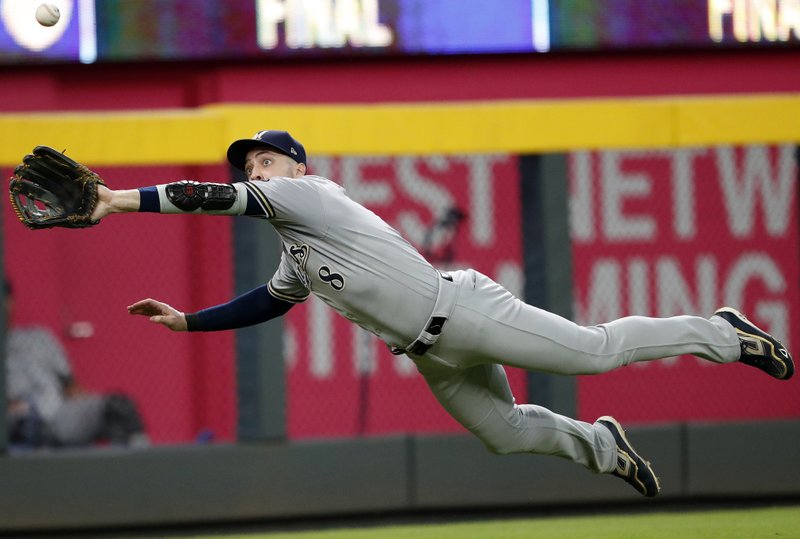 ATLANTA (AP) — Ryan Braun's spectacular catch in left field was just what the Milwaukee Brewers needed with another potential loss looming.
With a runner on second base and the Brewers down one run to the Braves with two outs in the seventh inning, Braun ran hard to his right and dove to rob pinch-hitter Ender Inciarte of extra bases.
Milwaukee followed up Braun's play with a three-run eighth and got a 4-2 win over Atlanta on Saturday night that will help its NL playoff chances.
"I don't think it's too much of an exaggeration to say it felt like a season saver," Braun said. "We're well aware of where we're at and how things have gone. Sometimes those things can snowball a little bit."
Mike Moustakas hit a two-run double in the eighth inning and Josh Hader recorded a two-inning save to close out the Brewers' rally.
The Braves began the game leading the NL East by one percentage point over the Philadelphia Phillies and had won nine of 12. Milwaukee snapped a two-game skid and pulled within two games of the NL Central lead.
The Brewers' offense came to life in the eighth. Reliever Jesse Biddle (3-1) let the first batter, Christian Yelich, reach on an error when he dropped the ball at the bag after catching first baseman Freddie Freeman's underhand toss. Lorenzo Cain singled, and both runners scored on Moustakas' double.
Biddle faced two more batters and gave way to Dan Winkler, who walked his first batter and gave up Erik Kratz's run-scoring infield single.
It was the first time the Atlanta bullpen had blown a save opportunity since June 27 against Cincinnati. Before the eighth, Biddle had a 1.87 ERA in 29 appearances since May 19.
"It was one of those days where, shoot, he came out, he threw strikes, and they hit it," Braves catcher Kurt Suzuki said. "You've got to tip your hat sometimes. Biddle's been great."
Moustakas, in his 14th game since coming to Milwaukee in a trade with Kansas City, is hitting .285 with eight RBIs in 49 at-bats. But he said Braun's big grab was the difference.
"That catch definitely turned the game for us," Moustakas said. "It got us going. It got us a little momentum. Seeing him going out and laying out like that and saving the game for the most part, that's huge. We were able to rally the next inning and let our bullpen do the job."
Hader hadn't pitched in three days and was plenty rested to make his 16th two-inning appearance and earn his sixth save in such situations this year. He retired all six batter he faced, striking out three to pick up his ninth save in 12 chances overall.
Corbin Burnes (3-0) earned the win after facing four batters in the seventh.
The Brewers went ahead in the first on Braun's RBI single to shallow center. Ronald Acuna Jr. tied it by leading off the bottom of the first with his 14th homer, and the Braves made it 2-1 in the fourth when Freeman reached on a double and slid his left leg safely onto the plate to beat a tag attempt on Nick Markakis' single.
Braves starter Julio Teheran allowed one run, two hits and two walks in six innings. He struck out six, improving from a rough three-start stretch in which he gave up 15 runs — 13 earned — over 15 innings.
Brewers starter Wade Miley gave up six hits, two runs and one walk with no strikeouts in six innings.
STILL HOT
Braun went 2 for 3 and is batting .375 with eight RBIs over his last 14 games. … Freeman went 1 for 3 and is batting .360 during a 13-game hitting streak.
TRAINER'S ROOM
Braves manager Brian Snitker confirmed that RHP Anibal Sanchez will start Tuesday at home against Miami despite getting hit by a liner in his last start and leaving a no-decision at Washington after facing seven batters.
LONG SKIDS
Atlanta SS Dansby Swanson singled in the seventh, but he's 3 for 26 this month and his average has dropped 36 points since June 5 to .238. … Milwaukee INF Jonathan Schoop grounded out as a pinch-hitter in the seventh and is 5 for 35 since arriving in a trade from Baltimore.
UP NEXT
Brewers: RHP Chase Anderson (7-7, 3.81) will pitch for the first time in Atlanta as he makes his fourth career start against the Braves. Anderson received no-decision in his last start, Tuesday against San Diego, allowing four runs and five hits in 4 2/3 innings.
Braves: LHP Sean Newcomb (10-5, 3.15 ERA) carried a no-hitter into the ninth inning of his last home start, a 4-1 win over the Dodgers two weeks ago. He is 2-0 with a 1.31 ERA in his last three starts but lost the last time he faced the Brewers, giving up five runs, five hits and four walks in 3 2/3 innings July 8 at Milwaukee.