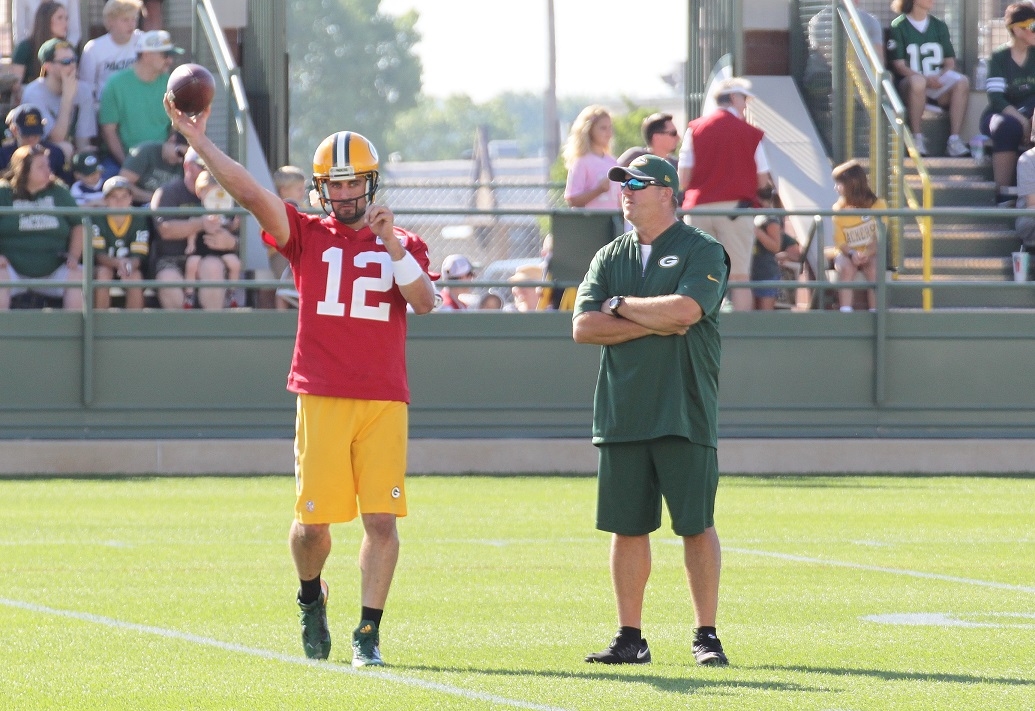 GREEN BAY, Wis. (AP) — The Green Bay Packers are jumping right into a midseason-like practice schedule in the first week of training camp.
Right back into a routine as they seek to erase the sting of an unusual season without the playoffs.
Players reported to camp Wednesday for physicals, with the first practice on Thursday. The franchise is also embarking on a yearlong celebration of its 100th anniversary.
"We just felt it was best that we get right into the in-season schedule. There's routine and regularity that you chase each and every year because every one of your teams is different, every training camp is different," coach Mike McCarthy said.
This one a little more so than usual for a team accustomed to making postseason runs.
The Packers' streak of eight straight playoff appearances ended with a 7-9 record last season. They were doomed by a collarbone injury to two-time MVP quarterback Aaron Rodgers and familiar problems on defense.
"We're looking forward to a healthy Aaron Rodgers," general manager Brian Gutekunst said in addressing team shareholders on Wednesday night.
Gutekunst replaced Ted Thompson as GM in January. McCarthy brought in new coordinators on defense (Mike Pettine) and offense (Joe Philbin) among several coaching staff changes.
The Packers replenished the injury-ravaged cornerback group by taking Jaire Alexander and Josh Jackson with their first two draft picks, and bringing back veteran Tramon Williams. Receiver Jordy Nelson was cut in a cost-cutting move, while tight end Jimmy Graham was signed to bolster the passing attack.
"Well I think as you stand here today, and I don't think anybody cannot say this if they're just being totally honest and transparent, we all should be better for the negative experiences that we've encountered in the past," McCarthy said.
McCarthy is entering his 13th year as Packers coach, having won the Super Bowl in the 2010 season. He received a one-year extension to his contract last year, extending him through 2019.
This might be a crucial season in determining his long-term future in Green Bay.
"You learn a lot in this business about the mistakes and the ability to overcome adversity and all those because, hey, this is going to be a rough ride to get to where we want to go, and when we get there it's going to take probably our best to get it done," McCarthy said.
It starts with practices that begin at midday now, as opposed to recent camps that had field sessions beginning earlier in the morning.
The coach himself is an early-riser, having arrived at Lambeau at 5:40 a.m. on Wednesday. But some players had already beaten him to the stadium, having lined up already at the training room.
"I've never seen so many guys so excited to get their physicals before," McCarthy said. "I think that's a record."
HEADED INDOORS: The first team shareholders meeting to be held at night also became the first to be held from the stadium's media auditorium. A threat of thunderstorms forced the Packers to change their plans. Fans were encouraged to watch the meeting on televisions on concourses or at the stadium restaurants.
The Packers are the only publicly-owned franchise in the NFL. Team president Mark Murphy reported about 5.9 million shares of stock held by more than 361,000 shareholders.
ANTHEM: Murphy expressed optimism that the league and NFL Players Association would reach agreement on a conduct policy for players during the national anthem. "We've had some good discussions with them," he said. "I'm hopeful and optimistic we can reach a resolution."
TV TIME: The Week 9 game at New England was the top matchup requested by each of the league's television partners this year, Murphy said. The prime-time game Nov. 4 will be televised on NBC.
ROSTER MOVES: The team signed receivers Adonis Jennings and Kyle Lewis, while placing receiver Michael Clark and rookie guard Cole Madison on the reserve/did not report list. Clark, who had four catches for 41 yards in two games last season, plans to retire after one NFL season. Madison, a fifth-round draft pick out of Washington State, is dealing with a personal matter.