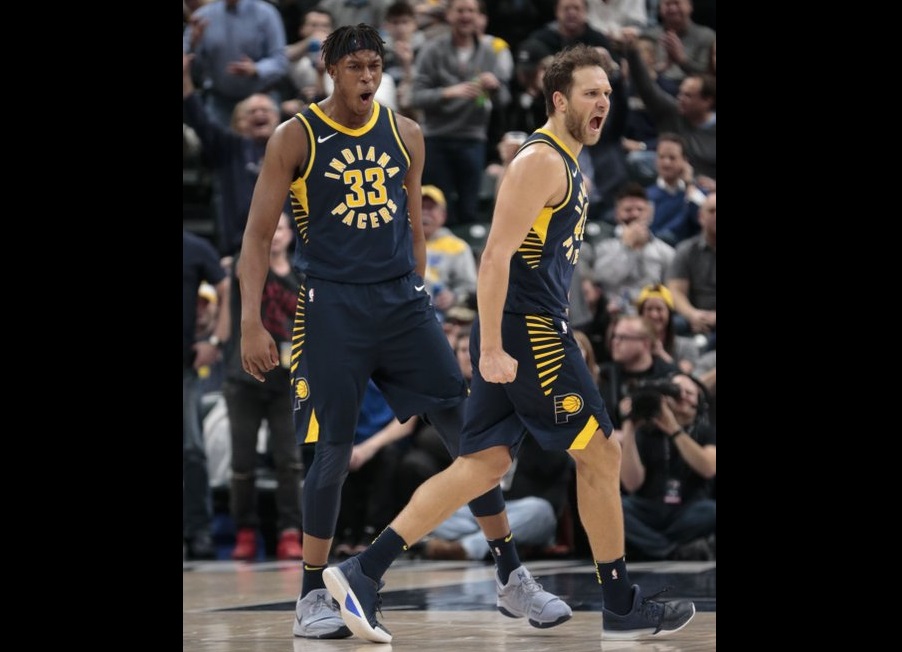 INDIANAPOLIS (AP) — Bojan Bogdanovic has cranked up his tenacity, and it's leading to some of the best basketball of his life.
Bogdanovic tied his career high with 29 points and grabbed a key jump ball late to lead the Indiana Pacers over the Milwaukee Bucks 92-89 on Monday night.
Bogdanovic has been on a roll since Jan. 29, when he went scoreless in a win over Charlotte. Since then, he's scored in double figures in 13 straight games, and in six of those 13 contests, he's scored 20 or more points.
"After that game I was scoreless here against Charlotte, I was really mad, and I just tried to tell myself that I have to be aggressive," Bogdanovic said.
His ferocity was obvious in the final five seconds of Monday night's contest.
After a video replay was unable to determine whether a loose ball rolled out of bounds off Indiana or Milwaukee, officials called a jump ball with a little more than five seconds remaining and Indiana leading 90-89.
When the basketball was tipped, Bogdanovic aggressively boxed out a Milwaukee defender, wrestled the loose ball away from his opponent's hands and held onto it tightly as he was dragged to the ground before a foul was called.
"I just tried to box out (Eric) Bledsoe like on a free throw," Bogdanovic said. "I was really, really locked in (at the foul line) and I knew that I was going to hit both of them."
Bogdanovic was locked in all night — just as he has ever since his zero-point outing against Charlotte. Bogdanovic made 9 of 13 from the floor and 5 of 7 from beyond the arc.
After Bogdanovic's free throws, Milwaukee had a chance to tie it, but Giannis Antetokounmpo's 3-pointer from the wing hit the front of the rim as time expired.
Thaddeus Young finished with 10 and seven rebounds, and Victor Oladipo had 14 points, five assists, five rebounds and 10 turnovers.
Despite Bogdanovic's hot hand, the Pacers and Bucks got off to a slow, sloppy start. Indiana led 20-17 at the end of the first quarter. Both teams were playing on the second night of a back-to-back.
Milwaukee took a 46-44 lead into halftime, and then both teams came alive in the second half. The Pacers opened up the third with a 19-5 run that gave them a 65-50 lead. The 15-point edge was Indiana's largest of the game.
The Bucks put together a 19-5 scoring run to pull within four points at the end of the third quarter, setting up a back-and-forth ending.
Antetokounmpo finished with 18 points and 12 rebounds. Eric Bledsoe led the Bucks with 26 points.
"Great effort. We played hard for 48 minutes and it's a 48-minute game," Bucks interim coach Joe Prunty said. "We (ended) up with a pretty good look (to tie the game), just didn't knock it down."
TIP-INS
Indiana: The Pacers have won three straight home games against the Bucks. … Indiana has won 11 of its 13 home games since the beginning of January. … The Pacers are 6-7 when playing the second night of a back-to-back. Indiana is 3-3 when the second game of a back-to-back is played at home.
Milwaukee: The Bucks are 9-5 when playing on a second night of a back-to-back. The Bucks' nine wins on the second night of a back-to-back is the second most in the NBA.
ALMOST READY
Pacers coach Nate McMillan said point guard Darren Collison is not expected to play this week during Indiana's three-game home stretch, despite recently participating in drills during practice. Collison has not played since Feb. 3. The eighth year veteran underwent arthroscopic knee surgery on his left knee.
UP NEXT
Milwaukee: Hosts the Rockets on Wednesday night.
Indiana: Hosts Utah on Wednesday night.