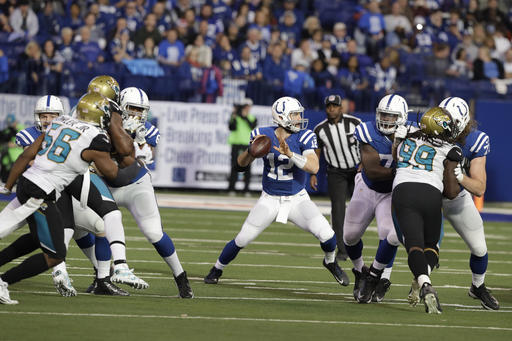 INDIANAPOLIS (AP) — Andrew Luck delivered some good news to Indianapolis Colts fans on Tuesday.
He feels better. He ruled out additional surgery. And he's eager to play football after spending the last 13 months rehabbing from shoulder surgery. If all goes well, the three-time Pro Bowl quarterback might even return in time for the start of April's offseason workouts.
Colts season-ticket holders couldn't have asked for a better town hall meeting.
"That is not an option for me," Luck said when Sports Illustrated reporter Peter King asked during a pre-taped interview if he might need more surgery. "Right now, that ship has sailed in my mind, which is also a bit of a relief. I'm not going to lie."
The answer drew loud applause from a nearly packed house.
Still, skepticism is understandable after the turns and twists of last season.
Luck had surgery for a partially torn labrum in January 2017. He, general manager Chris Ballard and then coach Chuck Pagano all spent months optimistically talking about Luck's long-awaited return, only to watch the process continue to drag on. Team owner Jim Irsay joined the chorus in August, suggesting Luck would return to game action in September.
But things didn't work out as anticipated.
Instead, the top overall draft pick in 2012 missed all of Indy's offseason workouts, all of training camp and all of the preseason. After sitting out the first month of the regular season, Luck finally started throwing a football.
Two weeks later, team officials shut him down after he complained of lingering soreness. He spent the next few weeks seeking opinions about a second surgery before going on season-ending injured reserve in November.
Luck then headed to Europe, where he continued rehabbing until returning to the team complex days before last season's finale.
He hadn't spoken publicly about the shoulder since Dec. 29, so the fact he's talking now could be a promising sign even though a throwing timeline remains unclear.
"I'm in the middle of a little bit of throwing," Luck explained without saying whether he was using a football or another object. "But I'm really preparing and strengthening the shoulder to handle the throwing load of an NFL quarterback, to make sure the shoulder can handle it."
A healthy Luck, the No. 3 pick in the upcoming draft and tens of millions of dollars in salary-cap space presumably could have made Indy's coaching vacancy the most attractive opening this offseason.
Initially, it appeared the Colts may have gotten the most highly coveted candidate when New England offensive coordinator Josh McDaniels agreed to take the job. Eight hours later, he called back to say no despite already having hired three assistants.
So last week, the Colts went with their next best option — Super Bowl-winning offensive coordinator Frank Reich of Philadelphia.
While some around the league were mystified by what happened and others, including Ballard, were upset, fans embraced Ballard's second choice.
When King, the event moderator, asked Reich if he appreciated McDaniels backing out, one fan shouted: "We are."
"That's very kind," Reich said.
If Luck's recovery lingers again, this time the Colts should be in better shape.
Jacoby Brissett, a player Reich said he liked coming out of college, started 15 games for Indy after being acquired in a trade on cut-down weekend.
Still, the Colts know with a lot of Luck, they could go from 4-12 to playoff contender.
Reich just wants to make sure his franchise quarterback is healthy first.
"You don't want to say 'How you doing, how you doing, how you doing?' every day. I mean, who wants that?" Reich said. "I'm hopeful that (his return), maybe that can happen (by OTAs). I'm hopeful, yeah. I know it sounds odd, but I'm not demanding an answer on that. I'm not. The question, to me, is, is he ready? I hope he's there, but we'll see."