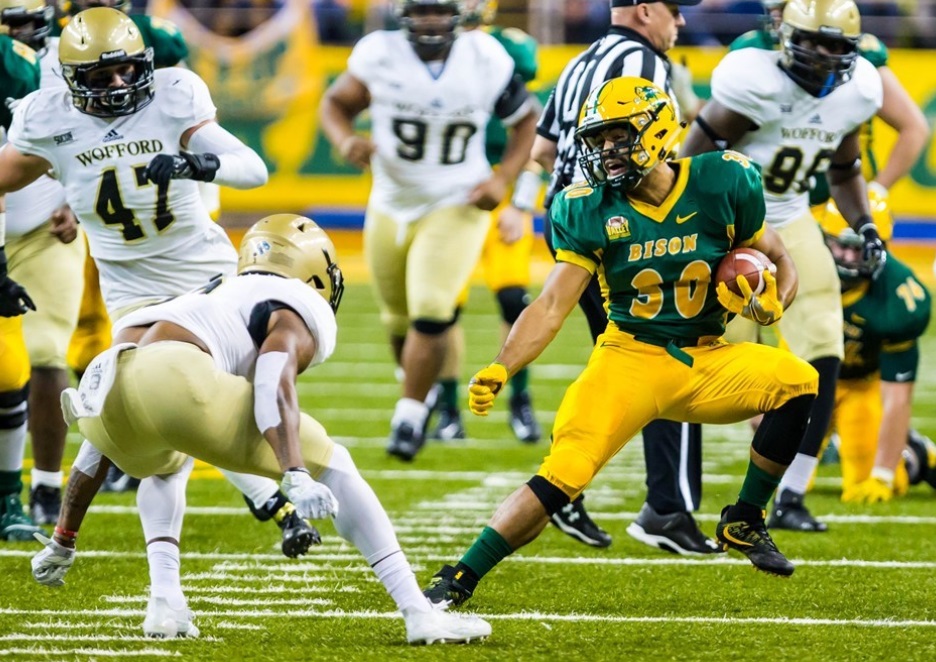 A local star could have a significant role in the FCS National Championship being aired on ESPN2 Saturday.
Injuries have thrust Holmen, Wis., native and true freshman Seth Wilson into the backup running back role for No. 2-ranked North Dakota State (13-1), which plays No. 1 James Madison (14-0) at 11.a.m. in Frisco, Tex. for the FCS title.
In the semifinal against Sam Houston, Wilson had a Holmen Vikings-like performance. The 5-foot-10, 190-pounder finished with 24 carries for 194 yards, including a 58-yard long. NDSU beat Sam Houston 55-13.
Here's Wilson's first collegiate touchdown, back in early November:
TOUCHDOWN, #NDSUBison!

Seth Wilson takes it 28 yards to the house for his 1st collegiate TD!

NDSU leads USD, 21-7, w/11:11 to go in 2Q. pic.twitter.com/rpqFujLLl7

— NDSU Football (@NDSUfootball) November 11, 2017
If that wasn't impressive, check out one of his two receiving TDs this season:
Seth Wilson. Not your typical freshman. pic.twitter.com/1IAjPnjfAQ

— NDSU Football (@NDSUfootball) December 9, 2017
This season, Wilson has 407 yards on 70 carries this season (5.8 yards per carry) and a touchdown, along with six catches for 66 yards and two receiving scores. Wilson touched the ball in six games this season, slowly increasing his role.
Going from Holmen to North Dakota State, Wilson said the most difficult transition was learning the playbook
"Learning the offense is more in depth," he said. "From hearing the play to the snap of the ball, and you have to execute that on the snap of the ball. It's a lot more complex than high school"
As for his previous spot playing football, Wilson says he still talks with his old teammates.
"Some of my o-lineman, thanking them for blocking for me in high school, giving me the opportunity to get here since I had such a great season"
Wilson ended his high school career in a fury with 743 yards and 12 touchdowns in the final three games.
He ended his senior season at Holmen with 2,027 yards and 33 touchdowns.