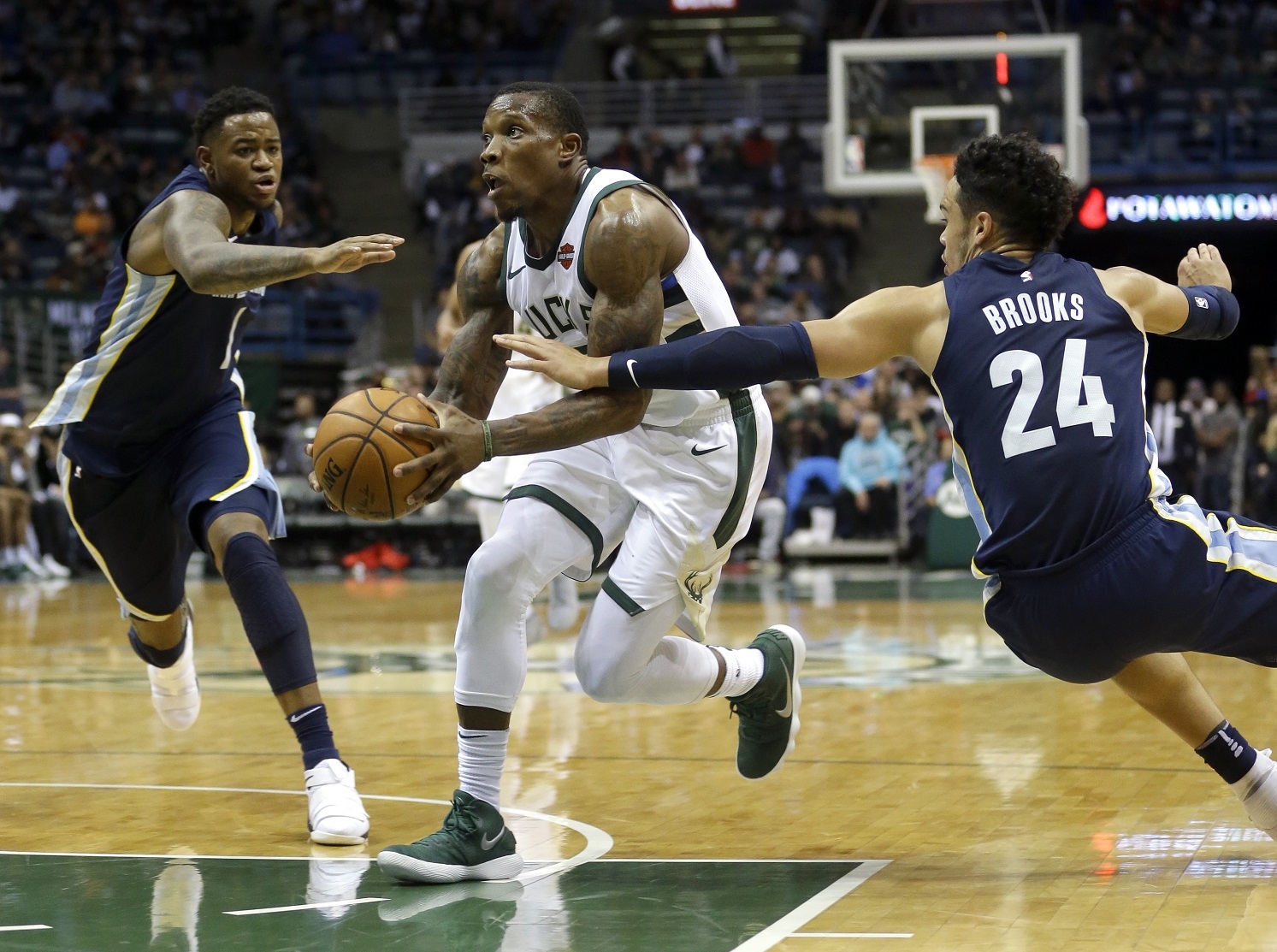 Bucks beat Grizzlies, move to 3-0 with Bledsoe, despite knee injury
MILWAUKEE — In his third game with the Milwaukee Bucks, guard Eric Bledsoe played through a knee contusion, while Giannis Antetokounmpo, again, carried the team.
The 22-year-old Antetokounmpo had 27 points and nine rebounds to lead the Bucks to a 110-103 victory over the Memphis Grizzlies on Monday night.
The oft-injured Bledsoe was a game-time decision with a knee contusion. He finished 4-for-11 from the field in scoring 15 points to go with seven rebounds and four assists.
"He got hit. It was sore," Bucks coach Jason Kidd said of Bledsoe's knee. "He was good yesterday. This morning he woke up and it was a little sore."
In three games with Milwaukee, the 27-year-old Bledsoe is 14-for-38 from the field (35.7%), 2-for-14 from beyond the arc, averaging 12 points, 4.5 assists and 4.0 turnovers.
Meanwhile, Antetokounmpo was, again, his incredible self, with seven assists two blocks, two steals and just two turnovers. He shot 10-for-22 from the field.
Khris Middleton and John Henson had 17 points each for Milwaukee.
Tyreke Evans scored 14 of his 27 points in the fourth quarter for Memphis, and Dillon Brooks added 19 points.
After the Bucks threatened to pull away late in the third, Evans scored nine consecutive points to pull Memphis into an 84-all tie early in the fourth quarter. Memphis pulled ahead on Dillon Brooks' 3-pointer with about nine minutes left. Milwaukee tied it on Tony Snell's corner 3. A soft drop-in by Antetokounmpo put the Bucks ahead 100-96 with just under five minutes remaining, a lead they wouldn't relinquish.
The Bucks got off to a strong start, shooting 65 percent from the field in the first quarter, including 6 for 6 on 3-pointers, to takea 34-29 lead.
Memphis turned the tables in the second quarter, hitting 10 of its first 11 shots to take a 10-point lead with 4:24 left in the half. Milwaukee made just one of six shots from long-range in the quarter, but pulled to 65-60 at the break, led by Antetokounmpo's 12 points in the period.
UP NEXT
Grizzlies: Host Indiana on Wednesday night in the first of four consecutive home games.
Bucks: Host Detroit on Wednesday night to wrap up a three-game homestand.
Please follow and like us: