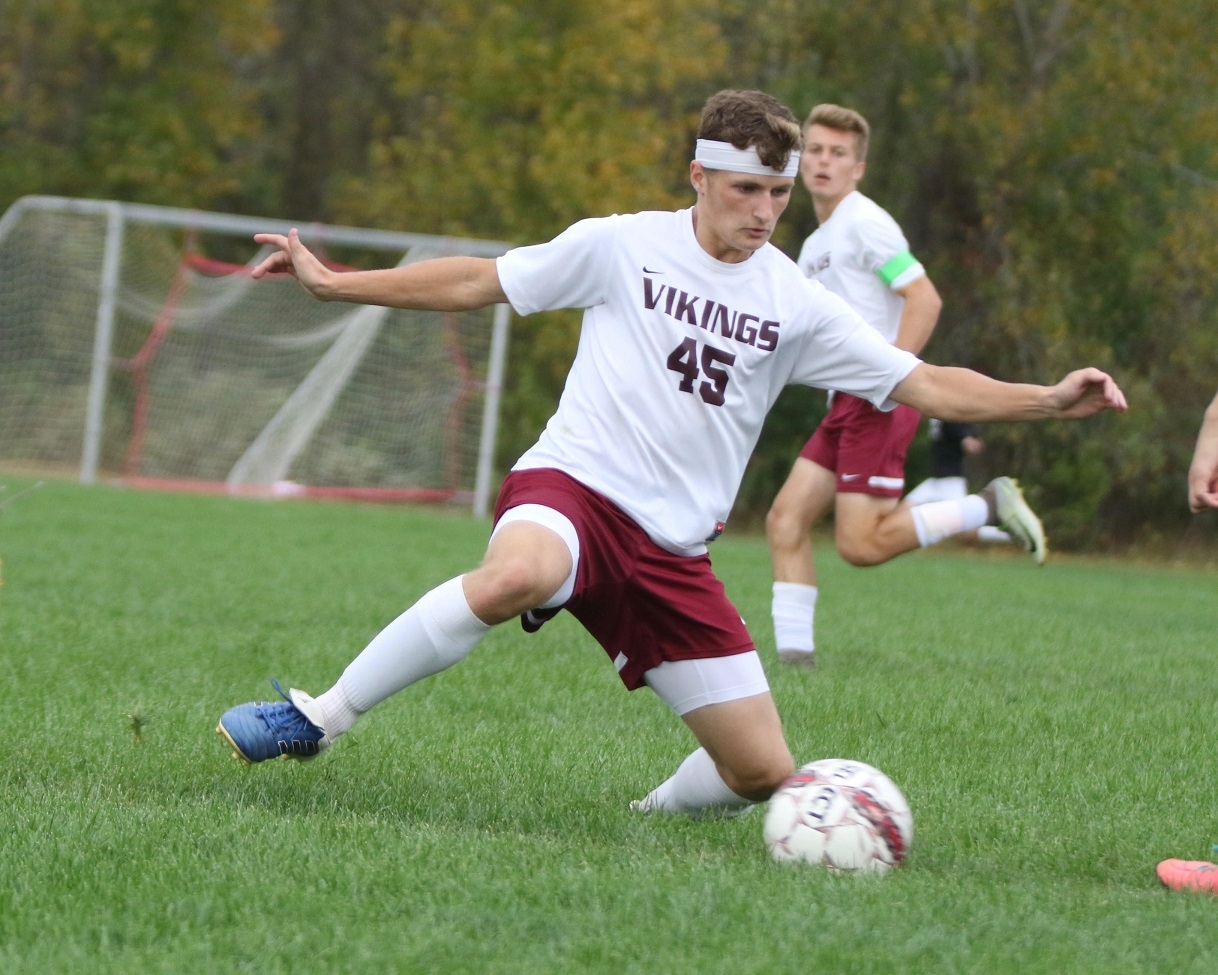 Holmen's Jonah Johnson picked good time to play both football and soccer
The junior won one playoff game Thursday
in soccer, goes for football playoff win today. 
Jonah Johnson is doing something not a lot of high school athletes do. The Holmen junior is playing two varsity fall sports. 
Now, it's not a giant stretch, what he's doing — kicking for the football team and playing defense for the soccer team — but given his success and the success of both team, it is pretty impressive.
Apparently the fall of 2017 was a good year to decide to play both sports … but Johnson might have a little something to do with that.
The soccer team just won the school's first-ever Mississippi Valley Conference title in the 11 years of the program. The Vikings had an 11-0-3 record — and a plus-42 point differential, leading the MVC in both goals for (51) and goals against (13).
The football team also tied for a share of the MVC. 
Thursday night, Johnson helped lead the soccer team to a 6-0 win over Menomonie in the first round of the WIAA Division 2 playoffs. The second-seeded Vikings (16-2-4) will host No. 3 River Falls on Saturday.
Tonight, Johnson and the fourth-seeded Holmen football team (7-2) hosts No. 5 Marshfield (6-3) in the first round of those playoffs.
In soccer, Johnson leads all defenders in assists with four assists — which doesn't sound impressive but have you seen how far away the goal is from where the defense plays?
In football, Johnson is 4-for-5 on field goals and 29-for-33 on extra points — he may have missed two of those extra points because he got buried on the soccer field on a Tuesday, hitting his head, and didn't really tell anyone he felt a little wonky for the football game three days later.
Regardless, Holmen football coach Travis Kowalski won't hesitate to call for the field goal unit. He says Johnson has the leg for 45-yarders if he needs one.
"He can kick from the right hash, the left hash, the middle of the field," Kowalski said. "There's really no limitation to him.
"He's really athletic. A lot more than most people would think for a kicker but that kind of tells you what he is, when he goes and plays soccer, too."
A typical week for Johnson … isn't really typical.
He does manage to finish all his homework and he apparently has some advanced classes but this isn't a story about homework.
If Johnson isn't studying and he's not playing a game, he's practicing, which gets a little hectic being he needs to be two places at once.
"As soon as (soccer) practice is done, he immediately shifts over his mindset — as well as his cleats — and suits up and focuses on football," Holmen boys soccer coach Guy Turner said.
This is the first year Johnson has played both sports. He came to the coaches in the offseason and asked permission to do so.
Turner and Kowalski talked it over and agreed they'd give it a shot, knowing there was some risk he could get injured in one sport and be out for the other.
Johnson has handled it all very well. So well, in fact, that since neither sport really seems to play games on Saturday — the day most cross country meets take place — Johnson does have the opportunity to go for the trifecta next year: soccer, football and cross country.
After all, soccer is pretty good training for a Saturday 5k and vice versa.
"No," Johnson said with a laugh. "No. We run enough in soccer, I'm good."
Johnson says that now, but cross country coach Steve Mally might be able to talk him into it. Johnson does already run track, after all.