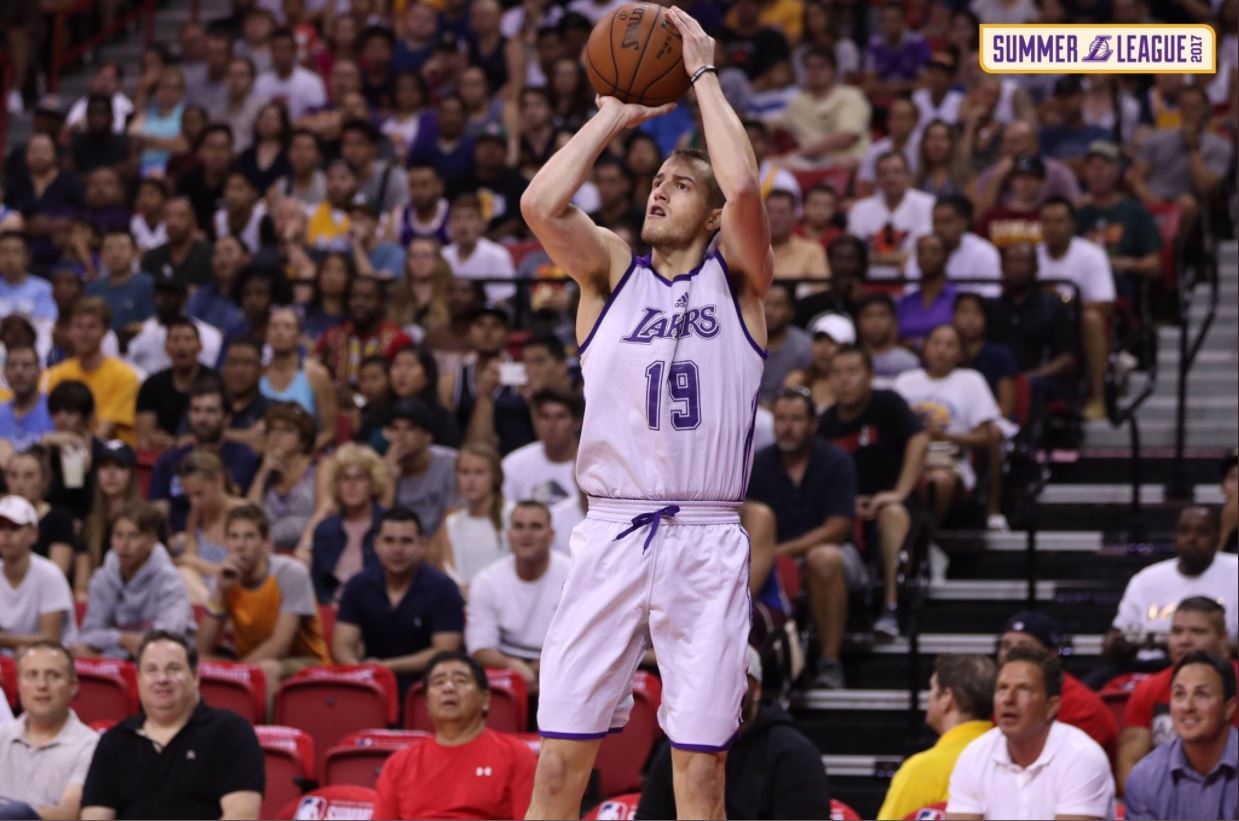 Onalaska's Matt Thomas thriving overseas
He dominated at Onalaska High School. He started all four seasons at Iowa State University. He set the NBA Vegas Summer League on fire for the Los Angeles Lakers Summer League.
Now, Matt Thomas is thriving overseas in the top division of the Spanish basketball league.
The 23-year-old Thomas is averaging 14.3 points, 3.3 rebounds for in 25.7 minutes a game for the Obradoiro CAB basketball team, which is now 2-1. The team is located in the northwest corner of Spain, just north of Portugal in a town called Santiago de Compostela.
Thomas is shooting 48.3 percent from the floor (14-for-29), as well as 8-for-12 from beyond the arc and 7-for-8 from the free-throw line.
His transition overseas follows a very memorable and standout performance in helping the Lakers win the Summer League title back in July.
In the championship, Thomas was 8-for-9 from the field, including 5-for-5 from deep, in scoring an NBA Summer League career high 23 points in 34 minutes as the Lakers beat Portland 110-98.
HIGHLIGHTS: Matt Thomas follows his strong semifinals performance by going 5-5 from deep with 23 total points in tonight's win #LakersSummer pic.twitter.com/3hIWJs7QWQ

— Los Angeles Lakers (@Lakers) July 18, 2017
In his final three Summer League games, Thomas has scored 50 points, going an astounding 14-for-16 from beyond the arc.
Thomas graduated from Onalaska High School in 2013.
He helped the Hilltoppers win a state title his junior year, scoring 30 points on 9-of-18 shooting. He was 4-for-7 from deep in that 55-38 win over Kaukauna back in March of 2012.
Thomas went on to start all four seasons at Iowa State University, where he had an impressive career (see below).
In his final home game for the Cyclones, Thomas tied a career high with 25 points. He also tied a career high with seven 3-pointers (going 7-for-11). And, for good measure, he tied a career high with five assists in that finale.
Upon graduating, Thomas did not get selected in the NBA draft. It was rumored he was going to sign a two-way contract with the Toronto Raptors but, instead, he opted to play with the Lakers.
He will now likely play for the South Bay Lakers. The team was just renamed from the D-Fenders for this upcoming season.
South Bay will play its games at the UCLA Health Training Center in El Segundo, Calif., home of the NBA's Lakers practice facility.
MATT THOMAS IOWA STATE HIGHLIGHTS
CAREER
Third-most 3-pointers in school history (254)
Second-longest streak for 3-pointer in consecutive games (30)
Second in career wins (98) -Sixth-best career 3-pointer shooter (40.1%)
Fifth-most 3-pointers made as senior (89)
Ninth-best free-throw percentage in ISU history (81.5)
SINGLE SEASON
Shot 44.5 percent behind the arc senior year, which was the eighth-best in school history
Please follow and like us: