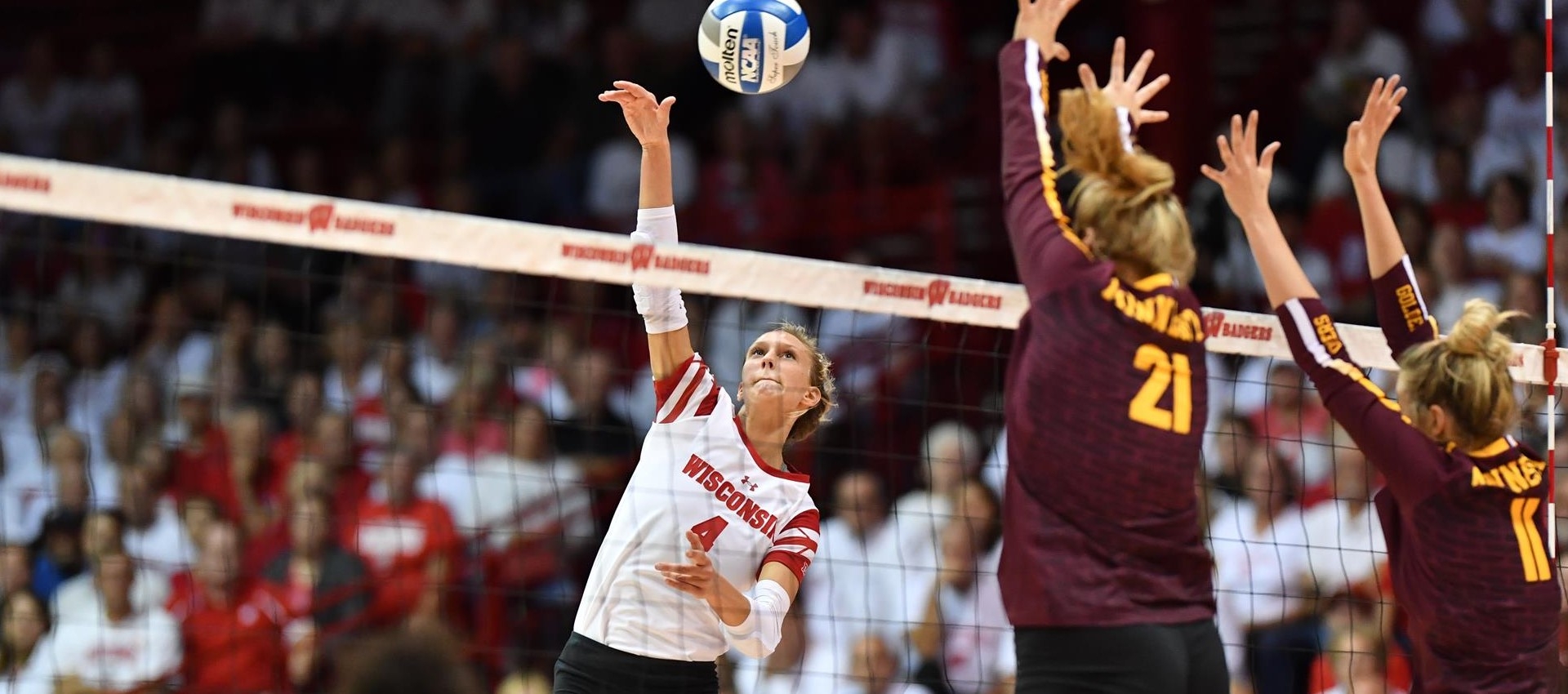 It took all 5, but Gophers beat Badgers in Top 10 volleyball matchup
Two of the best teams in the country faced off on the volleyball court in the UW Field House on Wednesday night.
And it was the road team, the sixth-ranked University of Minnesota that came back to beat No. 7 Wisconsin in five sets (23-25, 25-20, 20-25, 25-15, 15-13).
Wisconsin had the match, up 2-1 after three sets, before Minnesota came storming back.
This is how the fifth set played out:
Wisconsin started with a 3-1 lead, but Minnesota tied it. A Samedy kill pushed the UM lead to 7-5. She got two more kills, as the teams exchanged points (8-6).
Back-to-back kills by Pittman and Hart gave UM a 10-7 lead, as the Badgers called timeout.
Wisconsin then pulled within 11-10 after back-to-back kills by Williams and Gillis. 
After a UM timeout, the teams exchanged kills, but then a service error gave Minnesota a 13-11 lead. Still, it wasn't over.
Gillis got another kill and then an illegal set pulled UW into a 13-13 tie and a Minnesota timeout.
Off the break, a Samedy kill and Bates error won it for Minnesota.
"I think people are pretty bummed, but I think we'll see people coming back on Friday ready to get after Michigan State, another opportunity," Wisconsin coach Kelly Sheffield said. "That's one of the great things about this conference, is that there's always another great opportunity right in front of you."
Freshman Dana Rettke had 19 kills, five blocks for the Badgers, which have now dropped two consecutive matches — the other was to eighth-ranked Nebraska 3-2, as well.
The Badgers (11-3, 2-3 B1G) got double-doubles from senior Kelli Bates and freshman Sydney Hilley. Bates recorded 13 kills, 12 digs, while and Hilley put up two career highs with 56 assists and 14 digs.
Minnesota (14-2, 3-2) held a narrow advantage in hitting percentage (.239-.229), the first time all season the Badgers were outhit.
Alexis Hart and Jasmyn Martin had career high nights for UM. Hart had a career-high 24 kills, while Martin set her best mark with 17 kills. Stephanie Samedy had a double-double with 15 kills, 16 digs. Setter Samantha Seliger-Swenson had 62 assists, a season best, and added 12 digs for good measure. Lohman led the Gopher with seven blocks. 
Libero Tiffany Clark had a match-high 24 digs for Wisconsin, including a diving save into the bench during the first set.
At 3 p.m. Saturday, the Badgers will play at Michigan State, which took out both Wisconsin (3-2) and Minnesota (3-0) back-to-back two weeks ago.
At noon Saturday, Minnesota plays Michigan, which they beat 3-1 earlier this season.
Here are the Wisconsin highlights:
{youtube}mWyYOcK71fU{youtube}