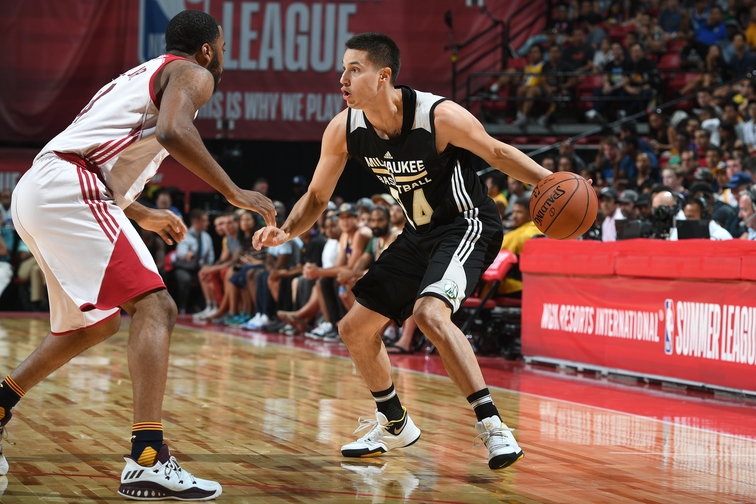 La Crosse's Bronson Koenig signs with Bulls
After being waived by the Milwaukee Bucks, La Crosse, Wis., native Bronson Koenig won't have to travel far.
The Chicago Bulls have offered the former Wisconsin Badgers standout point guard a contract, which terms were undisclosed in accordance with team policy.
Koenig was on the Bucks' NBA Summer League team, where he averaged just 5.2 points in 15.8 minutes a game.
He had signed a two-way contract for the Bucks, meaning he would have likely played close to home for the Wisconsin Herd — the newly formed G-League franchise of the Bucks.
But, on Sept. 21, Milwaukee requested waivers for the undrafted rookie.
Koenig is the all-time leader in 3-pointers made (170) at Wisconsin, where he was a 117-35 as a four-year starter.
He averaged 9.9 points, 2.0 rebounds and 2.0 assists during his tenure, including a team-best 14.5 points on .419 shooting from the field and .393 from beyond the arc his senior year.
Koenig set the single-season record for 3-pointers made (103) that season and helped lead the Badgers to four consecutive NCAA Tournament Sweet 16s, highlighted by two Final Fours (2014, 2015) and one National Championship appearance (2015).
Heading into the NBA draft, Koenig wrote in the Player's Tribune the "letter" below, in making his case to be drafted. He then went on to describe why he should be drafted. He wasn't.
And, in five games at Summer League, with a deeper NBA 3-point line than college, Koenig was just 5-for-19 from beyond the arc, going 0-for-5 in both his first and last games.
Please follow and like us: