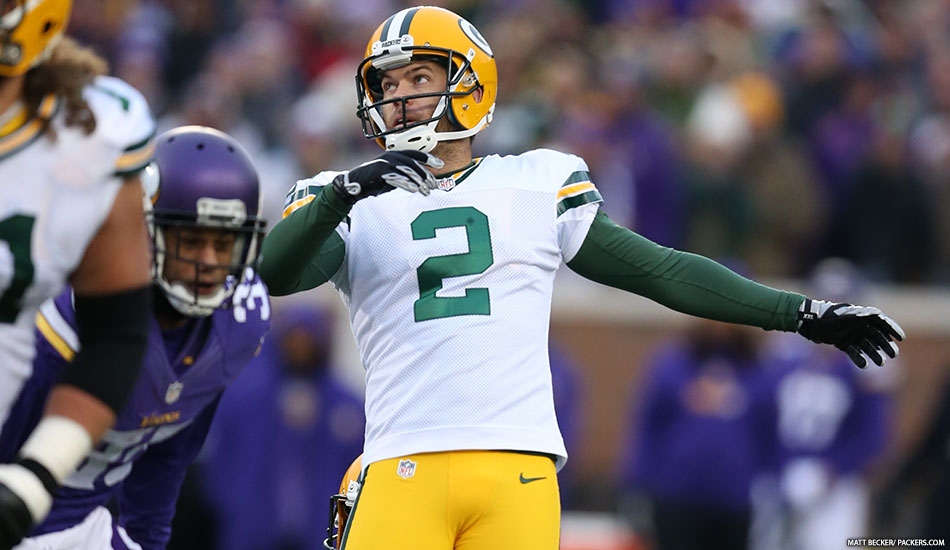 GREEN BAY, Wis. — Hitting field goals in the NFL comes down to more than just making a strong, accurate kick.
The snap must be on target, while the holder has to make a clean catch and set up the ball at the correct angle. All this must be done in a matter of seconds.
The Green Bay Packers are working on this process after the normally dependable Mason Crosby missed six of his last seven kicks at the team's Family Night practice. Crosby is working with a new long snapper in Derek Hart, along with a new holder in punter Justin Vogel. Both are undrafted rookies.
Coach Mike McCarthy and special teams coach Ron Zook said the blame falls on the whole field goal unit, not just Crosby.
"Ah gosh, obviously it wasn't very good Saturday night," Zook said Monday. "But obviously we've got to get better. We will get better."
The Family Night practice was the team's first this preseason at Lambeau Field, an annual event that drew 63,000 fans despite a brief weather delay. It is as close as rookies and newcomers will get to the atmosphere of the first preseason game at home against the Philadelphia Eagles on Thursday.
Crosby described the process as a running like a fine-tuned machine when successful. The Packers have another month to get up to speed before the regular season begins.
"You go out there in front of 80,000 people and believe it or not, everybody is kind of amped up a little bit, things change, and that's a great experience," Zook said. "One of the things (Hart) said, 'I wish we could do this more often.' I said, 'Well, you'll get your chance Thursday. We're going do it again.'"
Hart is trying to replace long-time snapper Brett Goode, while Vogel is trying to become the Packers' third punter in three seasons. Last year's punter, Jacob Schum, is on the reserve/injured list with a back injury. Schum had replaced six-year veteran Tim Masthay toward the end of training camp in 2016.
Crosby is the Packers' franchise scoring leader with 1,267 points going into his 11th season in Green Bay. He hit 86.7 percent of his field goals last season, the second-highest mark of his career behind 2013 (89.2 percent).
"I've been fortunate. I've had the same snapper for the last nine years prior to this, so the consistency there, it takes some work, it takes some time," Crosby said. "Justin and Derek need to get in sync with their stuff and then I just have to trust and go."
NOTE: CB Davon House missed practice on Monday after injuring his right hamstring at the Family Night practice. "Just trying to be smart. Week 1 is a month away. I don't want to hurt it out there at practice before the real games start," House said.