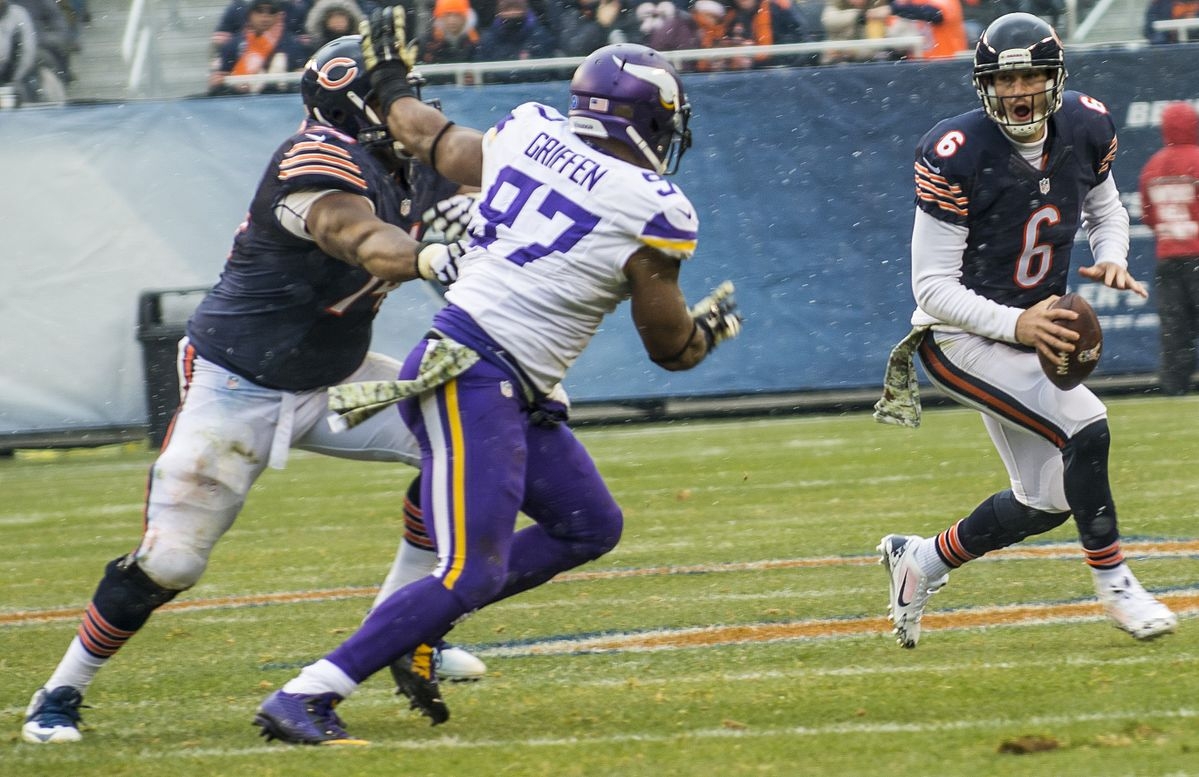 Jay Cutler has a job playing quarterback.
Colin Kaepernick doesn't.
Gotta hand it to the bigwigs who run the NFL: When they blackball a guy for taking a courageous stand against social injustice by doing nothing more than kneeling, they go all in.
In the latest development in the league's efforts to make it clear that those who try to do the right thing need not apply — and, really, none of us should be surprised by this, not after all the years of denial over the devastating effects of head injuries — the surly Cutler signed a $10 million contract to contend for a starting spot with the Miami Dolphins .
Yes, this is the same Jay Cutler who compiled a glittering 68-71 mark as a No. 1 QB for Denver and Chicago over the better part of the past decade, all while continually rubbing people the wrong way with his selfish, petulant personality.
"No, didn't like him," Champ Bailey once said in a television interview, which ranks as perhaps the most positive assessment of Cutler from a former teammate.
Cutler, in fact, had decided to retire after starting only five games for the Bears last season, even landing a television gig with Fox.
Then the Dolphins came calling.
With Ryan Tannehill facing the prospect of missing the entire season with a left knee injury, the 34-year-old Cutler is getting an undeserved chance to revive his career with a team that made the playoffs last season.
Meanwhile, Kaepernick is still unemployed even though he is 4 1/2 years younger, had a better passer rating than roughly half the starting QBs in the league in 2016, and led the San Francisco 49ers to the Super Bowl just four seasons ago.
But Kaepernick committed the possibly career-killing infraction of choosing to kneel during the national anthem, his way of protesting police violence and social injustice.
Quite naturally, his actions stirred plenty of debate, drew out both opponents and supporters, and became a flashpoint in a country polarized by political divisions and a bitter presidential election. That was to be expected. But it shouldn't have cost him a chance to carry on in his chosen profession, a profession he is clearly more qualified for than at least half of the 60 or so quarterbacks who'll be occupying the top two spots on depth charts this season.
While the decision by the Dolphins isn't an entirely apples-to-apples injustice — Cutler previously worked with Dolphins coach Adam Gase, a former offensive coordinator in Chicago, and Kaepernick's wearing of a Fidel Castro shirt would have made it more difficult to gain acceptance in Miami than any other NFL city by far — it still epitomizes what a raw deal Kaepernick is getting.
Seattle receiver Doug Baldwin summed it up best after the Seahawks brought Kaepernick in for a visit , and like every other team in the league so far, decided not to sign him.
"My original position was, I thought that the situation last year with him taking a knee didn't have anything to do with it," Baldwin said. "After viewing what's going on, I've got to take that back. I definitely think that the league, the owners are trying to send a message of staying between the lines. It is frustrating because you want to have guys that are willing to speak out about things that they believe in — whether you agree with it or not. That is definitely playing a role now, more so than I thought it was going to."
Dallas Cowboys owner Jerry Jones, who was inducted into the Pro Football Hall of Fame this past weekend, let the oh-so-obvious cat out of the bag when he explained his team's reasons for signing fence post-slash-alleged quarterback Luke McCown to serve as a backup this season. Jones, his nose growing longer with each word, told reporters his team was "looking for more somebody that we can evaluate and train and possibly be a quarterback of the future."
Quarterback of the future? McCown? He just turned 36 years of age, has started a grand total of 10 games since entering the league in 2004, and is approaching the decade anniversary of his last touchdown pass.
The way things are going, Ryan Leaf may want to consider a comeback.
He'd probably get a shot before Kaepernick.
"If you take a step back and look at the overall picture, there's a lot of teams in this league that could use a quarterback with Colin Kaepernick's ability," Baldwin said. "Why he doesn't have a job? At this point, it's very telling to me."
The Baltimore Ravens have been pondering whether to sign Kaepernick , which seems logical given Joe Flacco's back issues. The group Color of Change even took out an advertisement on the Baltimore Sun's website imploring, "It's Time To Stop Making Excuses. Sign Kaepernick."
But the Ravens have yet to pull the trigger on such a move, even though he threw 16 touchdown passes with just four interceptions last year for a woefully undermanned 49ers team that won just two games, and has 72 TDs and just 30 picks over the course of his career.
"I hope we do what is best for the team and balance that with what's best for our fans," said Ravens owner Steve Bisciotti, hardly sounding like the one who'll lift Kaepernick out of purgatory.
But at least Jay Cutler has a job.
—
Paul Newberry is a sports columnist for the Associated Press. Write to him at pnewberry@ap.org