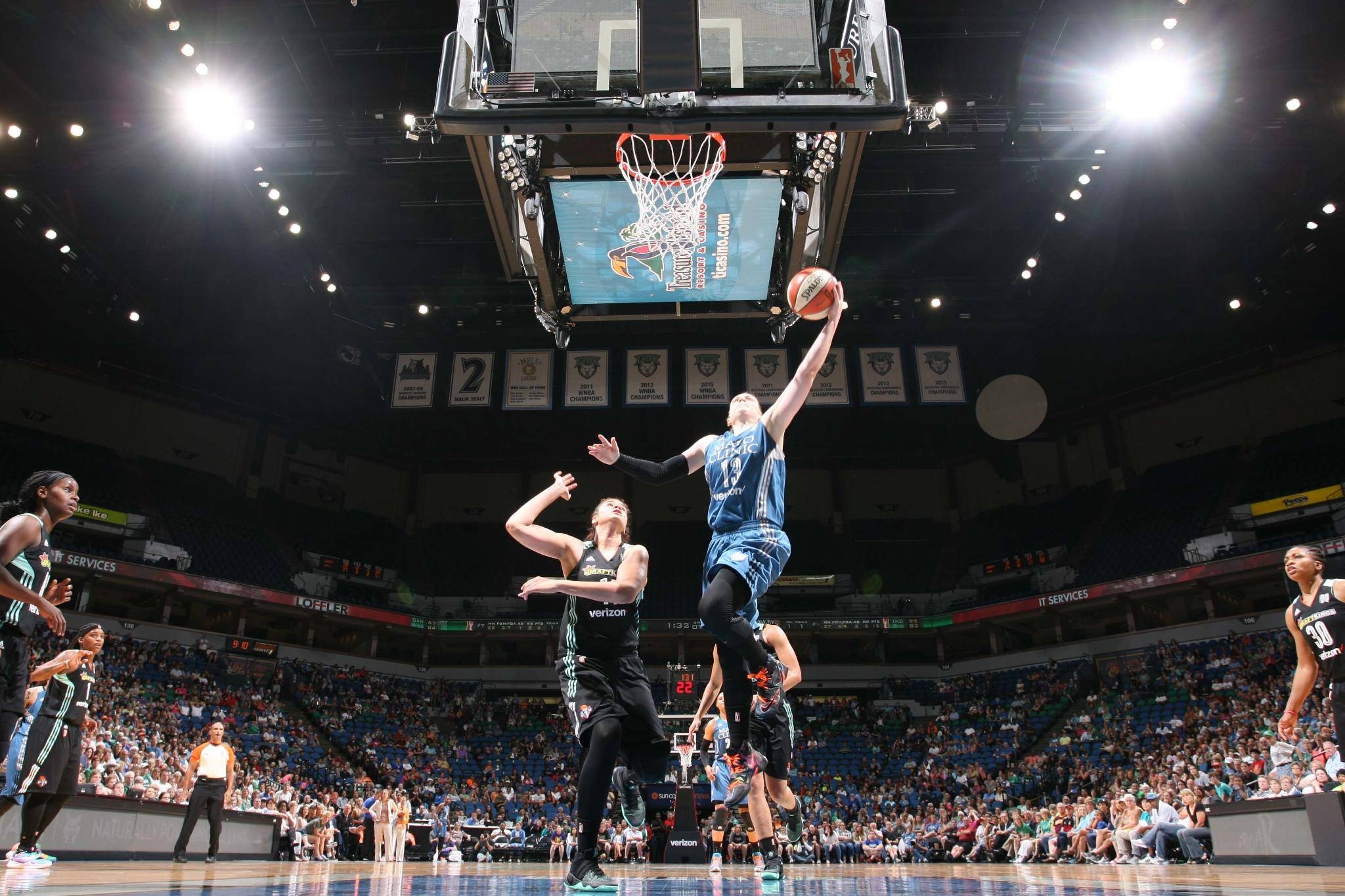 Lynx have been in 5 of last 6 Finals, winning 3
NEW YORK — There hasn't been a back-to-back champion in the WNBA since Los Angeles won consecutive titles in 2001-02.
The Sparks are trying to accomplish that feat again, but have struggled recently, dropping their last two games. They didn't lose their second game last season until July 17 – 22 games in. They play New York Tuesday night.
"We've played some good spurts of basketball, but haven't put it all together yet," Sparks coach Brian Agler said. "It's going to take time. We prepare to win every single game, but some of the things we're doing on the court, we're not on the same page yet. That's what we're trying to work through."
"Not in #OurHouse!" – Sylvia Fowles, probably pic.twitter.com/miMjSXBRYq

— Minnesota Lynx (@minnesotalynx) May 29, 2017
It didn't help the L.A. that most of its roster wasn't in training camp because of overseas commitments. Candace Parker, Essence Carson and Jantel Lavender didn't show up until a week into the season.
"I'm not usually the eventually type of person, we focus on what's going on here and now," said 2016 MVP Nneka Ogwumike. "We had two great wins at home. It's a combination of getting everyone on the same page as well as knowing the scout, knowing the game plan, knowing what it takes. That's where we find ourselves right now. We're learning each day."
? 6-0 ?

Check out a few of the best moments from last night's #LynxWin against the Stars ⤵️ pic.twitter.com/AIBMyhor6Y

— Minnesota Lynx (@minnesotalynx) May 29, 2017
The Sparks have dropped their last two games, and fallen to third in The Associated Press WNBA power poll, while Odyssey Sims is back in Los Angeles rehabbing a sprained ankle.
After the game against the Liberty, the Sparks don't play again until June 6 against Chicago.
—
POWER POLL: Unbeaten Minnesota moves into the top spot, while Seattle keeps climbing. A look at this week's WNBA poll.
1. Minnesota (6-0): The Lynx haven't lost a game in May since drafting Maya Moore in 2011. That's 23 straight wins in the opening month of the season. The way they are playing, the calendar change shouldn't bother them too much.
2. Seattle (4-1): The Storm will get a good early season test when they face the Lynx on Saturday.
3. Los Angeles (2-2): The Sparks will try and end a three-game road trip on a positive note against New York. They should get injured guard Odyssey Sims (ankle) back soon.
4. Atlanta (3-1): The Dream are the biggest surprise early in the season and have a solid core led by Tiffany Hayes and Layshia Clarendon.
5. New York (2-2): The Liberty start a five-game homestand against the Sparks. They'll lose Epiphanny Prince and Kia Vaughn after Tuesday's game to the EuroBasket tournament.
6. Washington (3-2): Now that the home-and-home series with Chicago is over, the Mystics can turn their attention to the rest of the league. They'll be missing Emma Meesseman for a while; she is playing for Belgium in the EuroBasket.
7. Phoenix (3-2): Leilani Mitchell has been a pleasant early season surprise for the Mercury to complement Brittney Griner and Diana Taurasi.
8. Dallas (2-2): Losing Courtney Paris (knee injury) for 6-to-8 weeks definitely leaves the Wings weak in the middle.
9. Indiana (2-3): Fever coach Pokey Chatman is looking for consistency. The Fever rallied to beat Los Angeles at home before falling flat in Seattle.
10. Connecticut (1-4): Jonquel Jones already has two 20-rebound games this season. When she stays out of foul trouble she's a handful for other teams to guard.
11. Chicago (1-5): The Sky haven't been able to put together a full 40-minute game. With the emotional games against former teammate Elena Delle Donne, Chicago can focus on just getting better.
12. San Antonio (0-5): The Kelsey Plum era has gotten off to a slow start. The No. 1 pick in the draft was finally able to play in a game after missing the first few with an ankle injury. The Stars will get better soon with Plum, Moriah Jefferson and Kayla McBride leading the way.
—
GAME OF THE WEEK: Lynx at Storm, Friday. The top teams in the power poll meet in Seattle. The Lynx have been riding the play of Fowles, who is averaging 20 points and 10.7 rebounds; while Seattle has been carried by Jewell Loyd. Fowles earned AP Player of the Week honors. This might be the biggest regular season game in the Pacific Northwest in a few years. Seattle is off to its best start since 2010 when the team was also 4-1. The Storm handed Minnesota its first loss in 2014 when the Lynx started 7-0.
—
20-20 CLUB: Connecticut's Jonquel Jones became the 13th WNBA player to have at least 20 points and 20 rebounds in a game when she accomplished that feat against Chicago on Sunday. She had a 20-rebound game in the Sun's season-opener against Atlanta. Glory Johnson was the last to reach those benchmarks in a game, doing it against Phoenix last season.
—
STAT OF THE WEEK: Seattle rookie Samantha Whitcomb tied a WNBA record with six 3-pointers in the second half of the Storm's win over the New York Liberty. The 28-year old's outburst helped the Storm stay unbeaten at home. She tied the record held by teammate Sue Bird and Phoenix's Diana Taurasi.
—
To see the poll online and how the pollster voted: http://collegebasketball.ap.org/ap-wnba-power-poll-week-3