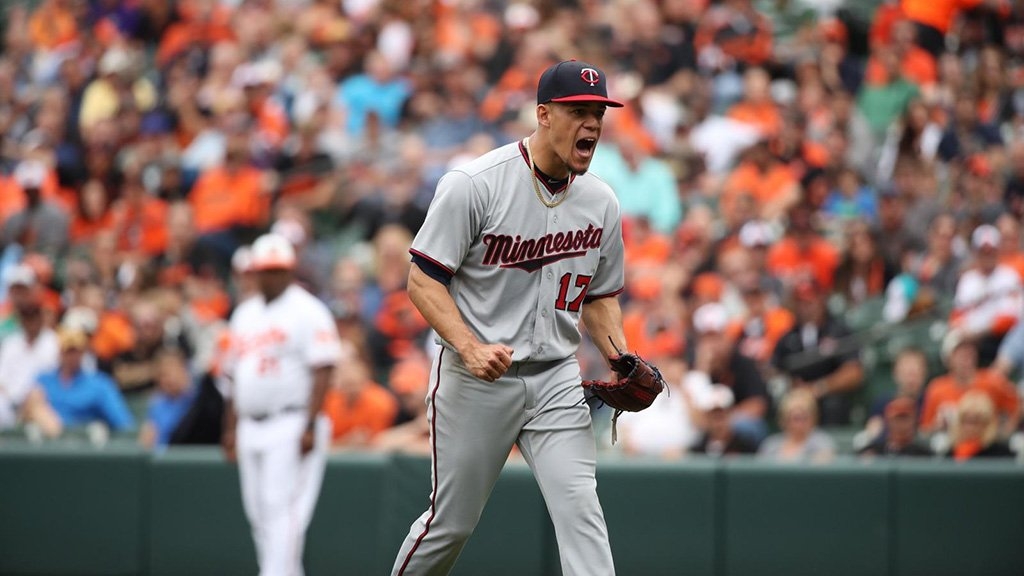 Fourth sweep of season for Minnesota
BALTIMORE — After becoming the first team this season to win a series at Camden Yards, the Minnesota Twins wanted more.
Beating the Baltimore Orioles twice in a row simply wasn't good enough for these upstart Twins, who entered Wednesday's series finale determined to complete a sweep.
That's precisely what happened. Using a strong pitching performance by Jose Berrios, the AL Central leaders churned out a 4-3 victory.
Following a 14-7 win on Monday night and a 2-0 victory Tuesday, the Twins ended Baltimore's run of seven straight series wins at home.
"You always try to win series, but I think the mindset once we left (Tuesday) was, 'Don't settle on two,'" Minnesota's Brian Dozier said. "From the very first inning, it showed."
Berrios took a two-hitter into the seventh inning and Kennys Vargas drove in two runs for the Twins, who have won six of seven and are a major league best 14-5 on the road.
In this one, Minnesota bolted to a 4-0 lead and withstood solo homers by J.J. Hardy, Chris Davis and Jonathan Schoop to complete its fourth sweep of the season – matching its total of all last year.
"Today, we kind of started fast and had to hang on," manager Paul Molitor said. "It was a little frustrating we couldn't take advantage and increase the cushion somewhat."
A year ago, when the Twins finished 59-103, any kind of win would do. Not anymore.
Berrios (3-0) allowed three runs and four hits over 6 1/3 innings, striking out seven. The 22-year-old went 3-7 as a rookie last season, but this year he's won all three starts since being recalled from Triple-A Rochester earlier this month.
"Of the four hits he gives up, three of them are homers," Molitor noted. "But he kept them to solo shots. He gave us a shot."
Berrios was pulled in the seventh after homers by Davis and Schoop got Baltimore to 4-3.
Taylor Rogers struck out Davis with two on and two outs in the eighth, and Brandon Kintzler got three outs his 12th save in 13 tries.
Although it was Minnesota's first three-game series sweep at Camden Yards in 21 years, the Twins did take all four games of a 2015 series in Baltimore.
"They're playing as well as anybody in the American League," Orioles manager Buck Showalter said of the Twins.
Orioles starter Chris Tillman (1-1) got off to a horrid start from which Baltimore could not recover in its fourth straight defeat.
In the first inning, two hits and a walk loaded the bases for Vargas, who lined a two-run single to left. Eduardo Escobar followed with an RBI single.
Max Kepler made it 4-0 in the third with a two-out, run-scoring double.
"I couldn't throw the ball where I wanted to early and every adjustment I tried to make I felt like it got worse," Tillman said. "Later in the game was able to make an adjustment and able to make some better pitches."
Making his fourth straight after returning from a shoulder injury, Tillman gave up four runs and nine hits in five innings.
After Hardy connected in the third , and Baltimore wasted a bases-loaded chance in the fourth when Berrios struck out Schoop with two outs.
BELLY FLOP
Twins DH Miguel Sano, generously listed at 262 pounds in the media guide, finished a jaunt from first to home on Kepler's double with a not-so-graceful slide .
"I'm not sure what the Richter scale registered on that one," Molitor said. "It was more of a belly-flop than a head-first slide."
ROSTER MOVE
The Orioles claimed SS Luis Sardinas off waivers from San Diego. He hit .163 in 29 games for the Padres this season.
TRAINER'S ROOM
Twins: Molitor said the club was "fairly pleased" with an MRI on RHP Phil Hughes' right biceps tendon. Hughes will undergo further tests Thursday, but the Twins remain hopeful he can be activated from the DL by the middle of next week.
Orioles: INF Ryan Flaherty (right shoulder strain) has put off receiving a platelet-rich plasma injection until doctors take another look at the MRI to pinpoint the trouble spot.
UP NEXT
Twins: After taking Thursday off, Minnesota opens a six-game homestand by calling on Hector Santiago (4-2, 3.96 ERA) against Tampa Bay on Friday night.
Orioles: Following a day off Thursday, Baltimore launches a quick three-game road trip on Friday in Houston.