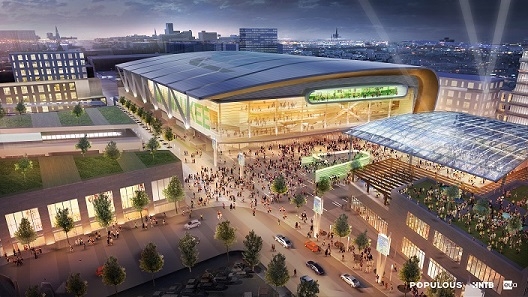 Wisconsin, Bucks playing roulette
State doesn't want to pay $250 million for arena; may not have to
It feels like the beginnings of a curse. No, not a curse. That would ensue there's some history yet to be made.
How about a tease? The dangling carrot, perhaps?
For Milwaukee Bucks fans, it's been over a decade to be ecstatic, and now, the time is here. But the time is also nearing when the team may be sent to Las Vegas, Seattle or somewhere else, if an arena deal can't get done.
The legislature cannot decide if giving billionaire owners Wesley Edens and Marc Lasry about $250 million – half the cost – to build an arena is best for Wisconsin.
I've always said this: Taxpayers paying billionaires to build something sports, feels ridiculous. It would be like you giving me land. You paying to build my house, fully furnished. And then me charging you to come over and watch the game, all the while, I charge you to eat my crappy food and drink my beer at an exorbitant cost.
So, Wisconsin and the Bucks are at a stalemate. And it may be one the state can win by holding out, though it's a risky gamble in keeping the team in Milwaukee.
The NBA has told the Bucks they have, at most, five months to begin construction on an arena. The thing must be built by November, 2017. So, five months is pushing it. Five days seems like pushing it.
If it's not done, the NBA will buy the team back for $575 million – $25 million more than the billionaires paid for it.
And if that's the case – there are some other scenarios out there – Lasry and Edens would be losing out on a boatload of money, not to mention the rarity of owning an NBA franchise.
If the NBA bought the team back for $575 million, it would easily be able to flip the team for twice that, if not $1 billion more. The L.A. Clippers selling for $2 billion, because of its racist owner, could be the best thing that happened for keeping the Bucks in Milwaukee.
Because when that happened, the Bucks franchise, if it's being sold to Vegas or Seattle, skyrocketed to around $1.6 billion, according to Business Insider.
And if that's the case, Edens and Lasry stand to lose $1.1 billion if they do not retain the team. They lose out on $1.1 billion, all over the $250-million cost of a stadium.
Seems like easy math and one that the state could maybe win, if it held its ground on not paying billionaires to build their house.
Then again, there are scenarios out there that allow the Edens and Lasry to keep the team and move it – though part of Herb Kohl's agreement in selling the team to them was they keep it in Wisconsin. It's unclear whether or not they would be held to that agreement with no stadium deal.
So, playing roulette with the two billionaires may be a game worth playing. Then again, losing the Bucks seems like a bad move for Milwaukee – for the very same reasons Lasry and Edens don't want to lose the team. It's one of only 30 in the world, and it's on the verge of becoming great.
Personnel-wise, things couldn't be better for the Bucks. They just landed one of the Top 3 free agents in Greg Monroe. Khris Middleton re-signed. The roster is set – minus a shooter – and, the best news yet, Milwaukee traded the completely-terrible Zaza Pachulia to the Dallas Mavericks. Thank you DeAndre Jordan!
It can't get much better in Milwaukee (Or Seattle. Or Las Vegas).
Bucks fans have waited this long for promise. It would be a travesty to see the team go. Fans just witnessed a 15-win season led by the ever-so-selfish Brandon Jennings. Since then, it's been almost perfect in its decisions – minus signing Pachulia.
Fans have drudged through seasons and seasons of awful. Trading Ray Allen in his prime midseason (2002-03) for Gary Payton, just to see him leave 34 games later – not to mention Allen dominating and winning titles for a decade after. Just a rash of horrible draft picks, free-agent signings, trades and re-signings.
Looking back at players that walked through the tunnel at the Bradley Center the 13 seasons after the Bucks made the Eastern Conference Finals up to the year they won 15 is a sad trip down nightmare lane.
But, let's do it anyway: T.J. Ford, Dan Gazurich, Desmond Mason, Joel Przybilla (those are just the players from the 2003-04 season). 
For the sake of your time and my sanity, I'll just take one player a season: Toni Kukoc, Charlie Bell (he started 64 games), Charlie Villanueva, back-to-back first-round picks ('06, '07) Joe Alexander and Yi Jianlian, Richard Jefferson (started 82 games in 08-09), 66-game starter Carlos Delfino, leading scorer John Salmons, Drew Gooden (second in scoring the next year), the Larry Sanders debacle (which Milwaukee will pay him $1.9 million a year until 2022) and Gary Neal (one of many highlights from the 15-win season).
Phew. But now, if you were to pick a roster in the league with the most promise and a team that could be one of the most exciting to watch, it would undoubtedly be the Bucks.
But maybe that only lasts a year. An arena deal needs to get done yesterday.