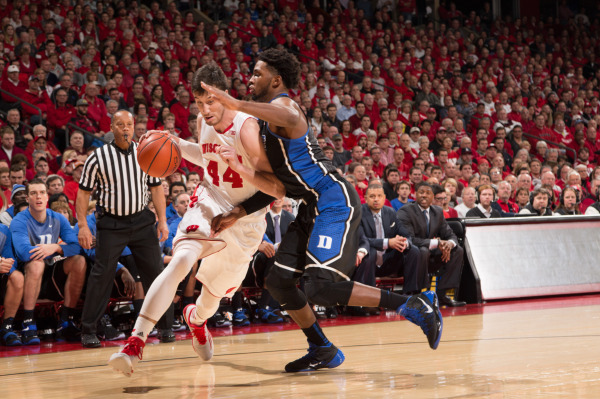 Recap: Duke win over Wisconsin in Dec.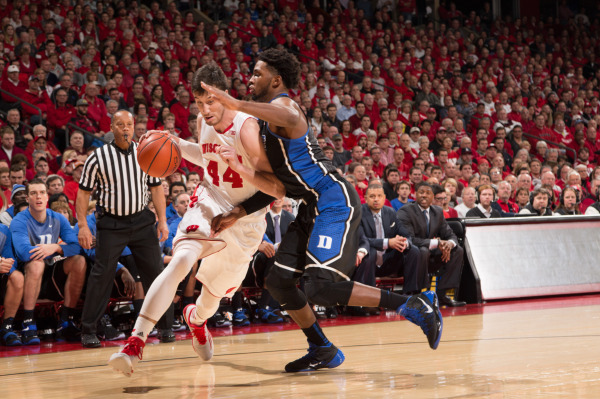 The NCAA championship on Monday will be a rematch of Duke vs. Wisconsin.
The first time around, the Bluedevils beat the Badgers in the Kohl Center, 80-70 on Dec. 3, 2014.
You can watch the first matchup between Duke and Wisconsin by clicking here or by copy-pasting the link below. 
It was one of Wisconsin's worst games – of course, the Badgers have only lost three times – and prompted these comments from coach Bo Ryan: "It goes back to, don't get beat by the things that don't take any talent: block out, ball fake, make good passes, handle the ball. I saw a couple of Globetrotter routines out there, but the problem is that we weren't playing the Generals."
Duke shot an incredible 65.2 percent from the field, including 15-for-21 in the second half. Freshman center Jahlil Okafor, who will go either first or second in the NBA draft, scored 13 points on 6-of-8 shooting.
"I would say they hit some tough shots, but they have good enough players that can do that at times," Ryan said after the game. "To have as many do it on the same night, that's just not fair. I don't care what anybody says, they were lights out."
The Badgers, who fell to 7-1 after this matchup, got 25 points from Traevon Jackson, who was 3-for-5 from beyond the arc. Frank Kaminsky was 5 of 12 from the field and had 17 points, nine rebounds. 
The rest of the team, however, was just 10-for-30 from the field. Wisconsin finished the game shooting 40.7 percent, going 9-for-21 from beyond the arc. They also had eight turnovers. 
Bronson Koenig played 25 minutes and went 1-for-7 from the field.
Please follow and like us: