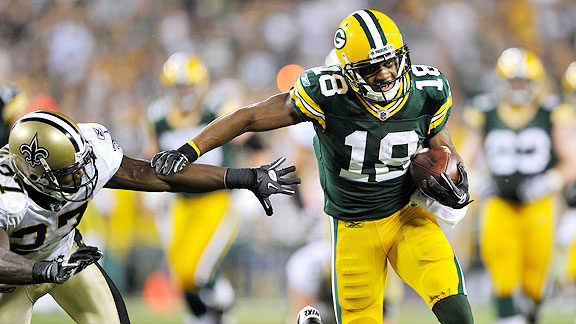 What do Packers do with Cobb?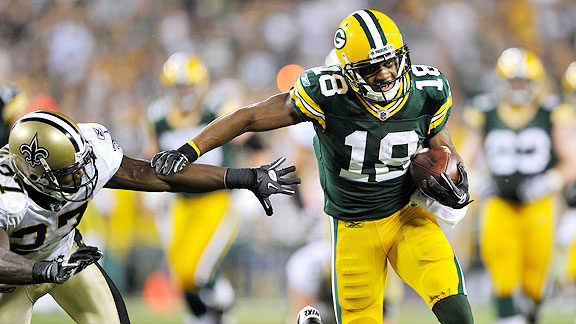 If you really love something, you let it go and hope it returns.
Is that how the Green Bay Packers are approaching Randall Cobb's impending free agency?
The deadline is fast approaching for the Packers to do something with Cobb.
It appears, however, that the five-year veteran, who finished fourth in the league in touchdown receptions (12) – one behind teammate Jordy Nelson – and 11th in the league in receiving yards (1,287), will hit the open market in free agency.
Cobb said in January he wants to be back, but that's a pretty easy thing to say coming from the No. 1-scoring offense. It's also the thing everyone wants to hear. After that, he added, "I haven't signed the dotted line yet."
Months later, that's still true. And, the price for Cobb could skyrocket today.
The deadline to re-sign or franchise tag players is 3 p.m. If Cobb, who turns 25 in August, isn't signed or tagged, he's going to hit the open market and the price to stay in Green Bay may just be too costly for the Packers – and Cobb.
Free agency begins at 3 p.m. March 10.
The question: Does Cobb want the money or wins? Maybe he can have both, but it's becoming more apparent, he can't get both with the Packers, who also have to worry about re-signing right tackle Bryan Bulaga.
Just a few weeks ago, Cobb, apparently, wanted around $9 million a year, though nothing was official. That number could have just coincided with the four-year, $39 million deal Nelson signed last season, while Cobb waited patiently for a similar deal.
If Cobb does hit free agency, multiple teams are thought to throw bags of money at him, and it's hard to gauge what Cobb will do, because these teams aren't exactly winners (Oakland Raiders, Jacksonville Jaguars).
Cobb may take the money and run, as he is the best of both worlds when it comes to wide receivers that could hit the market – he's young and talented.
Other wideouts that could be available: oft-injured WRs Brandon Marshall (30), Andre Johnson (33), Jeremy Maclin (26) and Percy Harvin (26). Others that may be available: Mike Wallace (28), Torrey Smith (26) and nearly the entire 49ers receiving staff (Stevie Johnson, 28, Anquan Boldin, 34, Michael Crabtree, 27).
Cobb is easily the best of this bunch, but he's also been playing in wide receiver heaven with Aaron Rodgers at quarterback and Nelson on the other side of the field.
While the question remains what Cobb wants, the actual question asked should be: Is Cobb a product of the system or a capable No. 1 option worth the money?
We may not find out until July, when free agency ends.
Please follow and like us: