Carmelo Anthony is ruining the NBA
Knick will play in all-star game,




then sit out rest of season
Column: RICK SOLEM
Carmelo Anthony is the epitome of what's wrong with the NBA.
Today's news should be the tipping point for NBA and New York Knicks fans, alike.
He's going to play in the all-star game. He didn't even play for his team Wednesday. The team that inked him to a max deal worth over $124 million last offseason.
He said he'll probably only play "just a few minutes" in the all-star game and then shut it down for the rest of the season.
What? So, you won't play for your team, you'll play in the all-star game – in New York – just to get the attention, maybe a contract bonus, and then call it quits for the season?
The team is awful at 10-43. It's not all Anthony's fault, but he certainly makes nobody around him better.
The shoot-first, pass-never small forward averages 24.2 points and a lousy 3.1 assists a game. Not bad numbers, but this is a guy who has the ball for 22 of the 24 seconds on the shot clock each possession. #Sarcasm. #KindOf. And his assists often come from his dribbling the ball off his knee accidentally to teammates for scores.
There aren't a ton of things wrong with the NBA game, but players sitting out has to be on top of the list. Actually, Anthony himself, should be on the top of the list, but after that, this sitting-out issue.
It makes sense to some extent when it's veterans like 38-year-old Tim Duncan.
But when it's a situation like Anthony's, where he isn't playing for his team, but if he can get national exposure in the all-star game, he's good to go, and then will shut it down for the season. Fans should be pissed off.
New York fans should stop going to games. It's a wonder they go to games at all. The Knicks haven't been good in 15 years. They haven't gotten out of the first round of the playoffs since the 1999-2000 season.
They're either ridiculously loyal or stupid. I'm leaning toward stupid. For some reason fans voted Anthony an all-star starter. Anthony must have set up computers to automatically vote for him.
Owners should cut ticket prices and hand out refunds when those players sit out. Injuries happen and fans can likely plan around those. Season-ticket holders could sell their tickets. Game-to-game fans would have the choice not to go. But when players sit out, it's usually a game-day decision.
This is a growing problem and needs to be addressed. New commissioner Adam Silver has taken on a lot of issues in the league in his first year. This should be the next.
After that, he can address the stupidity of NBA owners to giving players like Anthony max deals.
Anthony wants to be known as a "business tycoon," but, as an unrestricted free agent, he chose to sign with the Knicks instead of taking a one-year deal with a winning team like Chicago, and then signing a long-term contract when the salary cap goes up.
New York and Anthony apparently deserve each other. But the rest of us shouldn't be forced to watch him in the all-star game, even if "it's for just a few minutes."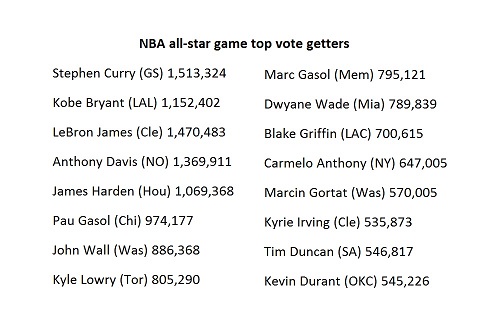 Please follow and like us: