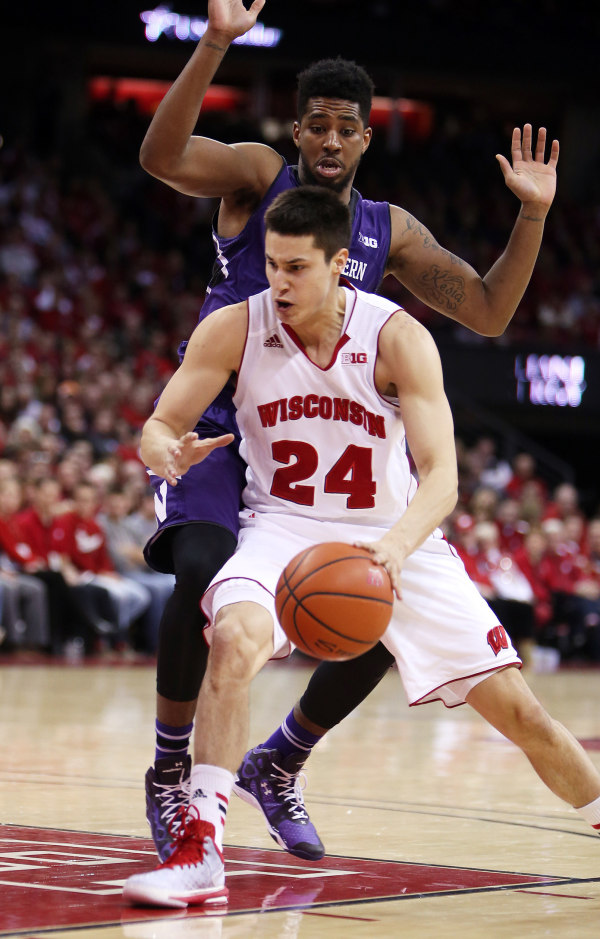 Koenig scores career high
MADISON, Wis. – It's safe to say Bronson Koenig has found his shot.
Saturday, the point guard scored a career high 16 points in leading the University of Wisconsin men's basketball team to a 65-50 win over Northwestern at the Kohl Center.
Koenig, now 6-0 as Wisconsin's starting point guard, replacing the injured Traevon Jackson, was 6-for-10 from the field and 4-for-8 from beyond the arc. The La Crosse, Wis., native also had two assists, a steal and zero turnovers in 29 minutes.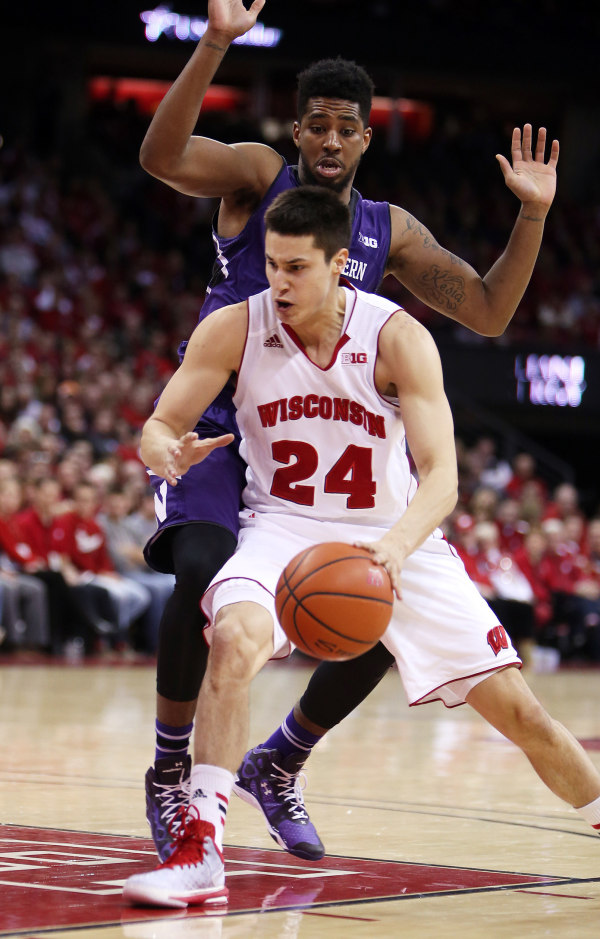 "He had two assists and no turnovers, and he didn't force any shots," Wisconsin coach Bo Ryan said. "I thought he hit some big 3s as we were moving the ball. You have to take what the defense gives you, and if they are going to pinch everything and try to keep the ball out of the middle of the zone, you have to knock down some outside shots.
"He was a guy that hit some big ones for us. He didn't panic out there, he made good ball fakes, and he set up other guys. A lot of times he made the pass that led to the pass to the basket."
Koenig has been consistent in that regard, this season. He hasn't made mistakes and always knows where to put the ball. As for his shooting, that's a different story.
As a starter, he's averaging 12.6 points. He's shooting a ridiculous 53 percent from beyond the arc (18 of 34) and 49 percent from the field (29-59) in those seven games – the first game Jackson played point, while he filled in for an injured Frank Kaminsky.
When Koenig was coming off the bench, he averaged 4.4 points, shooting 39 percent from the field and just 5-for-29 from beyond the arc.
Aside from Koenig, the fifth-ranked Badgers (21-2, 9-1) didn't shoot well (38.9%) but that never really matters until the defense breaks down.
It didn't.
UW held the Wildcats (10-13, 1-9) to nearly as bad a percentage from the field (39.6). Wisconsin, which was up 37-21 at half, also outrebounded Northwestern 39-25, including 13-5 on the offensive end.
Sam Dekker matched Koenig's output with 16 points, while Frank Kaminsky added 12 for the Badgers, which led by as many as 22 in the second half.
At 8 p.m. Tuesday on ESPN, the Badgers head to Nebraska (13-10, 5-6). 
Please follow and like us: