Love-Wiggins, Cleveland-Minnesota


Two players still on the rise
on teams still headed in opposite directions
MINNEAPOLIS – There was much anticipation for Kevin Love's return to the Target Center on Saturday night.
The Minnesota Timberwolves played in front of a sellout crowd for the first time this season with the Cleveland Cavaliers in town.
The crowd erupted in boos when Love's name was called first during the starting lineups. They appropriately cheered with gratitude during a tribute video to Love midway through the first quarter. And booed there on out whenever he touched the ball.
Love did what he always seems to have done as a member of the Timberwolves – though he hasn't done it much as a member of the Cavs – getting a double-double, dominating the glass with 17 rebounds to go with 14 points in the win.
The show, however, belonged to Andrew Wiggins and everyone in Minnesota could agree, getting the 19-year-old rookie, a first-round draft pick and Anthony Bennett for Love, was a good deal for Cleveland but a steal for Minnesota. Not just because Love was going to opt out, and Minnesota was going to get nothing for him, but because Wiggins has been a better player – for much cheaper – so far this season.
The circumstances are, of course, different, but each player has had to make a transition. One could argue Wiggins' to the NBA is a bigger transition than Love having to do much less as a member of the Cavs – playing second, even third fiddle to LeBron James and Kyrie Irving.
"That was a deal that was made with the idea with what we wanted our roster to look like with LeBron coming back (looking at) what we needed," Cleveland coach David Blatt said after the win Saturday. "We brought (Love) to … give us the skill set that we were lacking. So I thought that was a good deal all around and one that should have a good feeling for all involved."
Love's scoring is down eight points, which was expected, though hasn't shot well. What is odd, his rebounding is down – you'd think it'd be up with all his missed shots. He's gotten 15 or more boards only six times this season, which doesn't sound bad but last year he did that 15 times before Feb. 1.
Last season, the offense centered around Love and he flourished as a shooter and distributor, averaging 26.1 points and 4.4 assists. Now, he's at 17.1 and 2.3.
For the Cavs, Love is a glorified rebounder, a spot up shooter and a ball swinger from the perimeter. He watches Irving and James dribble to score and posts up once in awhile – less now with center Timofey Mozgov.
The Cavs just don't use Love correctly. Maybe that changes or maybe he adjusts, but if Cleveland could go back, it's easy to argue they would keep Wiggins.
If they did, it's hard to say what other moves the Cavs would have made.
Would they be the team that got Thaddeus Young, who the Timberwolves added using Cleveland's first-round pick (from Miami)?
Would they have re-signed Anderson Varejao for three years and nearly $30 million? Once the ink dried on that contract, he went down with a season-ending injury – again.
With Wiggins, Cleveland wouldn't have needed JR Smith and Iman Shumpert, but that deal – getting rid of Waiters – helped land Mozgov, who is arguably the most important piece of all the transactions, including getting Love.
Plus, Smith and Shumpert have fit in. For how long, who knows? 
Smith has been rejuvenated in Cleveland, since, as he told NBA.com, "I think this is the best situation for me, 'cause there's nothing (in Cleveland) but basketball. There's nothing, there's no going out, there's no late nights. There's video games, basketball and basketball."
Maybe it's that. Or maybe he can opt out of his contract and be a free agent this season, which Cleveland hopes he does.
The combination of Smith and Shumpert somewhat equal what Wiggins would have brought – though how long Smith remains focused is always a question.
Price is a factor here, too. 

Wiggins has a better contract than all these players. The 19-year-old makes $11.2 million over the next two seasons, before the Timberwolves' team options for around $6 and $7 million the next two seasons.
Smith is due about $12.3 million for this season and next. Hard to say whether he will opt out given how unpredictable he is. If he does, how could a team depend on him for more than a one-year deal, especially after what he's said? Not just what he said about Cleveland, but earlier this season, too. 
"Trying to think about the rest of the team over myself or my scoring is something that I never really had to do before," Smith told the NY Post. "I've always been in a situation to score, [now I'm] in position to take my time and let the game come and let my teammates succeed more than myself, I think that's the ultimate win."
As for Shumpert, he will opt out of his contract this season, and it's anyone's guess what he'll make in the open market. Cleveland likely won't be able to match. Boston gave Avery Bradley – a better player than Shumpert – 4 years, $32 million.
Cleveland still has to pay Love, who could opt out of his contract this season or next when the salary cap really goes up. Or he could leave outright. Tristan Thompson could become an unrestricted free agent – he has the same agent as James. Mozgov has a team option. Mike Miller has a player option and will likely take it. 
As long as Love stays, the deal to trade Wiggins has turned out just fine for Cleveland. It has for the Timberwolves, too, of course. It's about the only good thing that's happened to Minnesota since Kevin Garnett led the team to the Western Conference Finals in 2003-04.
It doesn't matter that David Kahn isn't the general manager anymore, Minnesota keeps making bonehead moves – save for trading Love.
Immediately after that trade, the Wolves gave Philly a first-rounder for Young, who is gone after this season if he's not traded before then. Young has a player option and he's not staying in Minnesota.
So, there goes a mid to late first-round pick from Miami via Cleveland.
When Kahn left, Flip Saunders took over as coach/GM and signed Kevin Martin and Nikola Pekovic to terrible deals that will haunt Minnesota until Wiggins is a free agent.
The Pekovic deal is one of, if not the worst contract in the NBA – save for Josh Smith's deal in Detroit and, I will argue, Carmelo Anthony's contract is the worst. Pek makes around $12 million a year until the 2017-18 season. Saunders made that deal with no teams threatening to offer him a contract – as he was a restricted free agent in which Minnesota could match any offer a team made.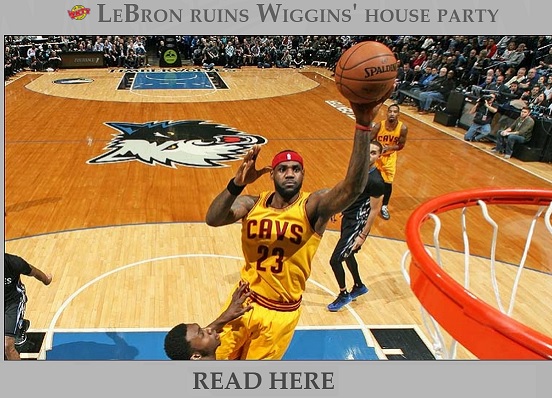 Pekovic was holding out for $12 million a year from someone. Nobody was offering him anything near that. So, in a brilliant move (#Sarcasm) Minnesota gave him exactly what he wanted – a maximum length deal of five years for a center who has no skills on defense, is a mediocre-at-best rebounder and has limited skills offensively, as he showed Saturday night, blowing layup after layup. Oh, he's also one of the most injury prone players in the league.
On the "flip" side, Martin was signed for around $7 million a year through 2016-17. Martin, at the time, was an aging free agent who couldn't play defense and was also severely injury prone.
So, the year Wiggins gets out of his rookie contract, so do Pekovic and Martin and Minnesota will finally have some money to spend. By then, Wiggins will be so sick from losing, he'll probably just retire.
It hasn't been all bad for Saunders. He did make one other solid draft-day deal two seasons ago when he traded Trey Burke for Shabazz Muhammad and Gorgui Dieng, which has proved to be a steal.
Please follow and like us: