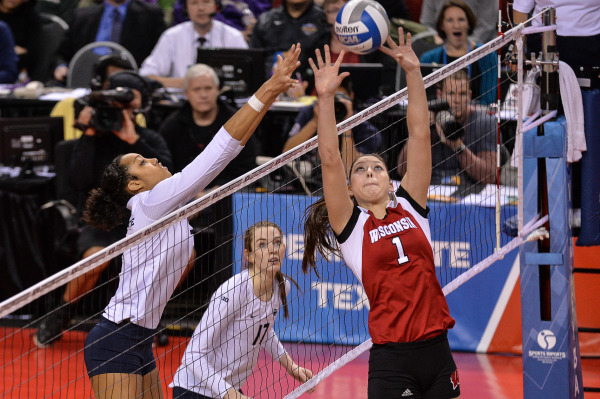 NCAA championship rematch: Wisconsin vs. Penn State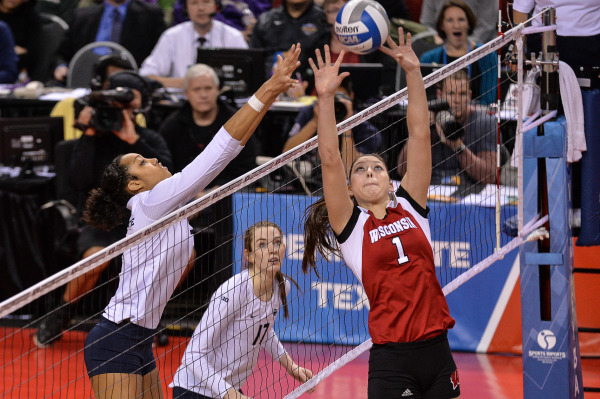 By RICK SOLEM
LOUISVILLE – The rematch of the NCAA volleyball national championship takes place today.
At 3 p.m. on ESPNU, defending national champions, Penn State take on runners-up, Wisconsin in the final eight of the NCAA tournament.
Penn St. has made the final four – and winning it all – a tradition. It's gone to the semifinals 11 times, including six of the last seven seasons. The Nittany Lions have won it all in 1999, 2007, '08, '09, '10 and '13.
Last year, the Penn St. beat the Badgers 3-1 (25-19, 26-24, 20-25, 25-23) for the title, getting 21 kills from Ariel Scott and 48 assists from Micha Hancock.
Scott is gone. Hancock is back. Penn St. (33-3) is ranked No. 4 in the country, while Wisconsin (31-2) is ranked second.
But don't let those rankings fool you.
Penn State swept the Badgers at the UW Field House in convincing fashion, 3-0 (25-17, 25-21, 25-22) on Sept. 24 spreading the ball to an array of hitters.
Six players had seven kills or more led by Simone Lee's 12. Hancock had 38 assists and the Penn St. defense held the badgers to a .148 kill percentage, while hitting .288 itself.
"(Wisconsin) has so many seniors," Penn St. coach Russ Rose told the Courier-Journal. "They're a confident team. They were able to do what we were not able to do and that was win the Big Ten. When we played them earlier in the year, we played great. They're a great defensive team."
Since that loss – which ironically enough came after the Badgers first loss of the season, against Washington on the road in five sets – Wisconsin had won 22 consecutive matches.
During those 22 wins – and the entire season for that matter – the Badgers have only played two matches to five sets, one of which came Friday night to underdog Ohio State (23-12).
"It was a real struggle, we were having tough time scoring," Wisconsin coach Kelly Sheffield said of the match against Ohio State, in which his team came back from a 2-1 deficit. "We were having a tough time slowing some of those things down. 
"And they're serving on the whistle, which is trying – making this go really, really fast.  You know, we're trying to call our plays and they're getting set up and the official is blowing the whistle.  They just never allowed us to take a breath."
Lauren Carlini had 43 assists, 17 digs for Wisconsin, which hit just .130. Courtney Thomas had 13 kills, while Kelli Bates and Ellen Chapman each had 12.
Please follow and like us: