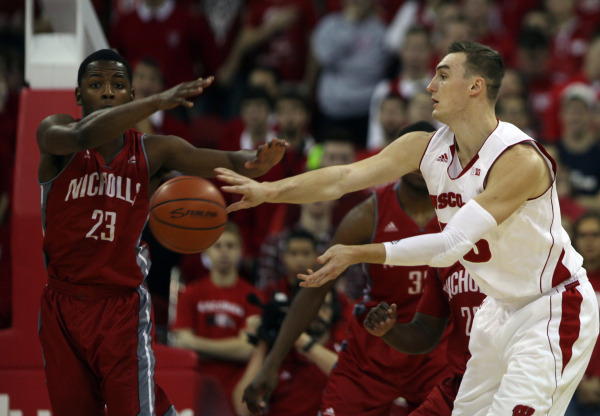 Badgers double up … Nicholls State?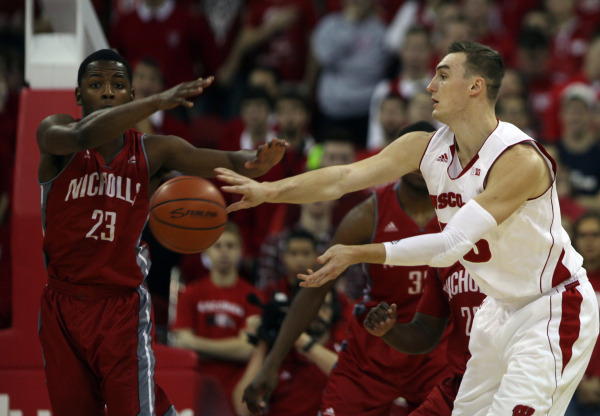 By RICK SOLEM
In case anyone missed it, the University of Wisconsin men's basketball team played NCAA powerhouse Nicholls State on Saturday.
Why? Who knows, but the 10-1, No. 5-ranked team in the country doubled up the now 1-5 Colonels, 86-43 at the Kohl Center.
It seems the Badgers would have been better served to scrimmage each other than trot out against the Colonels – a team that was 14-15 last season and 9-21 the season before.
Nicholls St. shot 35 percent, was outrebounded 41-26 and had 21 turnovers.
Six scored in double figures for Wisconsin led by Sam Dekker's 17. The Badgers shot 52 percent from the field.
La Crosse, Wis., native Bronson Koenig played 19 minutes off the bench – the most of any nonstarter – but, again didn't shoot well. He was 1-for-5 from the field, 0-for-2 from beyond the arc, adding two assists, a block and a turnover.
Koenig is now shooting just 38.8 percent from the field, 29 percent from beyond the arc and 66 percent from the free-throw line. In playing 21.4 minutes a game – seventh on the team – he's averaging 5.9 points, 2.6 assists, .5 turnovers and 1.3 rebounds.
Koenig has three excellent shooting games this season. He went 3-for-4 against Boise State, 6-for-10 against Georgetown and 4-for-4 vs. UW-Milwaukee.
In the other eight games, he's shooting just 6-for-31 from the field. He maintains a large role, however, because he doesn't make mistakes, handles the ball well, and has come alive at times to carry the team like he did in a close game with Georgetown.
Please follow and like us: